Once again, Mountain Productions made the annual pilgrimage to Las Vegas for the live event and entertainment industry's premier conference and tradeshow – LDI 2017.
Just off the Las Vegas strip, the LDI Conference and Tradeshow welcomed thousands of entertainment production professionals to the Las Vegas Convention Center from November 13th through November 19th.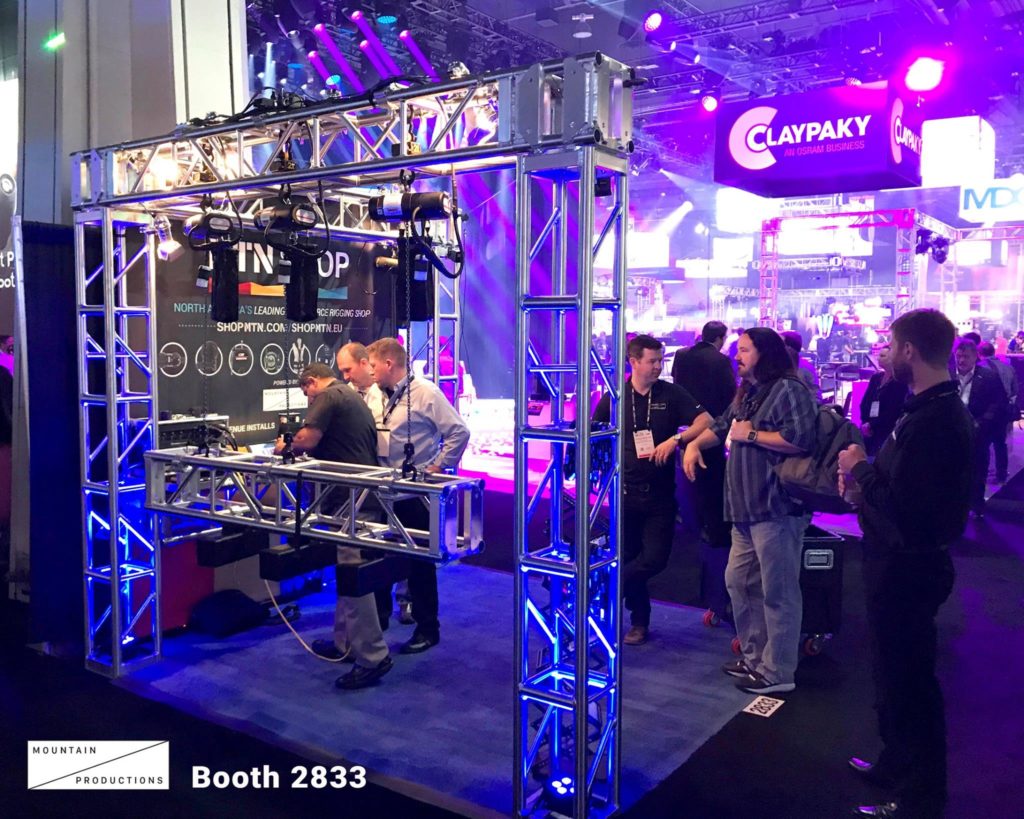 Over 16,000 attendees had the opportunity to take part in more than 85 training sessions and network with over 350 of the world's top manufacturers, distributors and suppliers of professional products and services for the production and live entertainment industry.
The Mountain Productions team was in attendance to catch up with old colleagues and demonstrate to our new friends the many ways we can help make their production a success. Booth 2833 was the place to be to catch up on developments within our leading staging, rigging and venue installation departments and to learn firsthand about several new ventures and launches for Mountain Productions.
---
MTN Shop Goes Global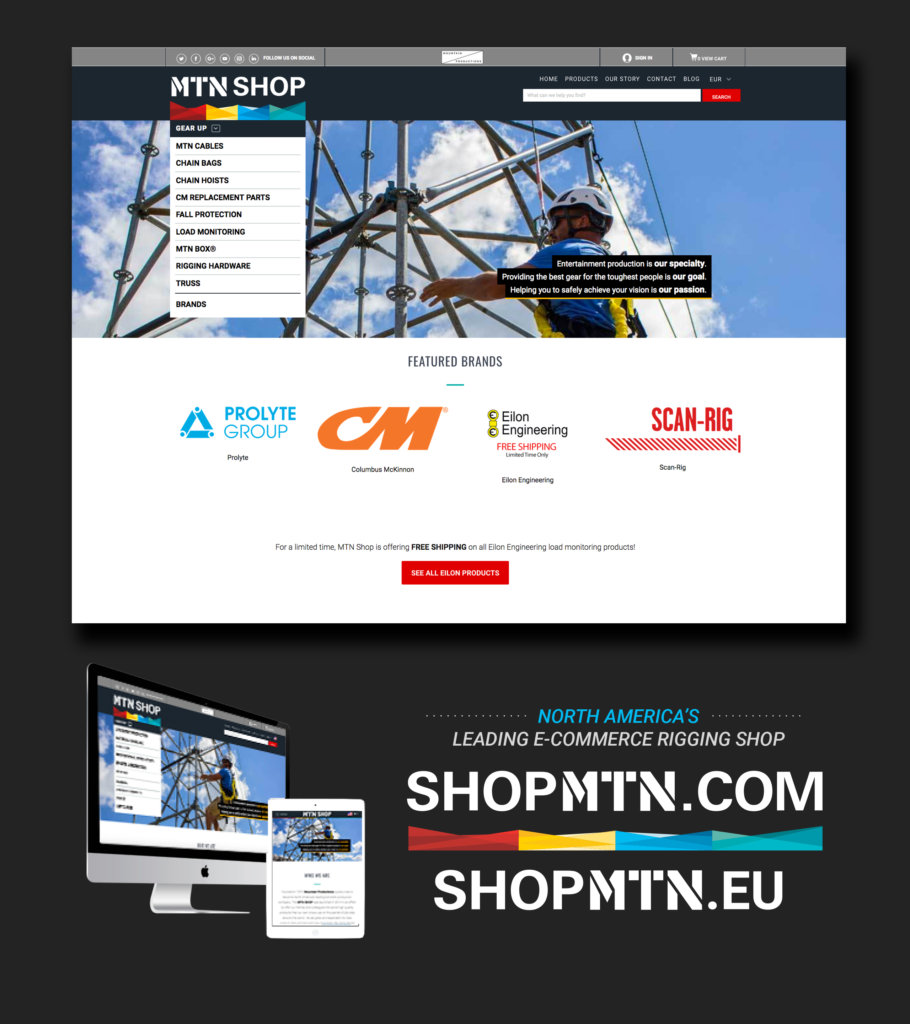 Visitors to the Mountain Productions booth were told about the international expansion of our MTN Shop, with the launch of ShopMTN.eu. Now customers across Europe are able to tap into the MTN Shop platform, just as those throughout North America have relied on ShopMTN.com for the past two years.
To ensure the best possible customer service, the EU MTN Shop will be supported on the ground from Mountain Productions' affiliate office in Dublin, Ireland. Together, ShopMTN.eu and ShopMTN.com provide service across 30 countries spanning the globe, currently offering more than 6,500 premium products.
---
MTN Chain Sliders Debut
Mountain Productions also announced the launch of another signature MTN product – the MTN CS chain sliders. These patent-pending chain sliders are expected to hit the market in early 2018 and are already in high demand by entertainment professionals after their LDI debut.
The MTN CS design is unlike any chain slide you have seen or used in the past, due to our custom insert system. Each slide features easily interchangeable inserts that safely and precisely fit the diameter of your chain size. The chain sliders are 10mm in diameter with no insert. Each slider comes standard with three sizes matching the diameter of the most common sizes of chain in your fleet.
These ingenious attachments are designed to make safe, reliable chain management easy. One chain slide can meet all of your needs and easily be used on every job, hoist and install project that comes your way.
---
Virtual Experience of the Leading Kind
It's not easy to capture the scale of the MTN systems with a few pictures and conversation on the tradeshow floor, so this year we decided to bring our systems to you. We teamed up with our friends from Algorithm and designed our first virtual reality experience.
Event professionals who visited our booth had the chance to tour our MTN Truss HD+ system and the MTN Mother Grid, experiencing what it'd be like walking 74′ up into our proprietary grid system. Attendees experienced the MTN systems like never before, from center stage to the floating VIP platforms, and were able to feel what it's like to stand on the industry's heaviest capacity staging system.
---
Eilon Engineering Load Monitoring in Action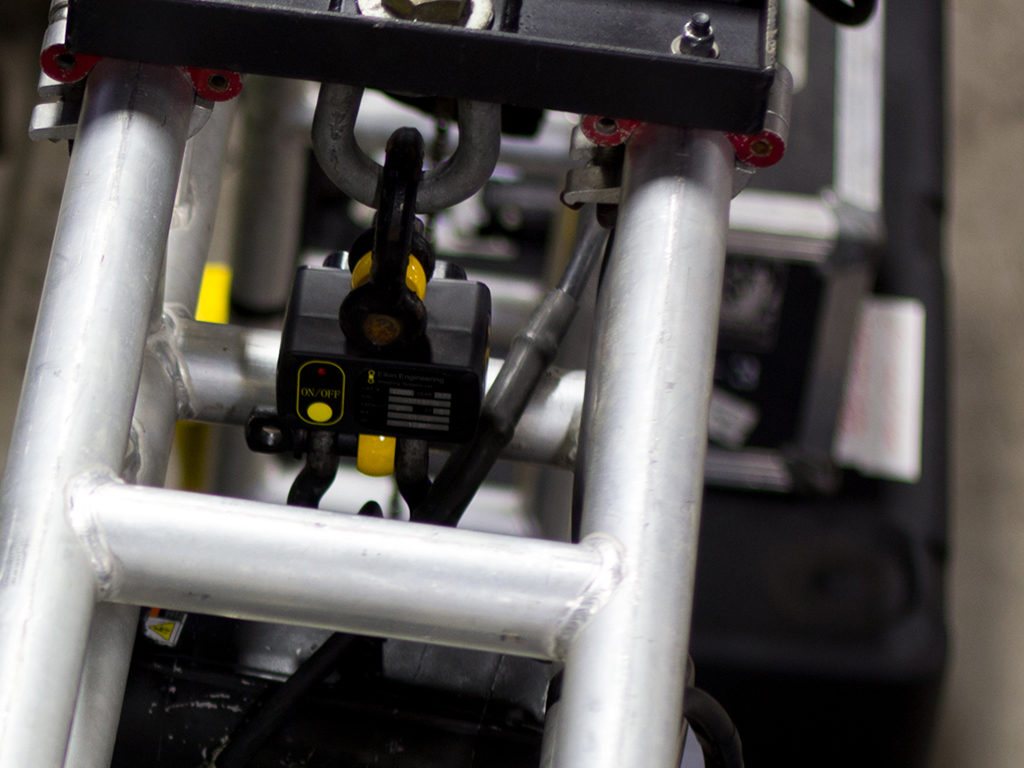 To truly understand the simple brilliance behind Eilon Engineering's Load Monitoring technology, one must experience their technology firsthand, so Mountain brought the gear directly to our LDI booth. Attendees were able to receive first-hand, practical insight into how the technology works with three classic load cells suspended between CM motors and an eight foot piece of truss.
Visitors took the Eilon gear for a test spin and had the chance to discuss the load monitoring equipment directly with our experts on site and the engineers from Eilon, themselves, who were also exhibiting close by.
Find all of Eilon Engingeering's load monitoring products at the MTN Shop.
---
Newly Designed, Patent-Pending Double-Hook Prostar Chain Bags
To top of our time at LDI, Mountain Productions also debuted the future of their industry-best hoist chain bags. The newly designed, patent pending Double-Hook Prostar Chain Bag will offer a new take on the superior standard set by our chain bags for the past 25 years, offering one key new feature. These bags are easily detachable from your Prostar chain hoists. Simply unhinge the bag from the frame rather than fight with unbolting from the body of the motor.
Keep an eye out for these to hit the MTN Shop. You're going to want to check them out.
---
Mountain continues to expand their expertise and the services and products we offer to our friends across the industry. To stay up-to-date on our latest ventures, follow us on all major social media platforms or sign up to subscribe to our e-newsletter.