Dirty Rigger™ is a growing brand in the entertainment industry, and their products have already been distributed to over 50 countries to rave reviews. Their product line revolves around quality varieties of rigging gloves, tool bags and belts that have been designed specifically for entertainment professionals. What makes Dirty Rigger's product line rise above the competition? We went behind the scenes and spoke with Product Manager Steve Marshall about what drives him and Dirty Rigger to succeed. Production workers face unique issues and specific situations—how does Dirty Rigger manage to meet the high standards we demand? Take a look…

How long have you been working with Le Mark, Dirty Rigger's parent company?
Steve: I have been with Le Mark for 10 years now, 5 of which have been spent developing the Dirty Rigger® line.
Have you been leading the Dirty Rigger® team since its start in 2010? If so, how has it been watching the company grow to serving more than 50 countries?
Steve: I took on the role of product manager months after the official launch of the brand. It has been amazing to see the brand develop from a handful of companies buying the gloves in the UK to establishing a dealer network which is spread across the world. Dirty Rigger® is now a common, industry standard name amongst PPE for the entertainment sector, which is certainly something my team and I are proud of.
What do you want riggers and rigging companies to know about Dirty Rigger®? 
Steve: Dirty Rigger® produces the best rigging gloves on the market. We listen to our customers and always welcome/encourage honest feedback from the people who actually use the gloves. It's these guys who know exactly what is required from a new glove or accessory line.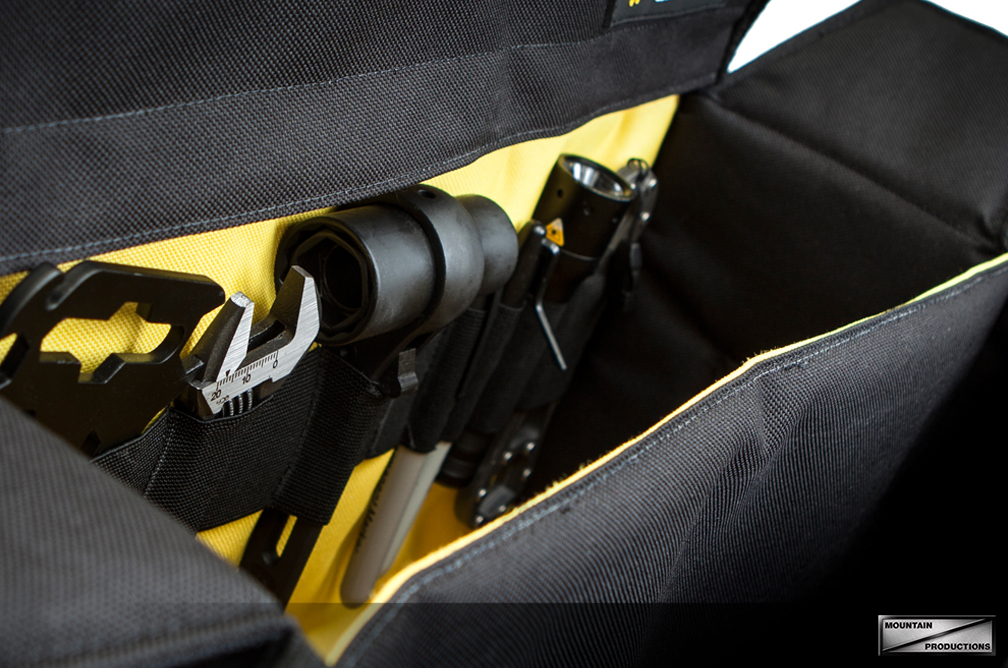 Can you give me a brief overview of the manufacturing process?
Steve: The initial design of the products is done in house. Samples are produced based on the needs of the client or market. We then send multiple samples out to rigging and crewing companies to use extensively, and then gauge their feedback. The gloves come back, we inspect them and talk about how we can improve them. This process is then repeated until we have a finished product. A small production run is then produced to get the new product out to the market. During the first few months we pay very close attention to feedback from our dealers. 
Where did the name come from?
Steve: A very interesting brain storming session by the owners of Le Mark!  Also note – the scratching man logo was created using a silhouette of our warehouse manager!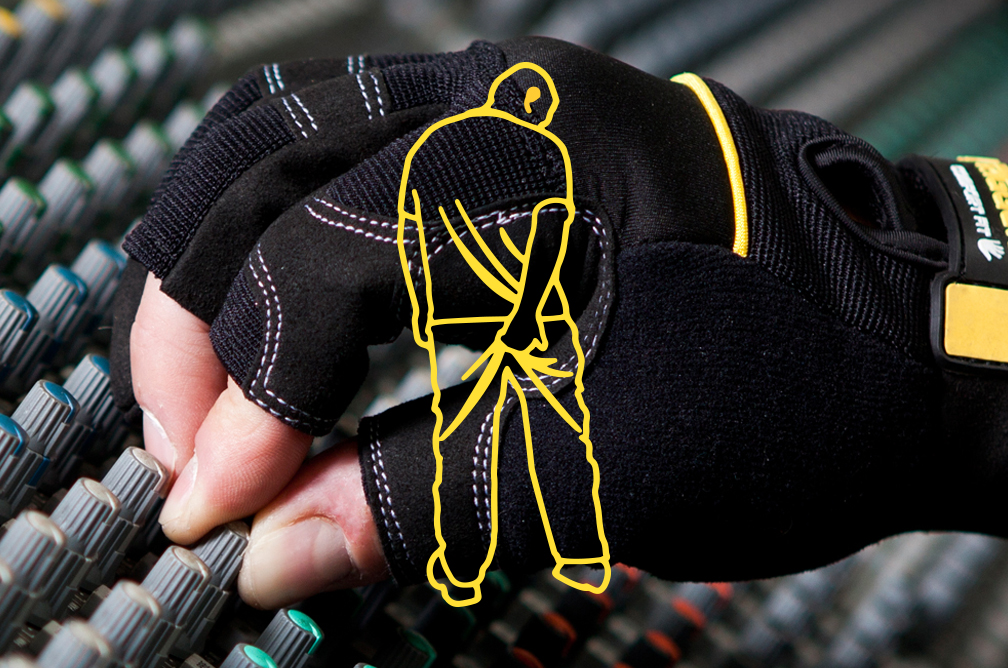 What sets a Dirty Rigger® product apart from the competition? What sets Dirty Rigger® apart from the previous gloves being manufactured by Le Mark? 
Steve: The number one thing which makes Dirty Rigger® gloves different to others is the quality. We use specially selected materials from Europe, the UK and even the US to ensure our gloves are of a very high standard. The bottom line is – "We don't cut corners to save money". At the same time, we listen to our customers. All of our products are developed together with professionals who are working in the professional sound and lighting industry.
In many cases, we don't have any competition, as some of the tools and bags we produce are like nothing else on the market. We lead by producing new and innovative products on a regular basis causing people to constantly ask "what's new?"
Speaking of "what's new", are there any new lines of products we could look forward to soon?
Steve: Yes, we are actually in the process of developing a line of rigging trousers/shorts for both ladies and gents. We are also currently sampling protective footwear, although this is still at the development stage.
The new Grid Mat™ has been launched this month, which is designed for theatre technicians working on a high tension grid. The primary function is to provide a padded surface on which the user can kneel and dramatically reduce the long term risk of injury. The secondary function is that the Grid Mat™ provides an anchor point for attaching tool lanyards. This is essential for preventing tools being dropped when working at height on a theatrical grid or similar place. Once the user has finished, tools can then be stored inside the matt and it can be rolled up, very much like your traditional tool wrap used by mechanics and other professions.
The Grid Mat™ was developed alongside and received a special commendation from ABTT (the Association of British Theatre Technicians) at the London Show in June 2016.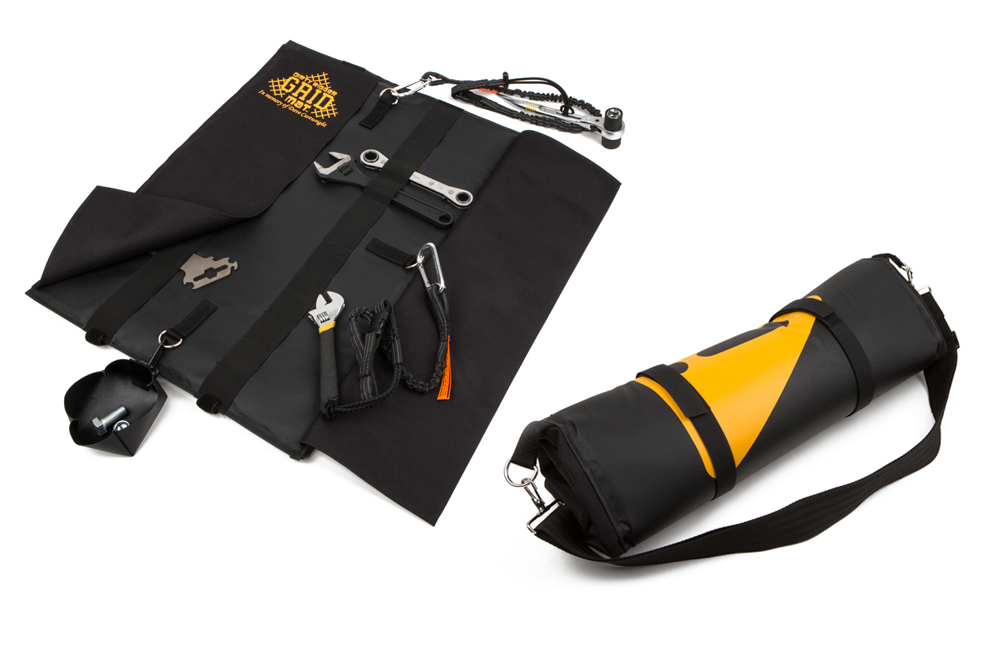 ---
We're excited for the introduction of the Grid Mat™ and other upcoming product launches from Dirty Rigger. Mountain Productions Rigging Shop proudly stocks a variety of Dirty Rigger's gloves, tools, tool bags, and tool belts—all easily purchased within only a few clicks. Best of all, we offer FREE SHIPPING on all of our Dirty Rigger glove line. Click here to check out the products that can change the way you work.
Stay tuned for more information on new Dirty Rigger products stocked on MTN SHOP EU.