Last year, we published 10 Things You'll Love About Our CM Hoist School just before our 2016 annual event. To help get ready for the 32nd Annual CM Hoist School, we decided it was time to bring you 3 MORE things you'll love about CM Hoist School.


1. New Lunch and Learn Sessions
This year we are introducing a new series of vendor sessions that will give our attendees first-hand seminars with the renowned brands that they use on a daily basis. The CM Hoist School Lunch and Learn vendor sessions will provide discussions hosted by brand representatives that are focused on informing and updating our attendees on the latest equipment they have to offer. While attendees enjoy lunch, our vendors will present a quick dive into their products and most recent offerings.
Each day, Mountain Productions will have products specific to that day's corresponding Lunch and Learn vendor available to purchase at exclusive, on-site only discounts! At Mountain Productions Rigging Shop, we're proud to stock these reliable and renowned products. We stand behind them and are happy to extend unmatched pricing to our CM Hoist School students.
---
2. Free Online Lodestar Maintenance Training
Every registration to our CM Hoist School includes a FREE license key to the Online Lodestar Maintenance course, regularly priced at $95.00. The CM Online Lodestar Maintenance Training course is packed with the information taught in CM's proven one-day motor class and can be completed at your own pace and on your own schedule. This program extends a valuable training resource to busy technicians, and successful completion is rewarded with a Certificate of Training and 4 renewal credits for certified ETCP Technicians!
Learn about the CM Online Lodestar Maintenance Training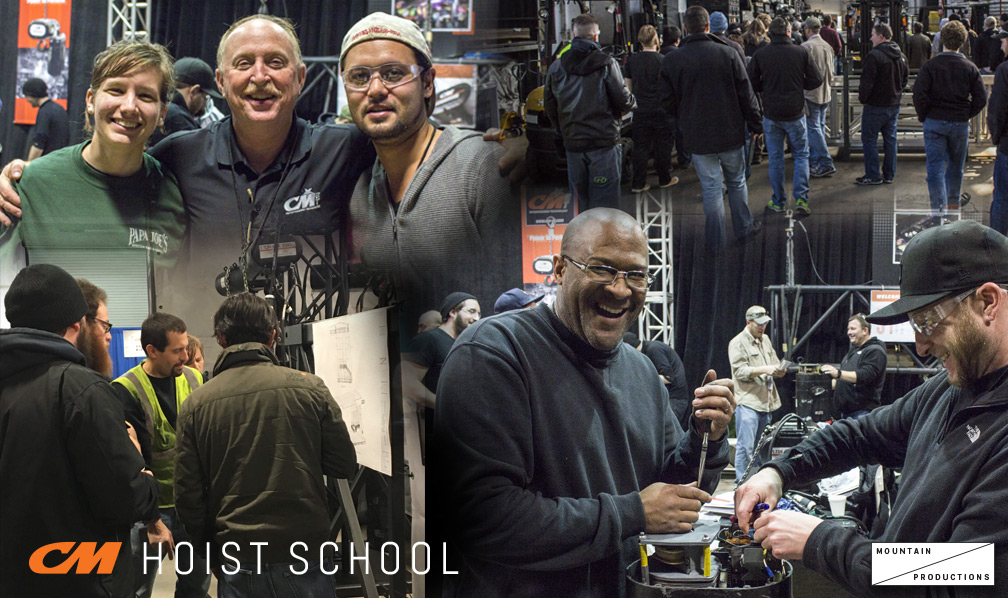 3. Joining the Family
While our annual CM Hoist School can only last a few days, we've made some of our closest friends over the past several decades of hosting the program. Not only do our students gain lasting relations amongst each other, but with our experts at Mountain Productions, as well. In fact, students often call our direct tech line on a regular basis for continued support as they apply what they learn at Mountain to their work beyond and we love hearing from them! Through the practical lessons during the day and the recreational dinners and outings in the evenings, the four days at our CM Hoist School often brings similar experts together for a network of like-minded experts that can be called upon for years to come.
---
If you haven't registered for our 2017 CM Hoist School, there's still time, but remaining seats are filling up fast. Head on over to HoistSchool.com and register now!
Register today for CM Hoist School