"All the world's a stage…"
The famous Shakespearean line, if taken literally, is a perfect representation of Paul Serkosky, P.E.,'s career with Mountain Productions.
Serkosky, who serves as Mountain Productions' Director of Engineering, has earned a reputation as one of the event production industry's most skilled, experienced and proficient engineers.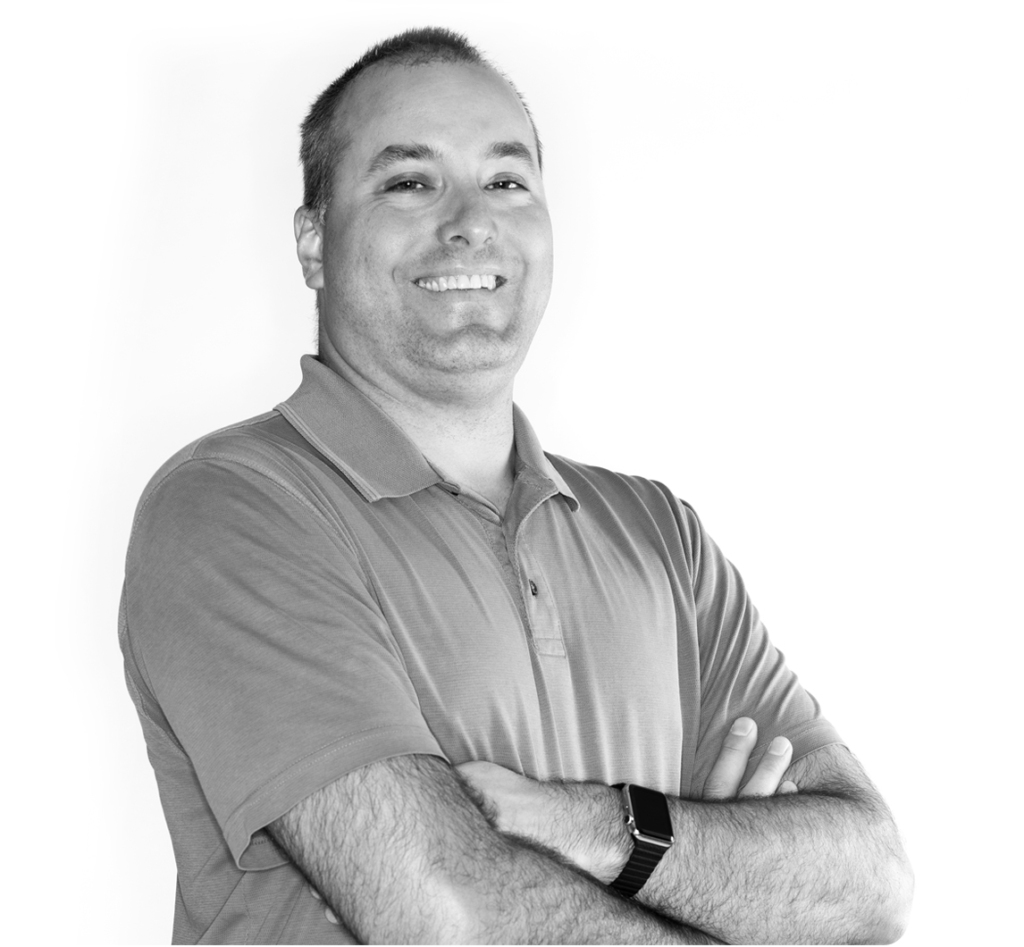 "I supervise the engineering department and perform engineering duties for our vast amount of clients," explained Serkosky on his role. "I act as Engineer of Record (EOR) on all projects and, as always, I continue to design structures and improve and streamline innovative new products and staging systems."
Paul has designed and engineered stage systems that have traveled all over the world and have stood for some of entertainment's largest events. His passion for the work he now excels in stems from lifelong interests in performance, theater, music and production. Considering the impressive amount of projects he's proud to have been a part of, all the world is, in fact, a stage for Paul.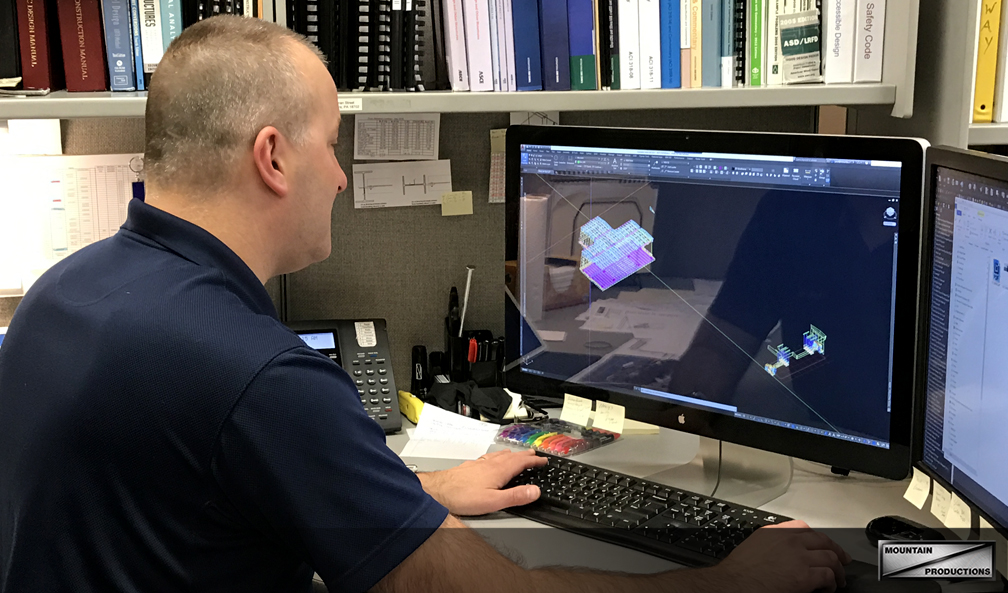 A lifelong interest in entertainment
"I have been playing guitar since I was 14, and played and sang in many bands," said Serkosky on his journey. "By 16, I was playing in local bars and having a blast and, in high school, I was a musician in the school performance of Grease. Basically, I've always had an interest for performance and the behind-the-scenes activities that made the performances possible."
From an early age, Paul immersed himself in the performing arts and his involvement only grew over time. He went on to study engineering at Wilkes University and was an active participant in WCLH, a campus radio station, and Wilkes University's Programming Board, which ultimately led to his first encounter with Mountain Productions.
"I joined the Programming Board and the biggest event of my freshman semester was the Chicago and Moody Blues concert," Serkosky reminisced. "I volunteered for the concert setup and spent the day setting up my first stage and stayed with it until it was loaded back onto the trailers. Out of all of the volunteers that were there early in the morning, I was one of the handful left helping with the load out. I didn't know at the time that the staging company I assisted was Mountain Productions."
Soon after Paul's first encounter with Mountain Productions, he found that his interests in staging production and his passion for music could work well to complement his education in engineering, effectively creating an engaging and one-of-a-kind career. It seemed that fate had arrived at just the right time to steer Paul toward the entertainment industry.
Joining the Mountain team
In the spring of 1994, Paul became part of the Mountain Productions' team as an intern and a part-time employee between classes at Wilkes and as a full-time employee throughout the summer breaks. He began working as a full-time CAD operator and Engineer in Training (EIT) shortly before graduating from Wilkes University with a Bachelor's Degree in Mechanical Engineering. In the first few years of Paul's work at Mountain Productions, he found himself performing tasks well beyond his engineering duties.
"Besides CAD and engineering, I created our first website, did any artwork needed for hand painting or printed scrims, set up new computers, repaired broken computers, created vendor signs for trade shows, worked with the fabrication shops, went on site surveys and developed renderings and animations for project presentations."
His aptitude for technology and vast knowledge of engineering quickly made him a key team member at Mountain Productions in, not only the engineering department, but the entire company. Since receiving his Professional Engineer (P.E.) License, he has become licensed as a Professional Engineer in 42 states.
Creating, building, & innovating stage systems for the entertainment world
The Wilkes graduate designed and engineered thousands of stage systems and structures that would travel all over the United States and beyond. His engineering prowess would lead him to design, engineer and coordinate the manufacturing of Mountain's newest systems—the MTN Truss Systems.
Paul was also the leader for development of Mountain Productions' new MTN Truss Delay and Audio Support Towers. These delay towers are a widely popular choice for their strength and clean aesthetic.
Mountain Productions' head engineer has worked on thousands of projects throughout his career, but there are several events, in particular, that serve as pillars for measuring his personal success and the impact of the Mountain Productions team.
"In 1996, I supervised the construction of three adjacent Hercules Roof Grids, set to be suspended over the Pope," he gleamed. "I remember getting approached by two Secret Service agents, appearing what seemed out of thin air, who asked me how the roof grids were supported and then, just as easily, vanished from the site."
Paul fondly remembers another landmark project in Mountain's history, in which he got to exceed expectations and position Mountain Productions as a leader in industry innovation, but faced an unexpected experience along the way.
"Woodstock 1999 was our largest scaffolding stage structure at the time and was built on an old military air force base," explained Paul. "We built our longest scaffolding and plywood wall along the length of that 12,000 ft. long runway.

I remember taking a private prop plane to the site. It was an 8 passenger plane and, after circling the area and looking out the window, the co-pilot said 'I see it on the map. We are in the right place, but I don't think this is the runway.' It's very different being lost in a plane versus a car!"
Over time, Mountain Productions continued to push the envelope on event production. Stages kept getting bigger, safer and loaded with new lighting and video effects. One of the most memorable projects for Paul has been his involvement with the Electric Daisy Carnival.
"Each time we did EDC Vegas, it would get bigger and bigger. In 2013, we built the largest scaffolding structure in North America. That much scaffolding in one place is typical for a large construction site, but not for a concert stage."
(The EDC Vegas stage was a massive project—read our full recap of the groundbreaking event here.)
Mountain Productions is unique among its peers by having a full-service engineering department, comprised of four full-time experts, in-house and involved with every project. With Paul at the helm, the company truly stands apart from the competition, providing safety-conscious, proficient and innovative solutions throughout the staging and event production industry.