The Electric Daisy Experience
Another EDM event that Mountain has been working with for the past few years is the equally impressive Electric Daisy Carnival. EDC is a unique festival tour that stops at New York, Chicago and ends at Las Vegas. Its extraordinary environment draws sold out crowds and die hard fans from around the world. Mountain Productions set up various stages for the 2013 EDC tour in New York and Chicago, but the stage provided at the Las Vegas Motor Speedway turned out to be a landmark project for Mountain.
Produced by Insomniac Events, the Electric Daisy Carnival prides itself on its fully immersive venue, using elaborate scenery, lighting, video and carnival rides to create a breathtaking site. World renowned DJs take the stage to add the soundtrack for the weekend event. This year, Mountain Productions was tasked with engineering, drawing and building the main stage for the Las Vegas event.
The stage is how big?!
The main stage featured a scaffolding wall of enormous proportions, sitting at 85′ tall, 56′ deep and an overall width of 480′ (180′ longer than a football field!) Mountain supervisors built and coordinated this massive structure on site, which contained over 670,000 lbs (335 tons) of scaffolding and structures and 1,968,000 lbs (984) of ballast. If you laid all of the scaffolding used for the main stage end to end, it would span over 50 miles!
Built to withstand 90 mph winds with all equipment installed, the stage consisted of 3 sectioned walls. The center wall supported a video screen 112′ wide x 40′ tall weighing in at over 47,000 lbs.  Each side wall supported a 40′ wide x 28′ tall IMAG screen at 12,800 lbs. The structure was closely monitored by WeatherOps forecasting services, and each Mountain supervisor was alerted of any inclement weather approaching the site. This is an invaluable service, and promotes and practices safety at each and every job site.
Mountain Productions also provided the scrim that covered the structure which totaled over 176,000 ft. The Attraction Services Company designed and provided an animatronic owl that sat at the center of the stage, with a wingspan of 76′. The owl was the center piece of the main stage, and each DJ performed from a "nest" built in front of the owl. 3D scenic mushrooms and flowers adorned the stage walls, supported by truss supports.
Audience towers 
Another component Mountain Productions provided was an array of audience towers. Each tower was 80′ tall with varying width and depth. The 4 towers each had 14′ wide audience tunnels and were fully covered in scrim. The towers combined supported over 41,000 lbs of video screens.
Mountain Productions' Paul Serkosky, lead engineer working on the main stage and tower blueprints, says: 
In my 19 years here at Mountain Productions, this is the largest scaffolding structure I have ever worked on, with Woodstock 1999 being the second largest. The main stage and audience towers are the largest 3D AutoCAD models of scaffolding I have ever created with over 49,000 scaffolding components. We became involved on this project on April 19th, only 9 weeks prior to the show and only 6 weeks prior to equipment leaving our Wilkes-Barre, PA facility. The project was an extensive effort, and I logged over 360 hours of AutoCAD drawing time and over 125 hours of engineering time.
Aside from being the largest structure Mountain Productions has worked on, EDC also marked an innovative progress in Mountain's history. This was the first time that construction drawing prints were viewed exclusively on Apple iPads by the Mountain supervisors on site. In turn, this saved over 10,000 square feet of paper print copies traditionally used by the supervisors.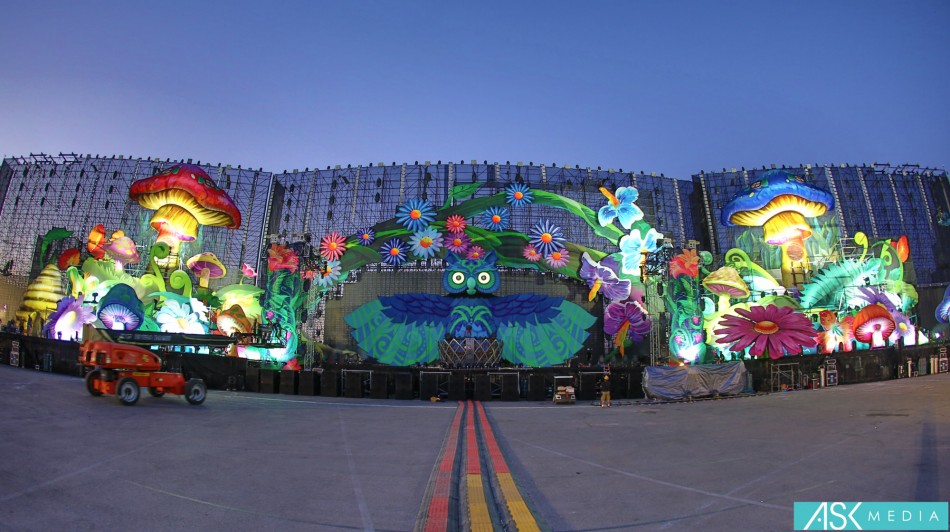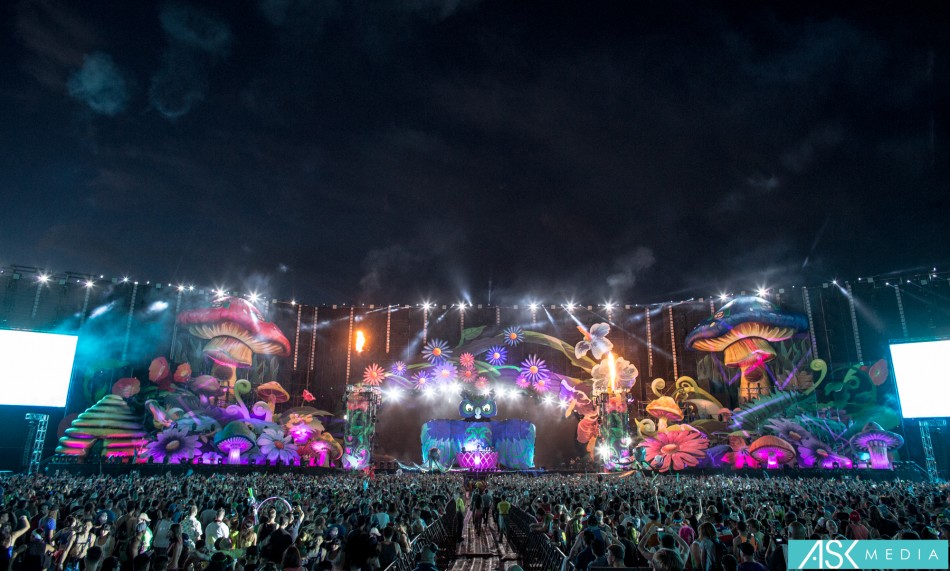 The EDC project was possible due to close collaboration between multiple vendors, including Steve Lieberman (lighting designer), Andrew Gumper (providing lighting and video), AES (scenic flats, inflatables), The Attraction Services Company and more. Mountain Productions is proud to have been a part of this amazing project, and look forward to what next year brings.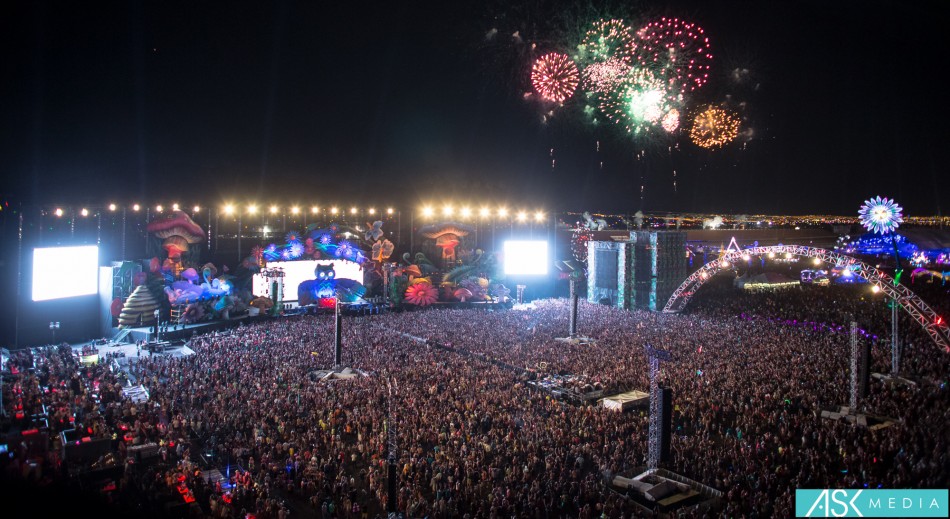 Photos above courtesy of 
ASK Media Productions