In 2014, we launched our MTN BOX road case design to reinvent the way production houses stored and transported their equipment. This case boasts unmatched durability and versatility, with the inclusion of an interchangeable insert system. Marty Wesstrom, head of Mountain Productions' rigging department, worked on the design of the MTN BOX for years in order to provide the industry with a more robust case compared to the classic ATA cases. But how did the MTN BOX project begin? Here's our Q+A with Marty about his career in entertainment production, and the creation of the MTN BOX.

How long have you been working in entertainment production?
Marty: I started working for Mountain in 2000 after graduating high school. It originally began as a summer job for a few months before I planned on going to school for electrical engineering. After a summer at Mountain, I made up my mind to put college on hold. I became more and more interested in the industry, and over time, became more involved with staging and worked my way from supervisor to sales lead.
Describe some of the different roles and positions you have held over the years.
Marty: In 2000 I joined Mountain Productions as a motor shop technician, servicing motors. 5 years later I moved into staging, and became a supervisor on the road. In 2007, my responsibilities transitioned from staging supervisor into sales. I was focused on festivals, fairs and the collegiate market. I remained in staging for 3 years, and in 2010 I became the lead of the rigging department. Currently, I oversee Mountain's rigging team and handle our key accounts and product development.
What were some of the most obvious issues with standard ATA cases?
Marty: Traditional ATA cases would not meet our expectations, considering the harsh environment of outdoor entertainment weather risks and the frequent transportation of these cases. We found that these cases had a much shorter life span than what was ideal. Equipment was being damaged, and required servicing more often due to these shortcomings. At the time, there weren't any other options for road cases, so we began to think of how to solve this problem.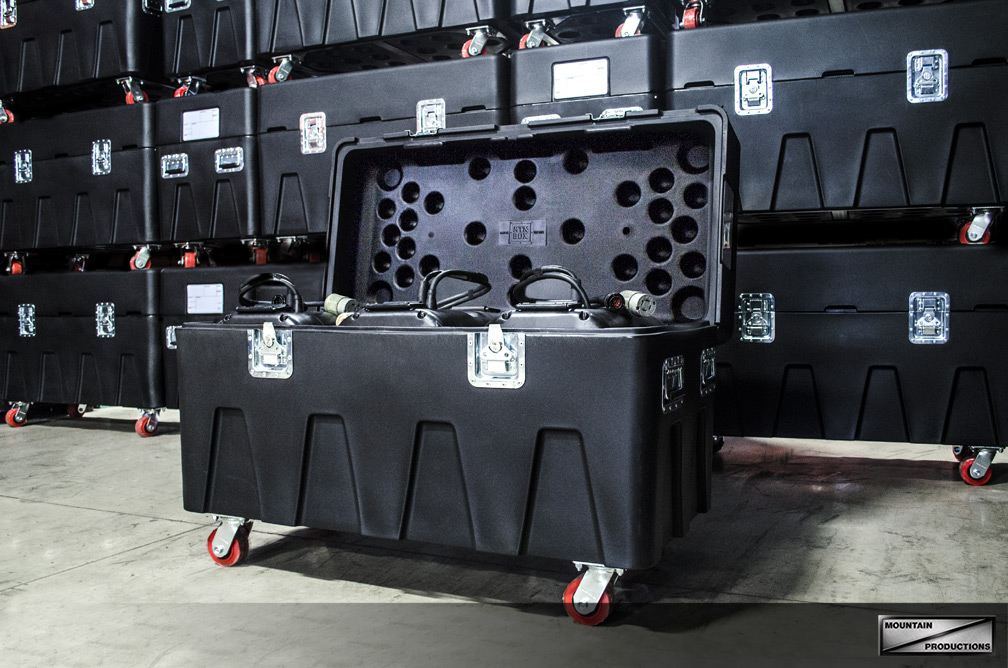 How did you come up with the idea of the MTN BOX?
Marty: We had a previous in-house road case design that I used as a foundation for the concept. Based on customer feedback and addressing various issues we encountered on our first run, we started to list out ways to improve this case, including maximizing internal capacity, making thinner walls, and developing a more versatile case. I sketched out an early concept of the MTN BOX insert system on a scrap piece of paper one night.
Since the introduction of the MTN BOX in 2014, have you received a lot of customer feedback? 
Marty: Absolutely. The feedback has been overwhelmingly positive. The main aspects of the MTN BOX are unmatched durability and versatility, and our clients have attested to both.  This case is truly durable and weather resistant—way beyond a standard flight pack. Unfortunately, there is no way to make the dimensions of the final product meet everyone's expectations across the board, so we've heard clients question the size and weight of the MTN BOX. These issues are quickly outweighed when considering the benefits of the case.
The new Spektrum SM case was just released a few months ago. What was the driving force for that development?
Marty: From the beginning of this project, I always envisioned having different sized boxes to offer. Upon the success of the original MTN BOX, we moved to phase 2 which involved designing a smaller case that worked on an international level, as well as domestic (the new smaller size is ideal for both tractor trailers and 90" trucks). Aside from the newly redesigned lid, the construction and main features remained the same, from LG to SM case.
What's in store for the MTN BOX in the future?
Marty: The beauty of our insert system is that it means that almost anything is possible, so additional insert packages will be released continuously. Also, a third MTN BOX case that would complete our Spektrum Series is on the horizon. We're very excited about our recent partnership with Lejan, the newest MTN BOX dealer representative in the Netherlands, and expanding our brand to international availability. (Read about the MTN BOX® and Lejan here) The MTN brand, as a whole, represents strength and solutions and is not only specific to entertainment, but to other industries as well. The MTN BOX and MTN brand has a bright future, and is ready to grow.
What does #MTNStrong mean to you?
Marty: To me, it represents longevity. Mountain Productions was built from the ground up, and continues to grow each day. Our constant focus on innovation keeps us on the cutting edge of entertainment technology. #MTNStrong means we're here to stay.