Mountain Productions' original stage system, the Hercules Grid System has paved the way for our current stage structures, as well as helped guide the industry standards in temporary staging. The Hercules Grid System was engineered and designed in the early 80s, and quickly became the leading stage for countless high-end festivals and events, including the Jackson's Victory Tour, Lollapalooza, Woodstock and more. For around 20 years, Mountain Productions provided the Hercules Grid System exclusively before the creation of our truss tower system and Mountain Truss.
What makes the Hercules Grid System so desirable is its unmatched level of versatility. This stage can be built on any grade, and virtually any surface. We've built this stage on the beach, on steep inclines, around existing structures, trees and bushes, and even in water. The picture below is from the Bermuda Jazz Festival in 2002. Scuba divers dove underwater to level out the scaffold. Trust us, we truly will do whatever it takes to make the event happen!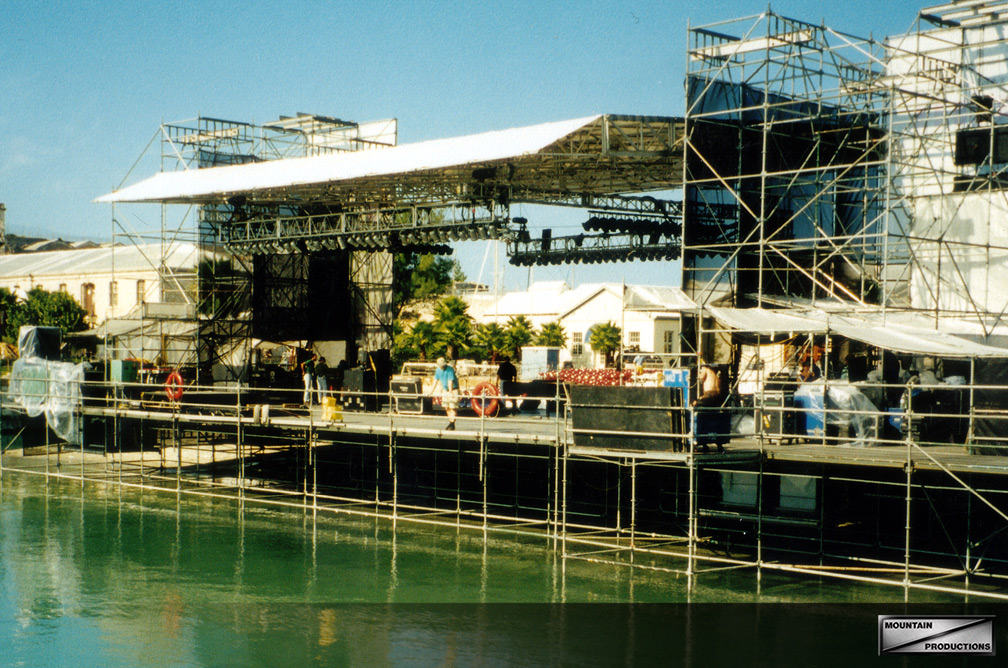 The Hercules Grid System can be modified to many configurations. We can build this roof grid from 40' to 80' wide, and 24' to 60' deep. The Hercules Roof Grid is made of aluminum and can be assembled using 8' or 4' bays to accommodate different roof loads. Our engineers created a variety of custom beams that span multiple roof bays for weight distribution and safety. A keder track system is used for the roof skin vinyl panels. Like all of our systems, custom printed softgoods are supported and encouraged on the stage wings, backdrop, and header.
Mountain Productions' Hercules Grid System has been imitated by other companies following its enormous success, but has never been replicated. To this day, the Hercules Grid System remains a popular choice for mid to large scale events, and is fully adaptable to any location and configuration.
---
Like what you see? Get in touch with us to keep the conversation going! Send us a note for more information on the Hercules Grid System and ideas on how your next event can benefit from this stage.