Returning with a rhythmic, good-all-round country music line-up, Tortuga brought the sweet sounds of country to Fort Lauderdale and its beloved beaches once again in 2022! Back for its biggest year ever, thousands of country music fans from across the country gathered for three days of non-stop music across three bona fide music stages.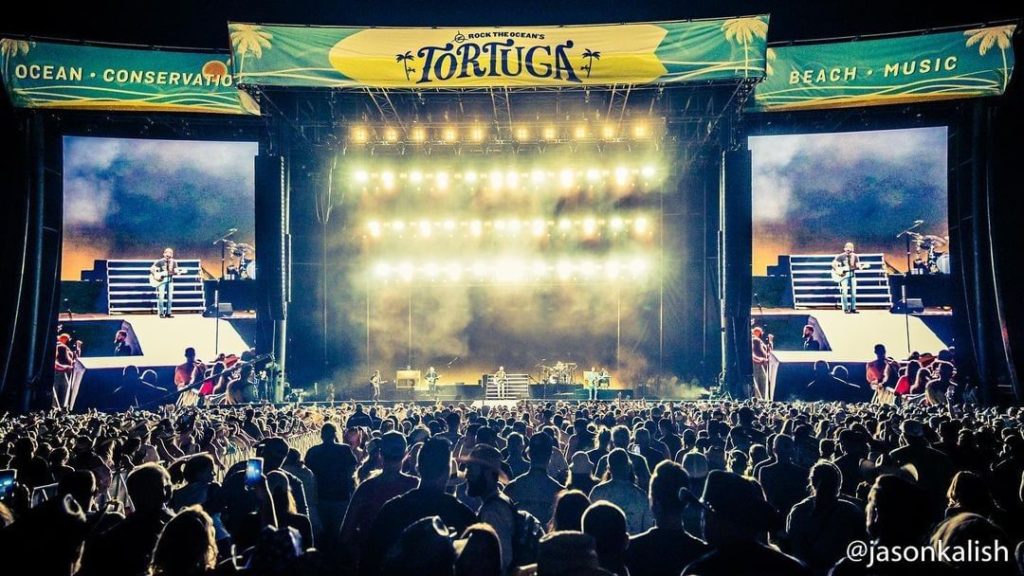 Unlike regular music festivals, Tortuga is unique due to its beach location! Sand between the toes, sunshine high above and jams all day long, help to support the festival's mission to bring "like-minded fans together for an unforgettable beach weekend experience." The festival works alongside the Rock the Ocean Foundation to generate awareness and raise funds for ocean conservation. Check out more about their work here.
Multi-Stage Extravaganza
Mountain Productions' teams built our stages on Fort Lauderdale's pristine white sands, constructing the festival's three stages: Main Stage, Sunset Stage and Bacardi's Next from Nashville Stage. Throughout the weekend, artists including Nelly, Morgan Wallen, Luke Combs and Thomas Rhett took to these stages to perform in front of sold-out crowds of adoring fans.
Main Stage
Dressed in Tortuga's signature colors of blue and yellow, the MTN HD+ was where all of the main stage action took place. As one of the premier staging systems in use today, the HD+ featured a massive 80' wide performance area. The system also boasted a total rigging capacity of 489,300 lbs allowing production the flexibility it needed to pull out all the stops. With the addition of two LED screens flying from each wing offstage, all festival goers got a close-up view of country music's hottest acts.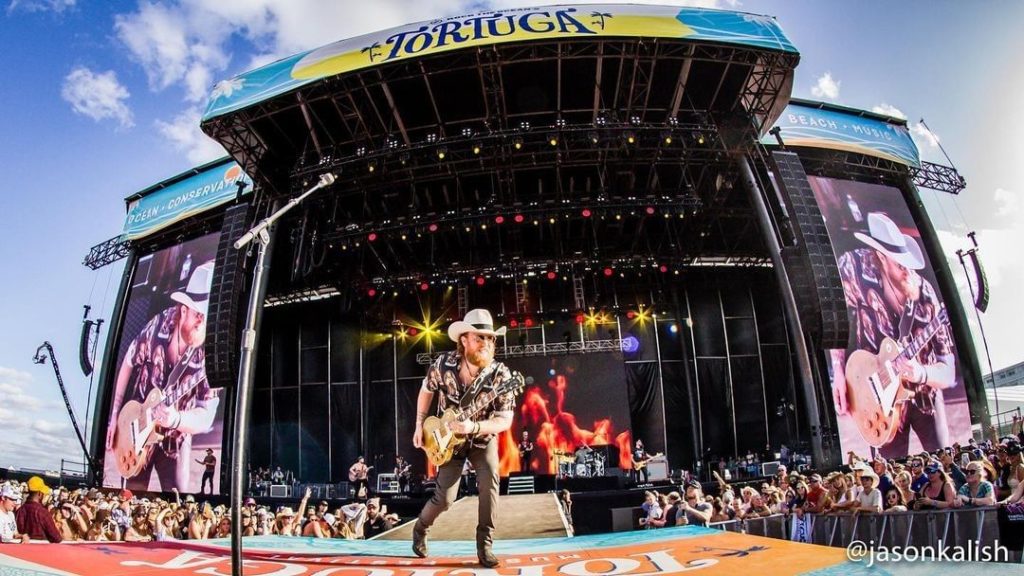 Sunset Stage
Surrounded by sun, sea and plenty of palm trees, "Sunset Stage" was built from our SP-1 Main Stage. A downstage edge of 56' gave artists ample space to perform and meet the crowds gathered in the standing room only audience! Fans were treated to memorable performances from Chase Rice, Scotty McCreery and an amazing set from Sublime with Rome to close out the weekend.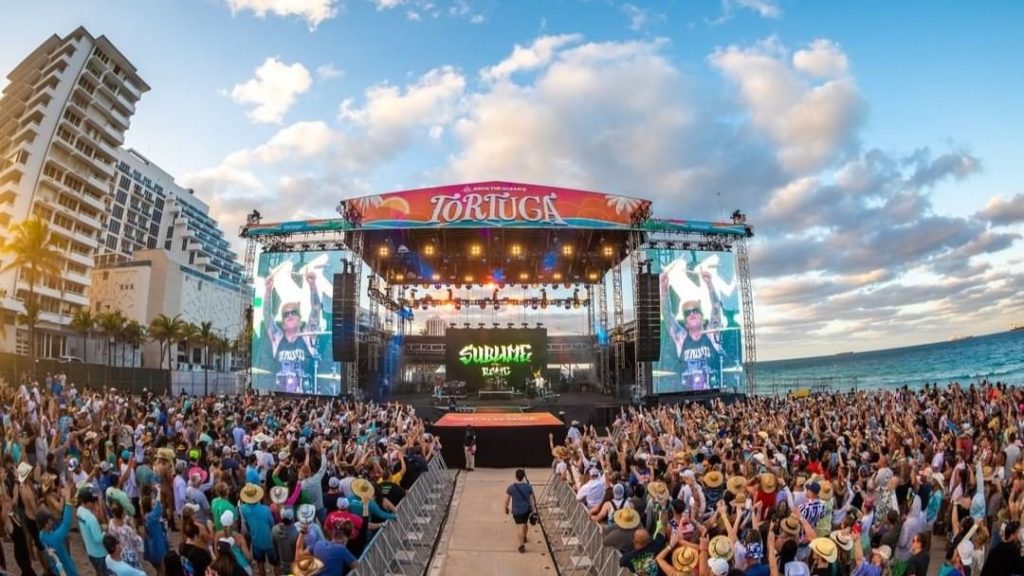 Next from Nashville Stage
Meeting fans in the center of the festival grounds, nestled under an intimate tent canopy, the "Next from Nashville Stage" comprised our 4' x 8' stage decks. The size and intimacy of this stage captured the heart and soul of aspiring country music acts. With the decks sitting at a shy 4' from the ground, fans could enjoy an up-close and personal experience with on-stage performers!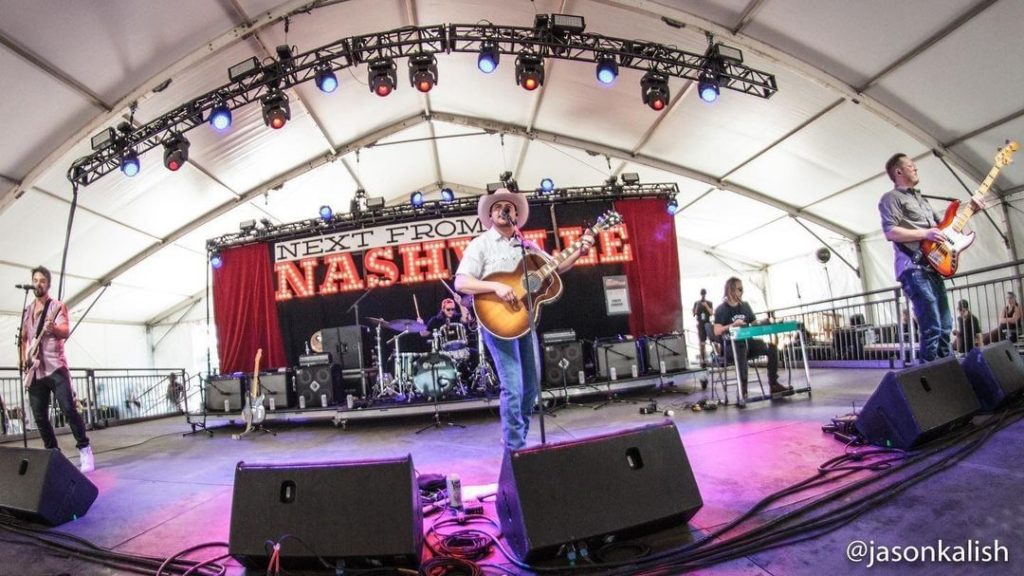 An Elevated Experience
In addition to the three festival stages, Mountain Productions also supplied the VIP Riser. Our riser was used to help enable exclusive sightlines for VIP guests and surrounded a unique water feature. Amidst all the excitement, VIPs could escape to the VIP Riser for their own private area overlooking the HD+'s Main Stage acts.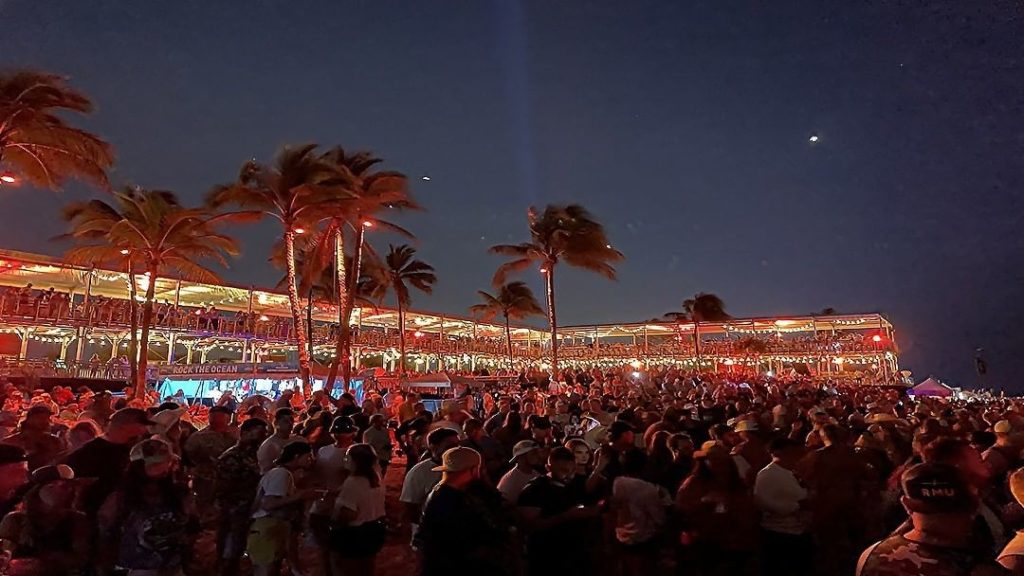 Contact Us
Tortuga may be over for another year but we're already looking forward to what 2023 will have to offer! For more information about the systems mentioned here, or to enquire about how to begin executing your next event, please visit: https://www.mountainproductions.com/