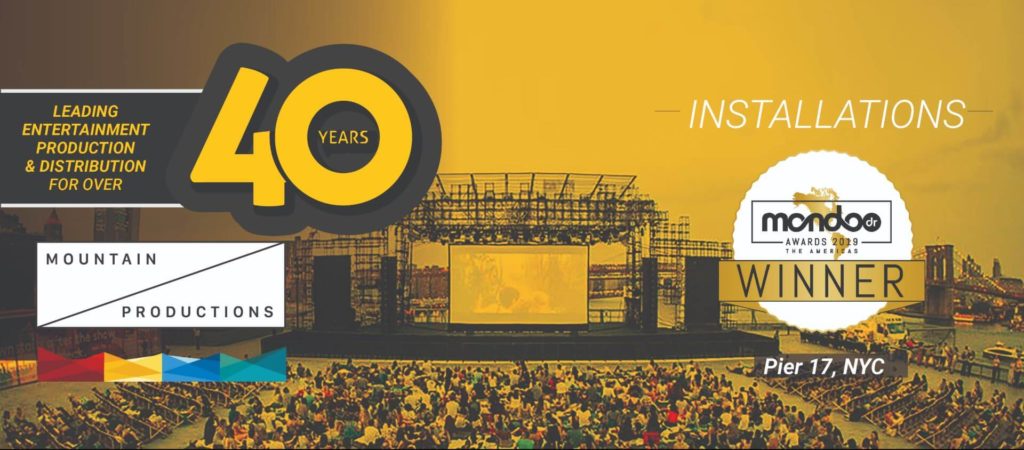 Summer concert season is always a busy time for us here at Mountain Productions, but we recognize the importance of taking time to reflect on past builds and to grow and learn from the latest technological advancements in the industry. This month, we had the pleasure of attending both the Mondo*dr Awards and InfoComm 2019 in Orlando, Florida.
mondo*dr Awards
Mondo*dr is a leading international publication that focuses on technology in the entertainment sector. They cover some of the most impressive installations around the world, from local theaters and live music venues to international clubs, arenas, and cruise ships.
In 2017, mondo*dr magazine launched the mondo*dr awards, an award ceremony created to highlight and showcase the best entertainment installations around the globe. Building on from the success of the EMEA and APAC Mondo*dr awards held in Frankfurt this April, a second awards ceremony was developed to include applicants from The Americas. Mondo*dr The Americas Awards was launched this June at InfoComm, Orlando to great response.
When we heard we were shortlisted for the Best Installation: Concert Hall category for our work at Pier 17, we were incredibly proud. To actually win the award, as well as to win the Winners Overall Award, was a very rewarding experience for the Mountain Productions team.
Receiving the award for Pier 17 rooftop installation in the Concert Hall category and the winner of winner's award across all categories was an incredibly proud moment for Mountain Productions. To be recognized by a global publication like Mondo Dr is an honor and only validates our quality and the commitment we have to our customers. The All Americas Award is a recognition of the broad capabilities Mountain Productions possesses as much more than a staging company that encompass our engineering, design, manufacturing, product development, rigging, and permanent installation business units that differentiate our company. None of this would be possible without the hard work and dedication made by the MTN team. Ricky Rose, CEO, Mountain Productions.
A lot of hard work and determination went into designing, engineering, fabricating, delivering, and installing the entire project, and we are honored to be recognized by such an esteemed publication. This year's competition was stiff, and all shortlisted were worthy of winning. These awards are important as they recognize the hard work not only of our team but also our peers within such a challenging industry.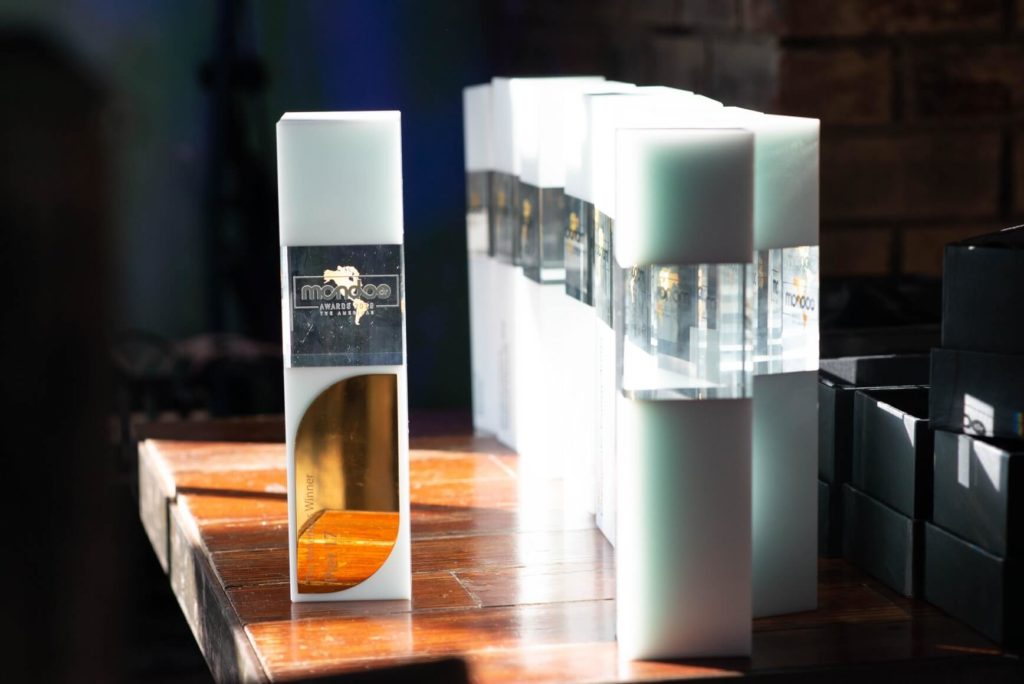 Pier 17
The Rooftop at Pier 17 is a unique one-of-a-kind venue in NYC's founding neighborhood, the Seaport District. This scenic rooftop venue is five stories high, 1.5 acres in size, and extends out 300 feet into the East River. It reopened to the public last summer and fast became one of NYC's biggest hotspots.
This historic building has been recently remodeled and after its star-filled inaugural Summer Concert Series, the Howard Hughes Corporationand Live Nationknew they needed a stage just as unique as this rooftop venue.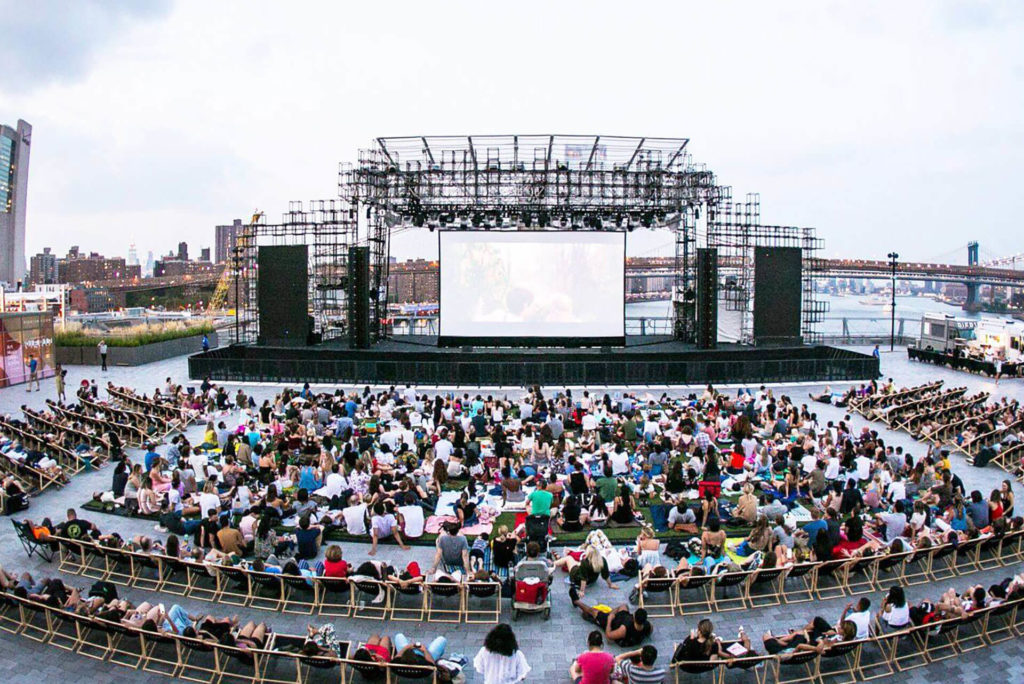 The Challenge
The design parameters for the Pier 17 project were that the stage had to look different from any other stage in the world. With Pier 17's unmatched views of the Brooklyn Bridge, Statue of Liberty, and the city skyline, our team set out to design a one-off piece that would make just as grand of an impression as its surroundings.

The Concept
Given the venue's position on the East River, unpredictable weather conditions and high winds were all factors in the stage design. Time was certainly a huge factor: we had eight weeks to design, engineer, fabricate, deliver and install the entire project. Our goal was to provide audiences with a unique visual opportunity in the center of New York City while maintaining design integrity and safety standards.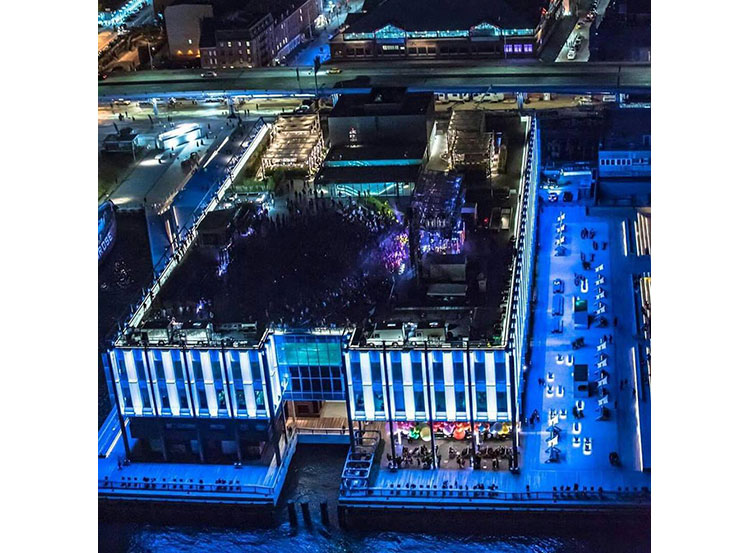 An Award-Winning Delivery
Given the unique design parameters and tight timeline, our team was able to deliver a one-of-a-kind stage that lent itself to being chosen as the Best New Concert Venue in the World at last year's Pollstar Awards, as well as a winner at the 2019 mondo*dr awards.
"It's been an absolute honor to be acknowledged for this project. We were presented with a timeline and design parameters that all of our competition turned down and that our team accomplished with unprecedented enthusiasm and a desire for perfection. Our internal shops, engineering department and riggers all made this award possible." Dave Piccolla, Director of Installations, Mountain Productions.
InfoComm 2019
The 2019 mondo*dr awards ran alongside InfoComm, the largest professional audiovisual trade show in North America. Attending industry trade shows is an important way for us to stay up-to-date on industry developments, new product launches, and to network with other professionals in the industry, making InfoComm as must attend event.
This year's show in Orlando was bigger than ever, with over 1,000 exhibitors and 44,000 attendees. Featured exhibitors include Bose professional, Intel Corporation, Mitsubishi Electric, and hundreds more. Next year's event will be held in Las Vegas, Nevada, and we hope to see you there!
To stay up-to-date on our award winning work and other Mountain news, be sure to find us on Facebookand https://www.mountainproductions.com/.