In January, we all wish we could be somewhere on a beach listening to our favorite music. Simon Franklyn, Mountain Productions' Director of West Coast Operations, was doing just that while serving as an expert staging and rigging consultant for three major productions.
Our team was on scene in Riviera Maya, Mexico, providing our expert services for Dave Matthews and Tim Reynolds, Crash My Playa, and Dead and Co. featuring John Mayer.
Dave Matthews & Tim Reynolds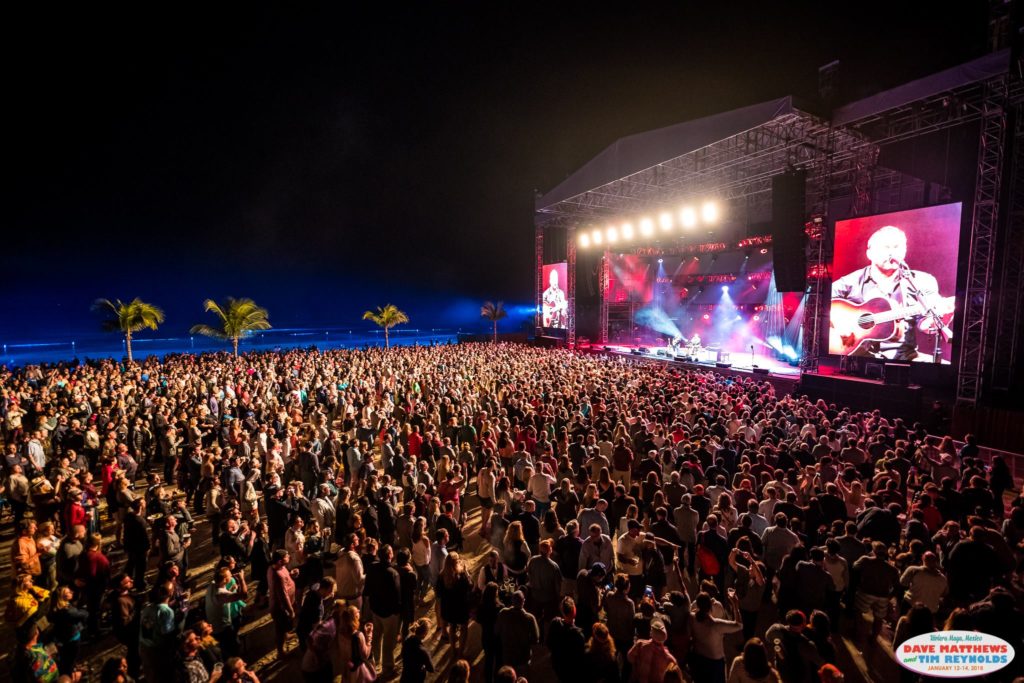 Our West Coast division kicked things off in Mexico with a pretty phenomenal, but hard to see acoustic duo – Dave Matthews and Tim Reynolds. The pair took to the luxurious white beaches of the Barceló Maya to perform for a few thousand fans.
The Mountain Productions fabrication shops helped to set the scene with custom-printed mesh headers and side scrims for the artists. Our expert rigging consultants were also on scene in the Caribbean to ensure the show went off without a hitch.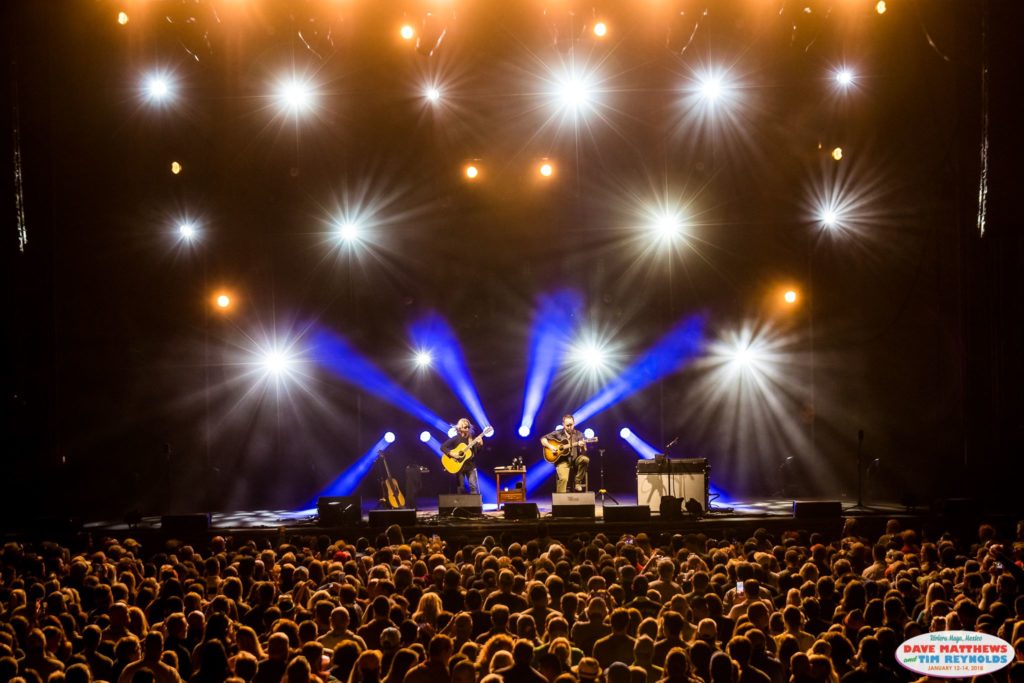 Our on-site experts oversaw the construction of the stage and other structures on site for all three events. Mountain was also responsible for reviewing the rigging for each performance and monitoring weather patterns in the sometimes unpredictable tropical environment throughout each of the three major events.
Crash My Playa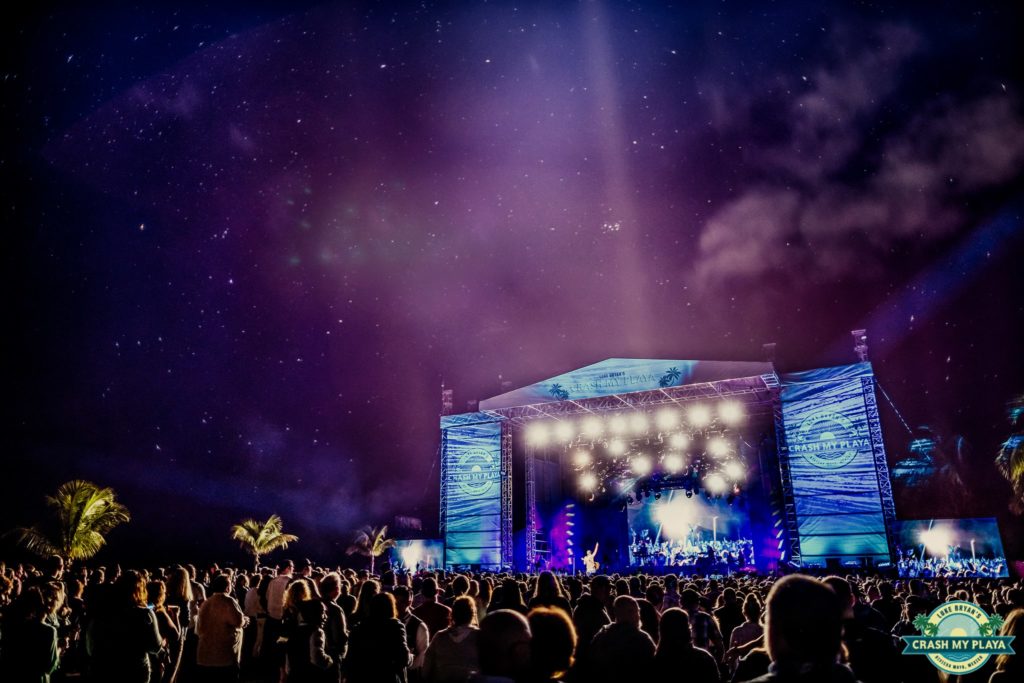 This 4-night intimate country concert vacation takes place each year on the beach at an all-inclusive resort in Riviera Maya, Mexico. With Luke Bryan and some of his most talented friends, this event has quickly become one of the hottest events in Country Music.
With so much incredible talent, beautiful all-inclusive tropical resorts and a gorgeous beachfront venue, Crash My Playa is a concert vacation like no other. Our team was on site and providing their expertise to help make it all happen.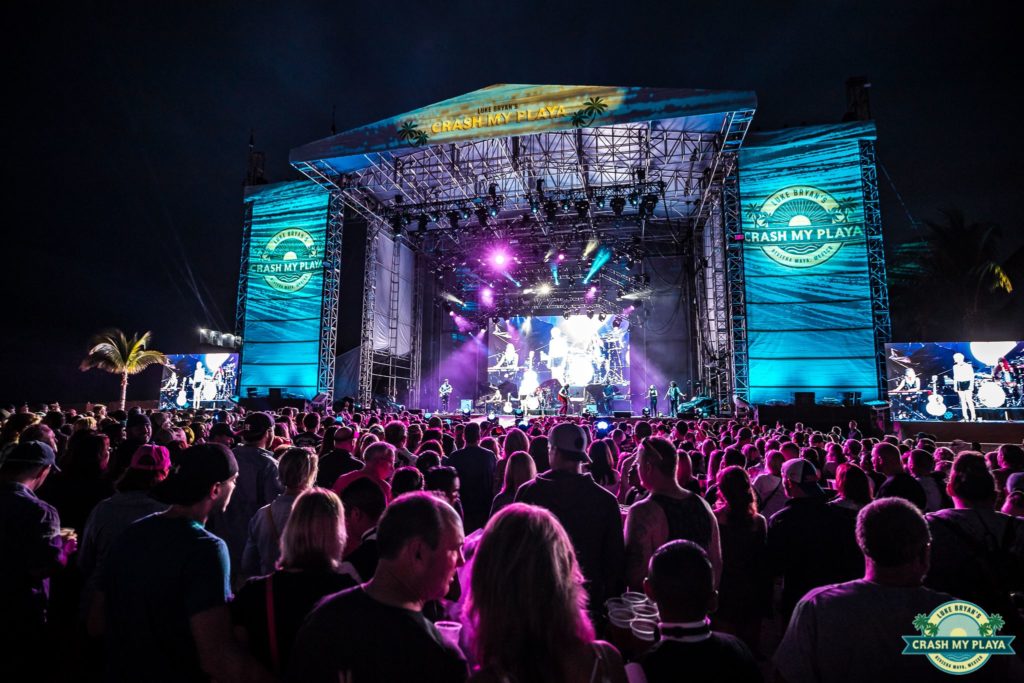 Our fabrication shops created custom banners that let fans know, without a doubt, that this was where the hottest country festival under the February sun was happening. Between the colorful custom scrim stood the biggest names in country music.
With Sam Hunt and Brett Young opening things up on Wednesday night, things got off to a pretty wild start. Dustin Lynch and festival-founder Luke Bryan kept the party going on Thursday. Maren Morris and Blake Shelton closed out Friday night and The Cadillac Three performed on Saturday before Luke Bryan gave a performance fit for the country superstar to close out another year.
Dead and Company featuring John Mayer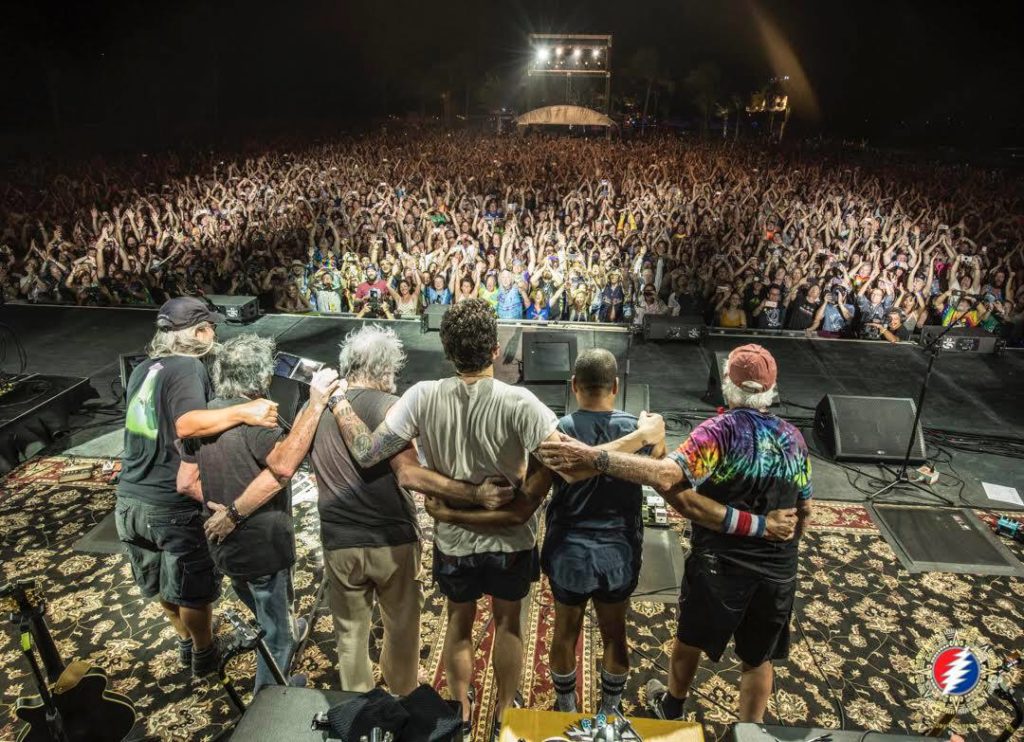 Mountain Productions' two month run in Mexico ended with sellout shows by Dead and Co., featuring John Mayer. Known as Playing in the Sand, February 15th through the 18th marked a weekend of unforgettable concerts on the beaches of Mexico.
While Friday night featured Michael Franti & Spearhead, Thursday, Saturday and Sunday meant two sets of the legendary Dead & Company. Grateful Dead members Mickey Hart, Bill Kreutzmann and Bob Weir joined forces with singer/guitarist John Mayer to form the band Dead & Company, along with Allman Brothers' bassist Oteil Burbridge and Fare Thee Well and RatDog keyboardist Jeff Chimenti. Their critically acclaimed performances draw from the Dead's historic catalog of songs.

The Mountain Productions fabrication shops helped to set the scene, once more, with custom-printed mesh headers and side scrims for Playing in the Sand. Our staging and rigging expertise ensured another set of legendary performances went off without a hitch to wrap up a winter series we won't soon forget.
---
With so many stars, its almost hard to believe that they performed on a beach to only a few thousand people. Mountain Productions once again put our decades of experience to work and helped to turn dreams into reality on the sandy shores along the Caribbean Sea.
Franklyn's previous roles as Master Rigger, Lead Staging Supervisor, Production Manager, Rigging Contractor, Designer and Consultant were all brought together once again to lead the crews for three legendary events.
Mountain Productions was happy to provide our expertise for another weekend of sun, white sand and world-famous music. Though the CID festival series is over, these events have been another set of major productions leading to the action-packed 2018 festival season ahead. Keep your eyes peeled on our blog for an exciting look at all of your favorite events built by the Mountain crews.