Mountain Productions' 33rd Annual Hoist School and our annual Staging School kicked off last Monday morning with a class full of the next industry professionals. Dozens of students from three continents came together for a legendary week of hands-on training, education and fun.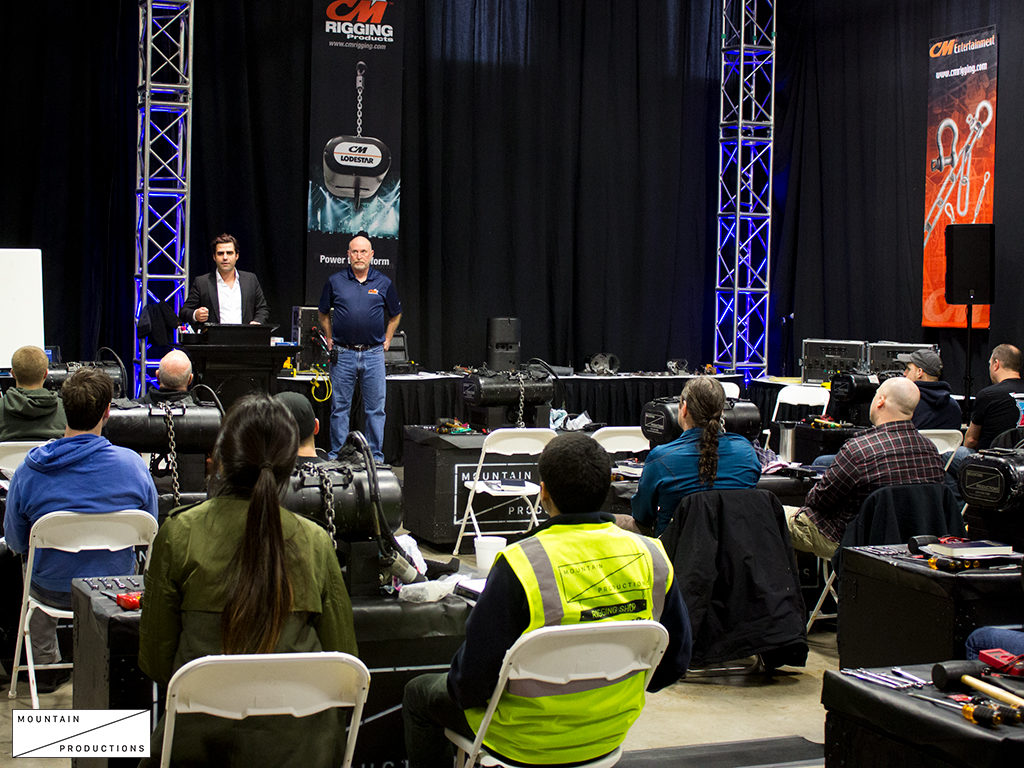 DAY 1
Ricky Rose, CEO of Mountain Productions, kicked off the annual week of learning with a tour of the Mountain Productions Wilkes-Barre campus. Once the students got a sense of Mountain's capabilities, Ricky offered a Welcome Address to our students from around the globe.
Mountain's CEO also introduced our hoist maintenance and repair expert instructor for the week – Dave Carmack.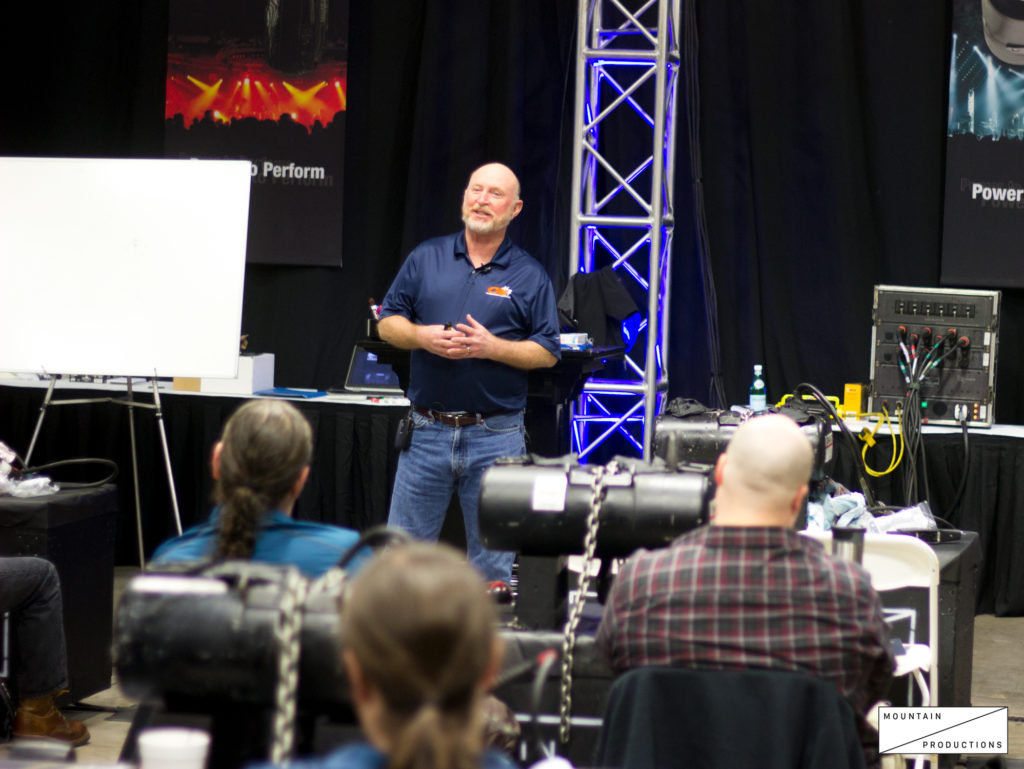 From that point, school was officially in session. Dave Carmack kicked off the lesson plan from there, giving candid advice and an introduction to the week of learning ahead.
As our Hoist Maintenance instructor, Carmack worked alongside students as they got their hands dirty learning about hoist assembly, key components and proper servicing methods. Having literally written the book, there's no better person to lead our students through another successful training week.
While Hoist School kicked off inside, our Mountain Productions crew took to the yard for the beginning of Staging School.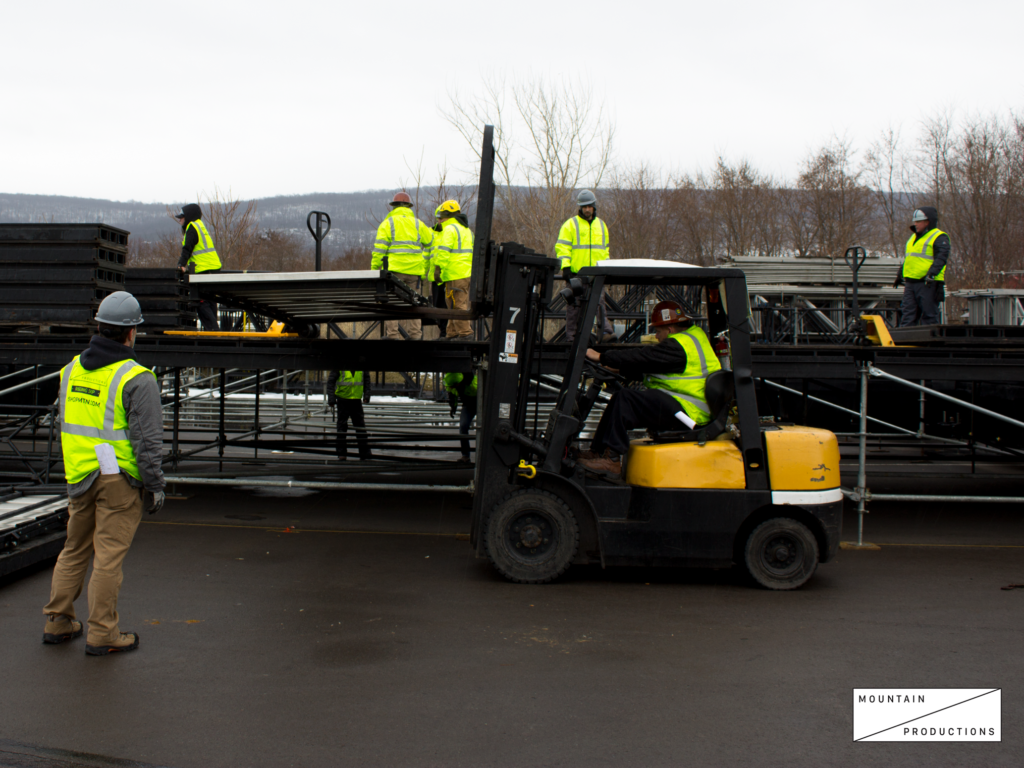 Our staging crews worked on getting themselves and our equipment ready for the 2018 festival season. As we approach some of the busiest months of the year, our staging supervisors ensured every crew member that hits the road has the skills to offer the safest and most reputable service for every MTN event across the continent.
While everyone was on campus, our crews began work on a test build of an exciting new staging system called the SP1. The SP1 system will continue the Mountain Productions mission of offering the perfect staging solution for every type of event.
DAY 2
Tuesday morning brought an exciting mix of hands-on lessons for our hoist school students. They learned all about the components of a hoist from the inside out and learned to diagnose and address common issues.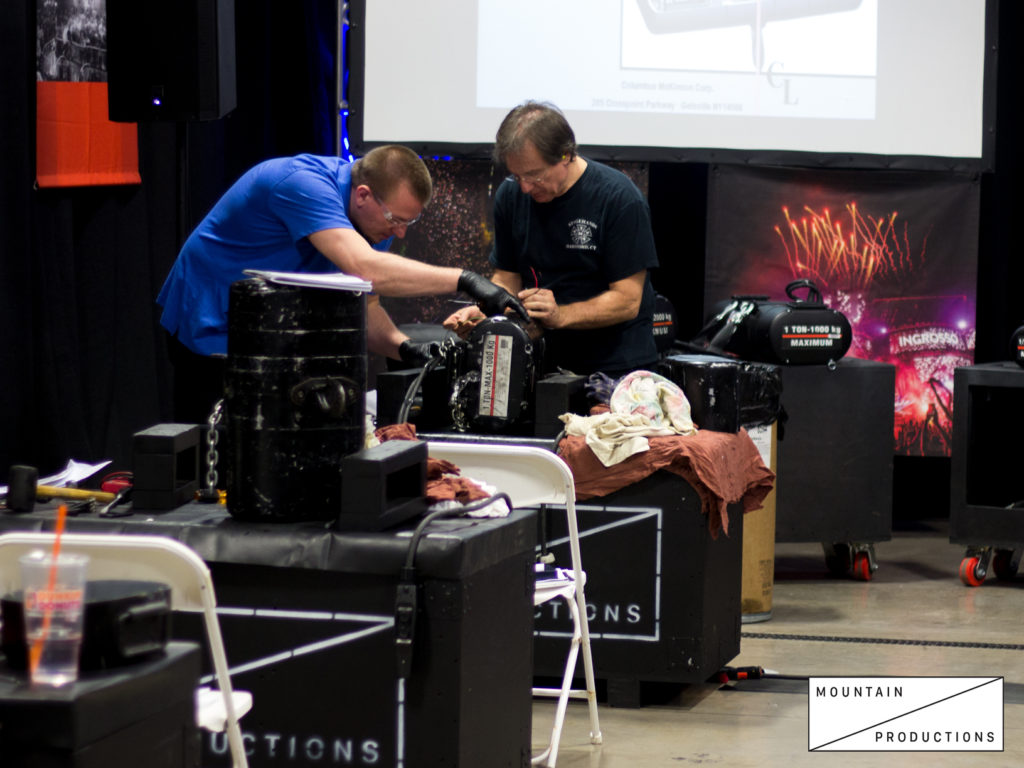 The hoist school students followed Dave Carmack's lead, learning the key components and proper servicing methods of a hoist by doing the work on their own – with the watchful guidance of the master himself, of course.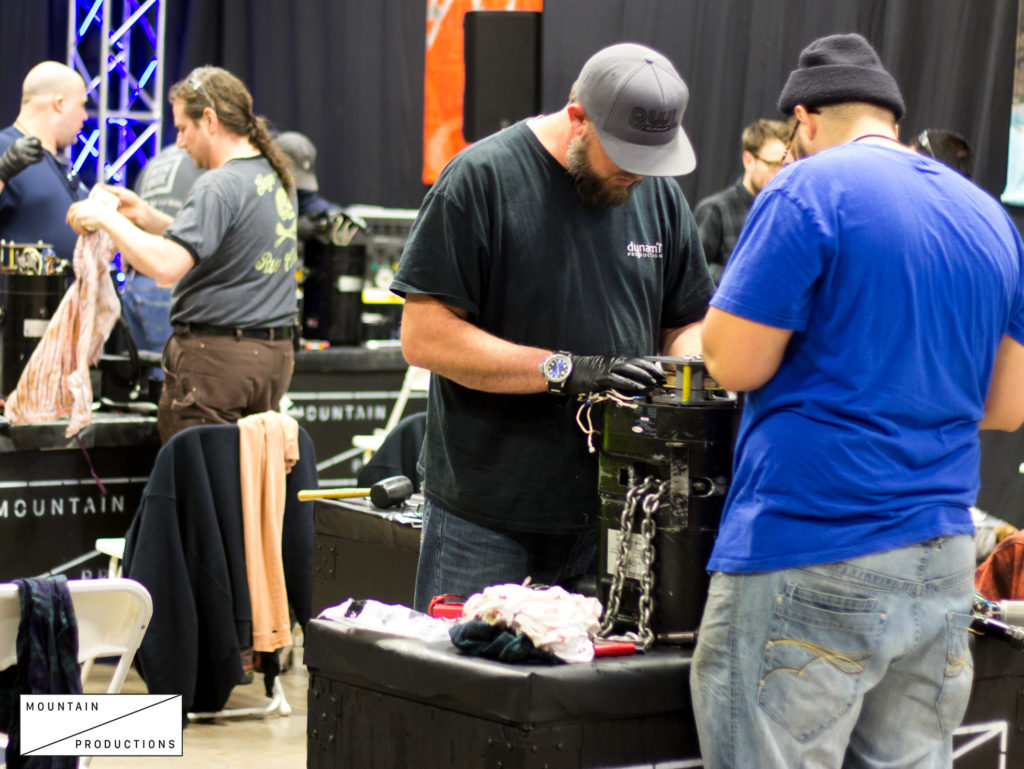 As our industry continues to evolve, the same hands-on approach and dedication to safety remains at the forefront of our Hoist School. Making sure our students are trained on the latest standards and equipment is paramount, ensuring our students received the best information and guidance available.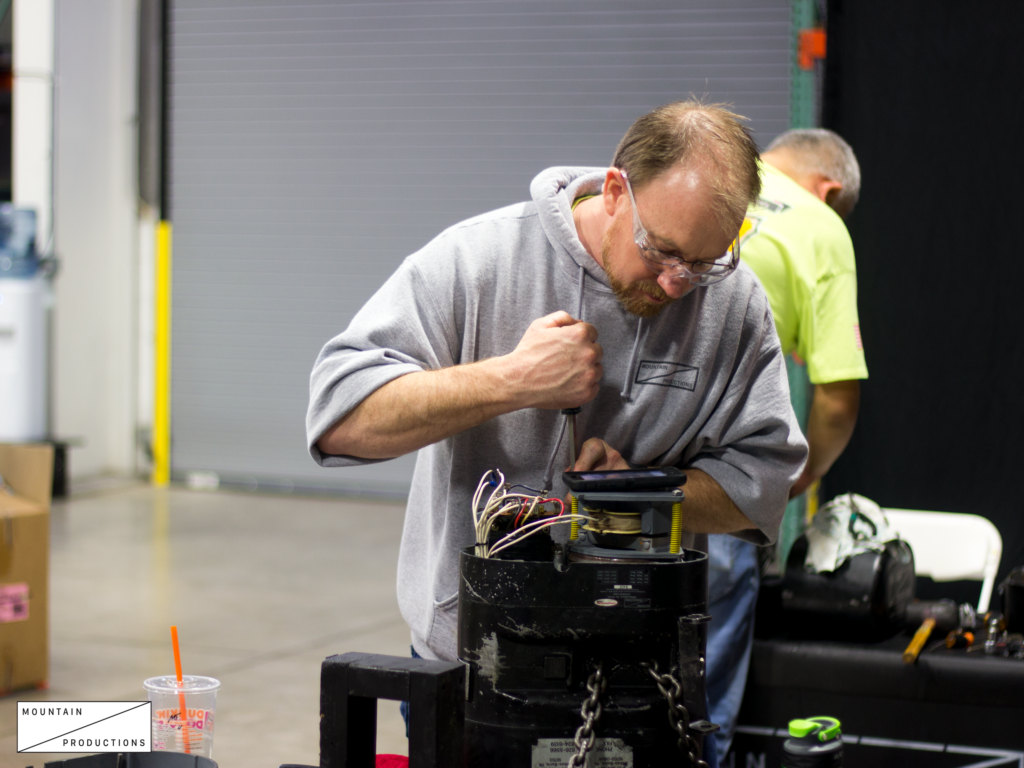 While our new Hoist School friends were busy inside, the Mountain Productions Staging and Rigging Crews were out in the yard working on the SP1 build.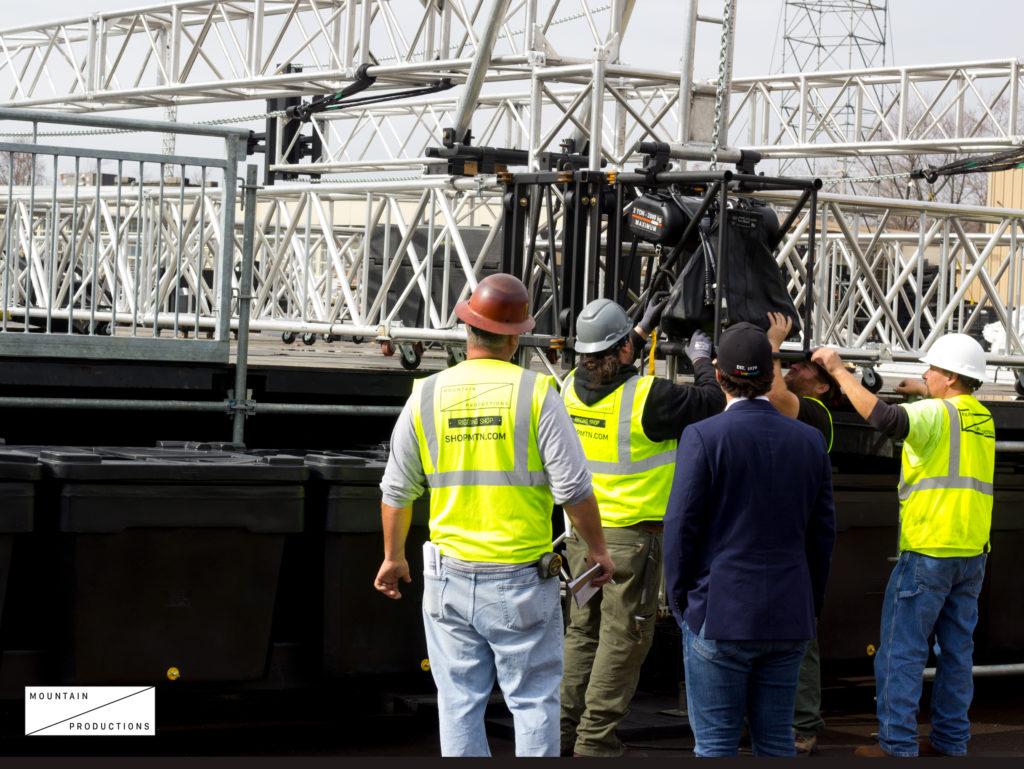 Ricky Rose and Staging Supervisors Zach and Jake Smolenak worked alongside the entire Mountain road crew to oversee the SP1 build. The team showcased their on-the-road skills right here at home while working on the new system.
With development and design stemming from our in-house team of industry-leading engineers, in-house fasbrication and our expert installation, this major project is another showcase of Mountain Productions' capabilities from start to finish.
DAY 3
On Wednesday, students switched gears from hoist maintenance to focus on rigging principles. Eric Rouse, from Chicago Flyhouse, once again led our Hoist School students through basic and advanced rigging practices.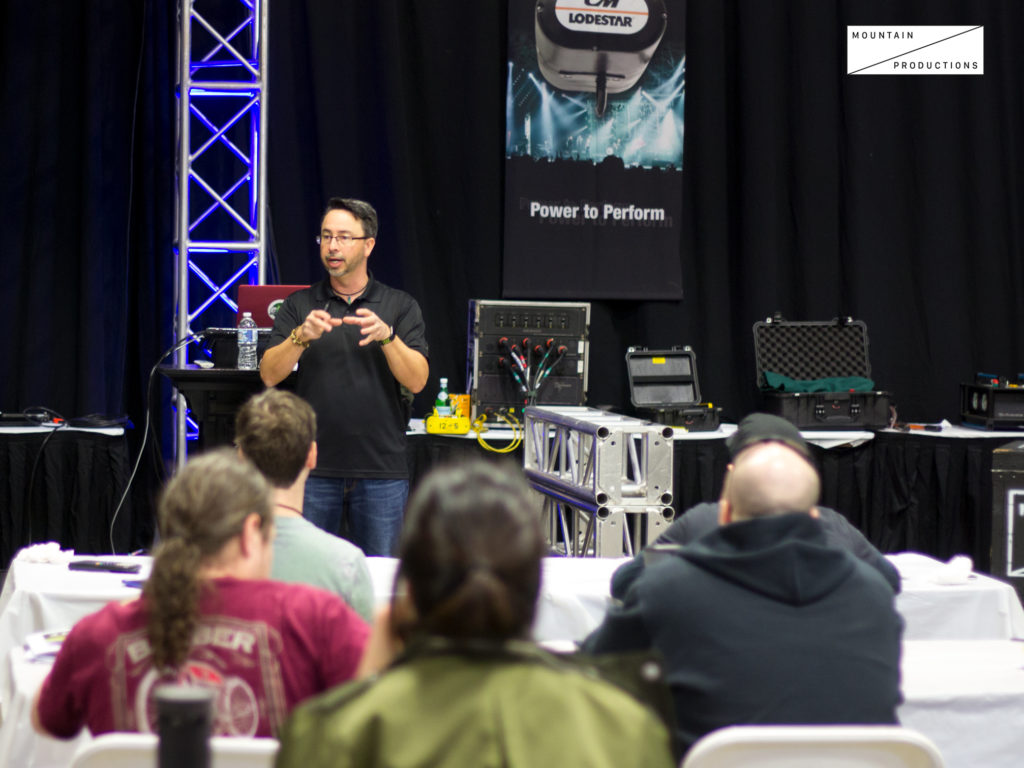 Eric Rouse serves as the Director of New Product Development for Chicago Flyhouse, a diverse production company providing a wide range of theatrical rigging services. Rouse has been sharing his vast rigging knowledge with our Hoist School students for the past seven years.
Rouse's mission was to leave our students rigging safely and with confidence. By the end of the day, he was already able to instill his commitment to safety and the core principles of best practices unto our next industry leaders.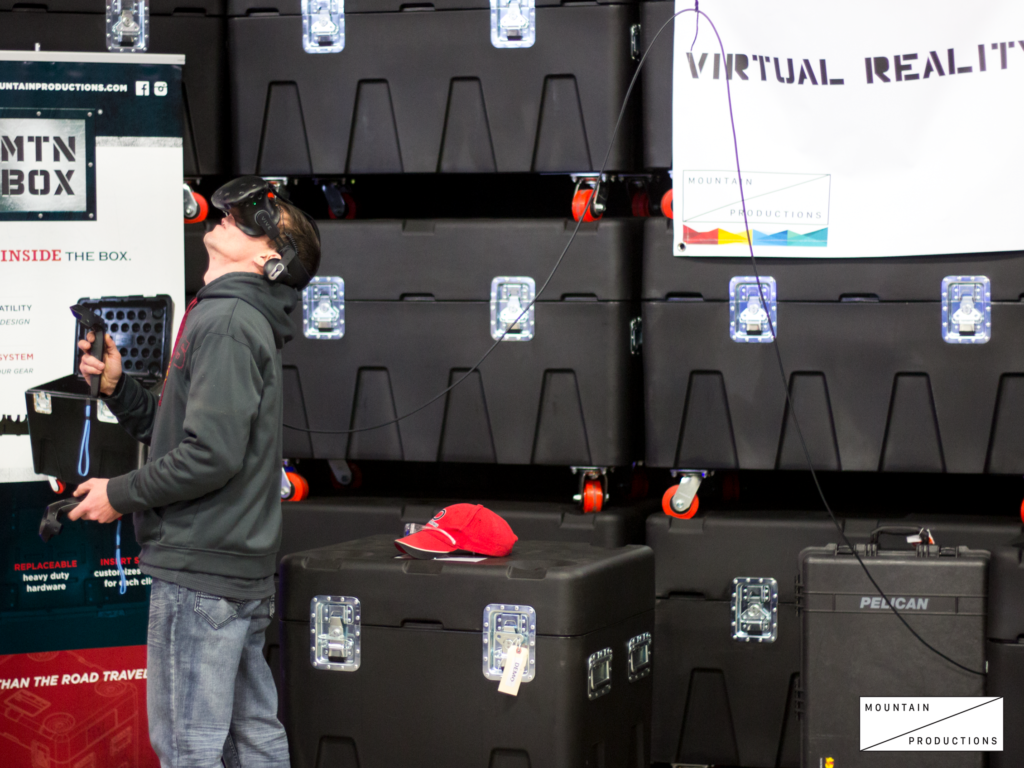 Students also had the chance to learn about Mountain Productions' full range of OEM offerings. From getting their hands on the MTN Box and our MTN Chain Bags, to touring our award-winning staging and roof systems in Mountain's new VR experience, our new friends were immersed in all things MTN Strong.
Our MTN Shop Booth was also a destination spot throughout Hoist School, giving our students a chance to get a feel for the gear we use and the brands they can trust on and off the road.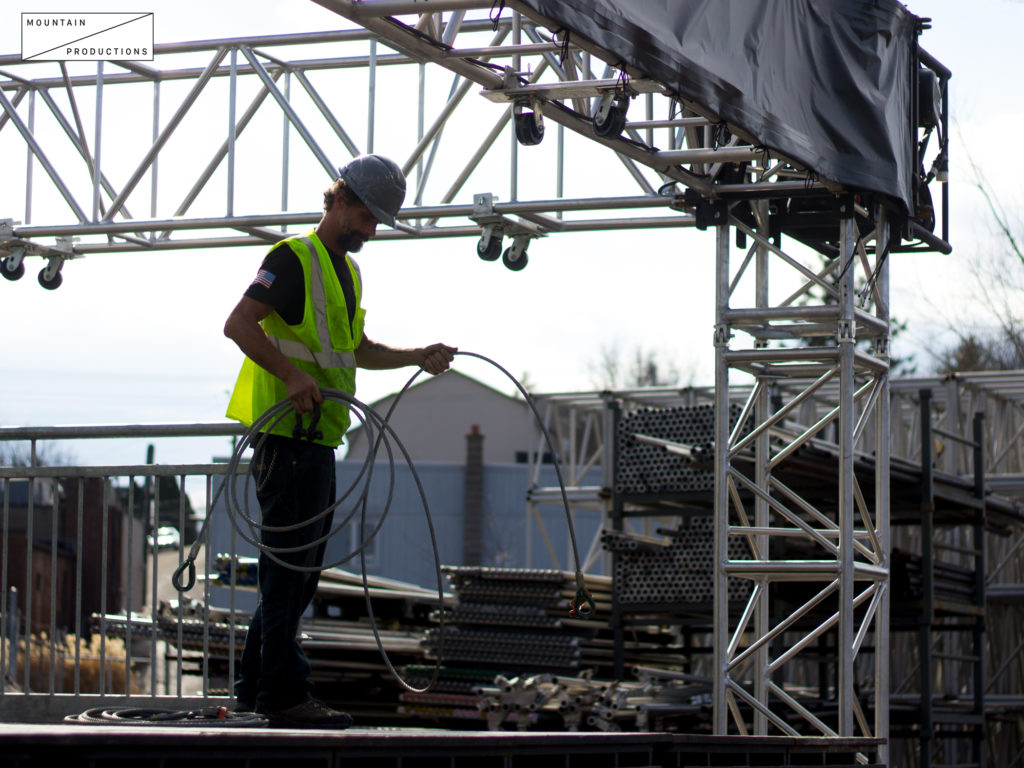 Outside, the rain cleared up for our staging experts who continued to improve their skills and learn about the next big projects they'll undertake. With festival season just around the corner, our crews are ready for anything and eager to load in to our next big event.
DAY 4
Eric Rouse spent Thursday continuing to teach our students about the best rigging practices, with safety and precision at the forefront of his lessons.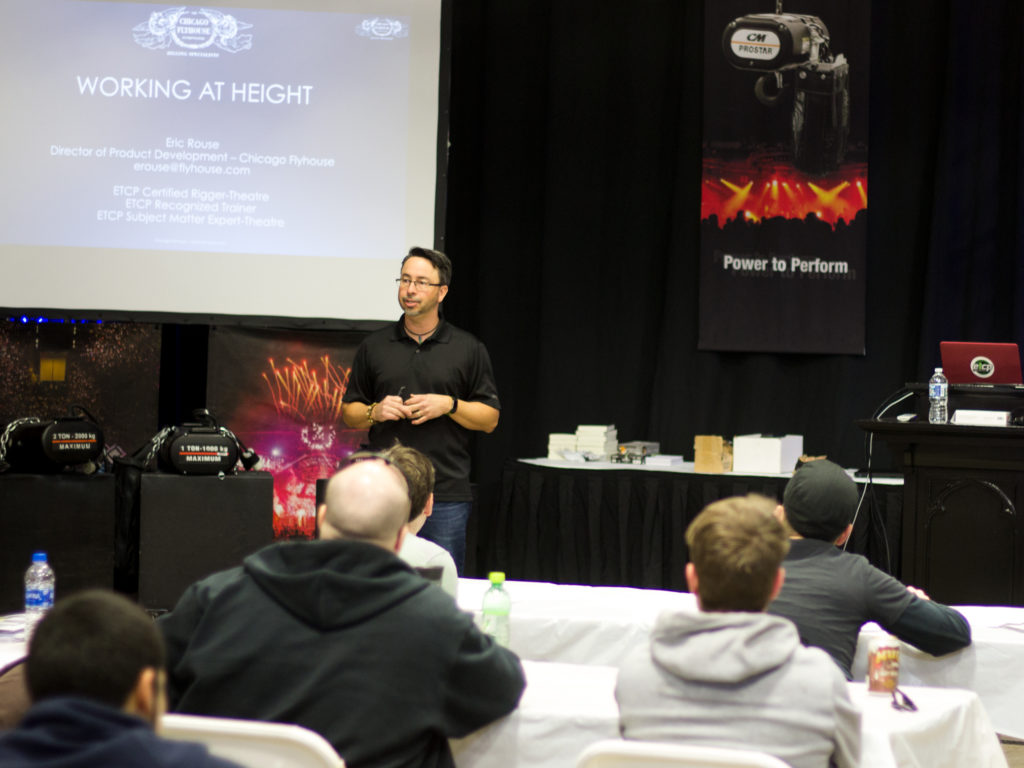 Students prepared for their certification exams while working through material with Eric and their classmates. They got a chance to learn more about what it takes to work at height from an industry veteran who not only knows their exam, but more importantly, what they're likely to experience on the job in the future.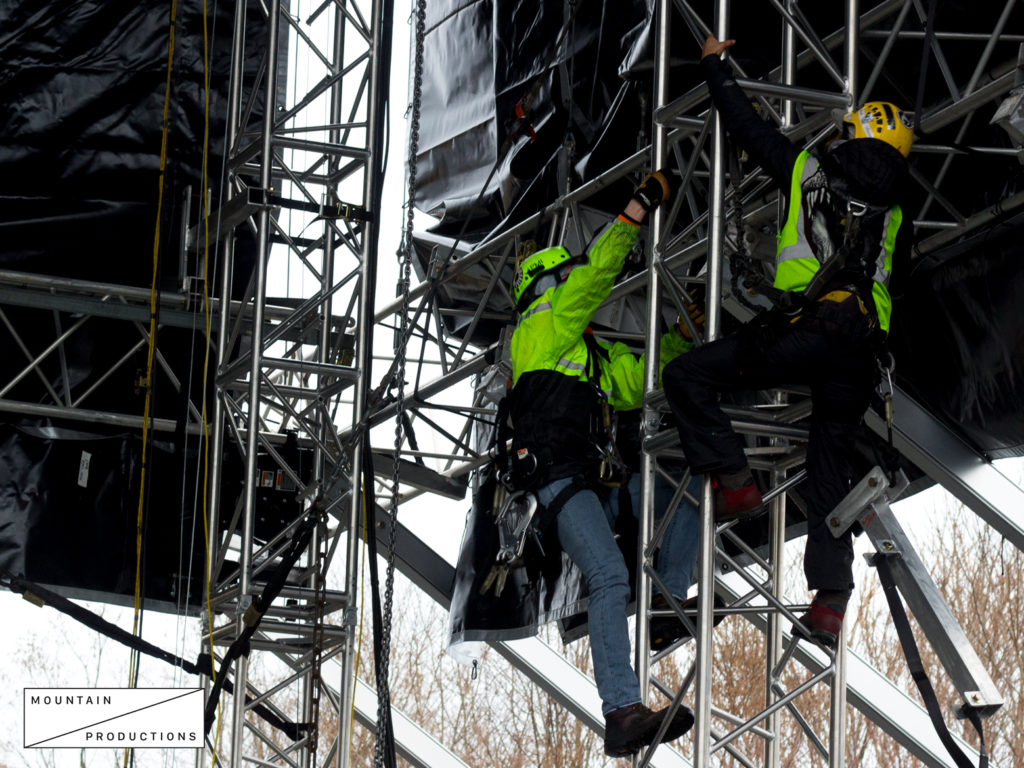 While Hoist School students were learning from an expert in the field, our own crews were in the yard putting best practices to use on our staging systems. Mountain doesn't just train riggers; our crew consists of some of the best in the industry.
DAY 5
Our final day of Hoist School was jam-packed with plenty of hands-on learning before saying goodbye to our 33rd Class. Eric Rouse taught the students practical rigging techniques, like building bridles using rigging math and Ilan Bahar of Eilon Engineering joined our students for a load monitoring seminar.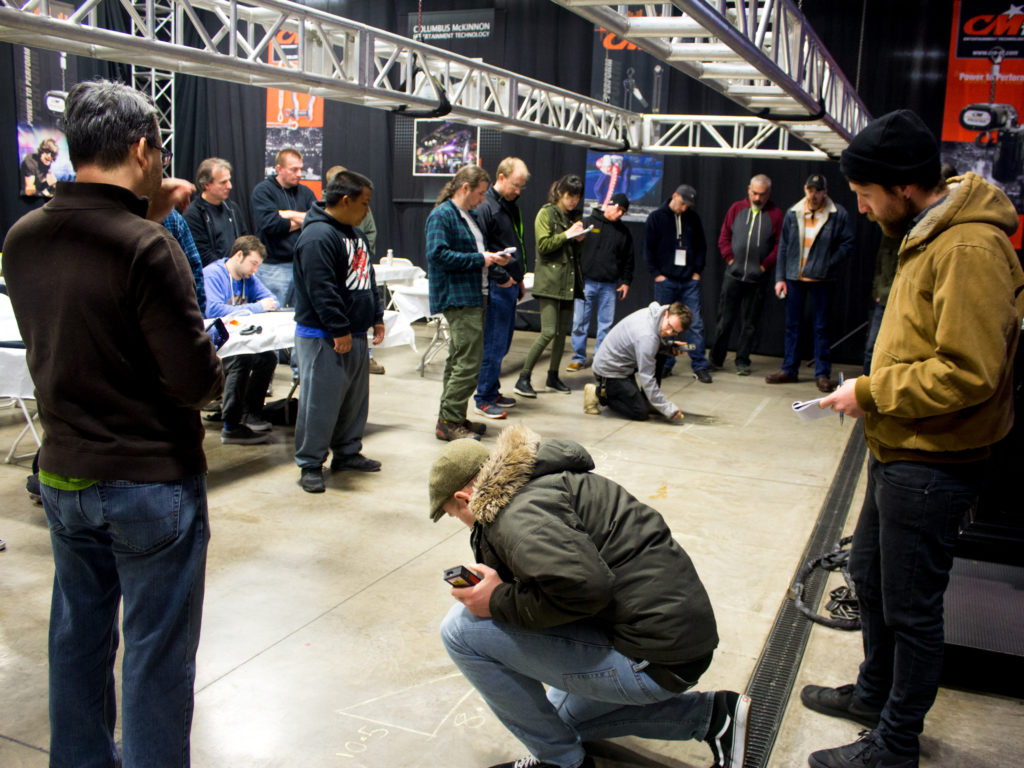 Students put what they learned to the test, using rigging math and their newly-learned techniques to build a bridle and understand the forces that ensure getting the point right on the mark.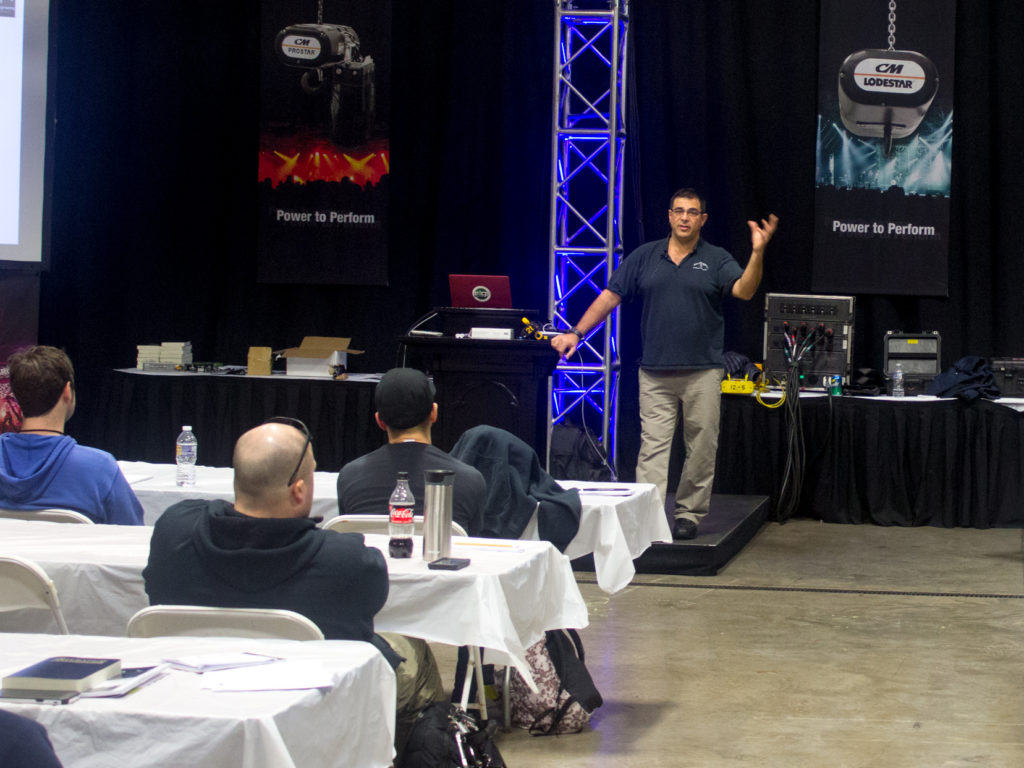 For our last day of Hoist School, we also asked Ilan Bahar, of Eilon Engineering, to join our students. Ilan led a seminar on load monitoring practices and the leading Ron Stagemaster technology. The Ron Stagemaster has been used by the likes of everyone from NASA to Rammstein, so our students were thrilled to hear all about these amazing capabilities from the product's creator, himself. When it comes to safety, we want our guests to know it all.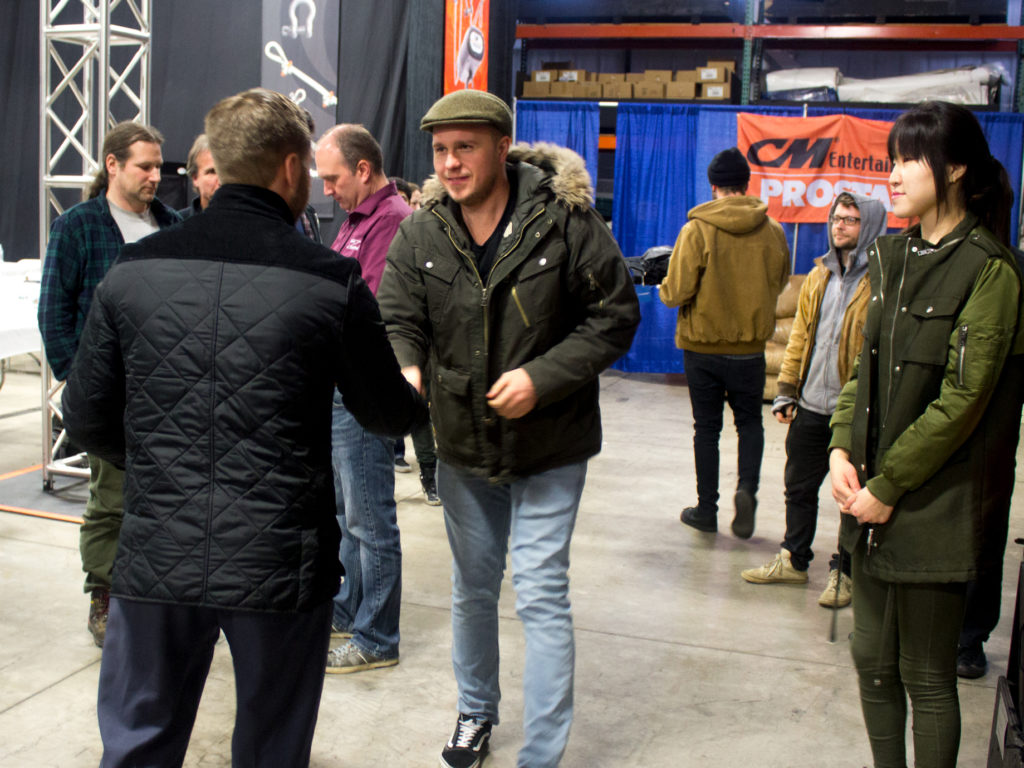 Mountain CFO Sean Mulvehill, our instructors and the Mountain team said goodbye to our 33rd class knowing that the future of the entertainment production industry is in good hands. Our guests were given swag to remember the experience, but left with a lot more – the knowledge to excel and a new group of Mountain friends they can reach out to at any time.
---
Congratulations to the 33rd Mountain Productions Hoist School Class! We would also like to extend a big thank you to the trainers, vendors and sponsors for this year's event. If you'd like to get training, check out our CM Online Lodestar Maintenance Training and keep an eye on our page for information on future training events at HoistSchool.com.