In 1930s Harlem, a group of newfound New-Yorkers set in motion a celebration of Caribbean culture and tradition that would continue more than 80 years later. Since the mid-1990s, the New York Caribbean Carnival Parade attracts millions of people annually, far surpassing the combined attendance of Coachella, Lollapalooza and South by Southwest.
The carnival parade led to a 4-day festival, which was held behind the Brooklyn Museum from the Thursday before Labor Day through the weekend. Mountain Productions was on site to ensure this year's carnival brought the same sense of celebration that the founders dreamt up several decades ago.
2017 marked the 50th anniversary of performers celebrating Caribbean carnival and culture. On such an historic mile marker, this year's theme was "From a Dream to a Legacy". The dream behind the West Indian American Day Carnival, WIADC, was to celebrate Caribbean culture and unify the growing number of Trinidadian and other Caribbean descendants living in Harlem.
Its legacy, more than 3 million attendees strong, marks the largest gathering of its kind, all in the name of Caribbean culture, arts, history and traditions. Mountain Productions was proud to provide our SAM550 mobile stage as the platform for the celebration.
The Mountain Productions stage saw four nights of wide-ranging entertainment. Opening Thursday, with "Reggae Unda Di Stars", performances from top reggae performers and a special appearance by Bob Marley's son Stephen got the celebration started. The party continued all weekend long with flag-wearing, dancing, and plenty of Caribbean and calypso performances.
The rich culture of islands beyond our borders lives on through the annual New York Caribbean Parade and Festival. Mountain Productions is proud to lend our expertise to America's most attended cultural festival.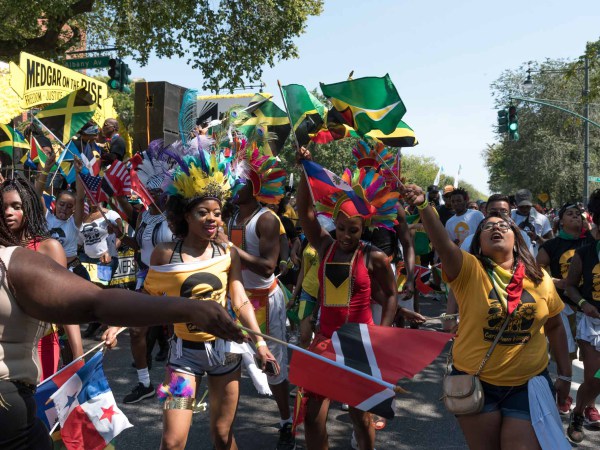 ---
For every event that brings people together, you can trust that North America's leader in event production will bring the stage. For the West Indian American Day Carnival, it was the crowd of millions that brought the presentation.