Imagine this scenario: You're working onsite and get a phone call, making you fumble in your pocket or backpack just as your supervisor radios you in over your walkie-talkie. On top of this, you have one hand holding your iPad that you now have to put down and hopefully not forget on the cart as you screen your phone call and return the radio call.
Now imagine this. You have all of your most-used gear and devices securely by your side at all times with instant access and hands-free carrying.
This dream came true with the iBand Pro Hands-Free Carry-All, Mobile Tablet Belt Clip, Tablet SlingMount™, and more mobile optimized solutions from RUNNUR. With a client list including CMA, Circuit of the Americas, SXSW, Austin City Limits, Bonnaroo, and Republic Live, rest assured that some of the busiest supervisors and workers have relied on RUNNUR's organizational and instant-access products during entertainment's biggest builds.
The RUNNUR iBand Pro Hands-Free Carry-All — the extra "pockets" you need during work and recreation
We've all ran into a time where we really could've used an extra pocket-full of space. The iBand Pro gives you that extra space you need without adding any excess bulk to your setup. The comfortable shoulder sling is padded for the long day and lets you carry your ID, credentials, smartphone, walkie-talkie, camera, wallet, pens, markers, cash, credit cards, tools, snacks, a water bottle, flashlight, sunglasses, keys, and more! (Phew, did we miss anything?)
Beyond using the iBand Pro at work, it's a great shoulder sling for recreational use as well. It's an extremely effective accessory when hiking, traveling, walking, and cycling for those extra items you can't fit in your pockets. On the other side of festival production, concert guests and attendees can keep track of their valuables without the bulk of a backpack.
[Shop the ShowRUNNUR iBand Pro Hands-Free Carry-All at ShopMtn.com]
Don't take our word for it, take a look at the iBand Pro in action!
Products for mobile device access like no other
RUNNUR's gear is focused on the growing mobile device trend and providing quick access to these often-used devices in a professional setting. iPads are a great device to store (and send) drawings, blueprints, schematics, information, and more, but can be a bit inconvenient to carry and constantly find in a backpack. The Tablet Belt Clip solves this problem by providing a tethered storage point for iPads and tablets right on the user's belt that can be accessed with one-hand in a matter of seconds. The SlingMount™ is another tablet carrying solution that creates a shoulder sling for your device. A Heavy-Duty Tech Belt and Tool Bag complete the system for the ultimate device and tool storage solution. Your valuable devices are now safely secured and ready for instant use!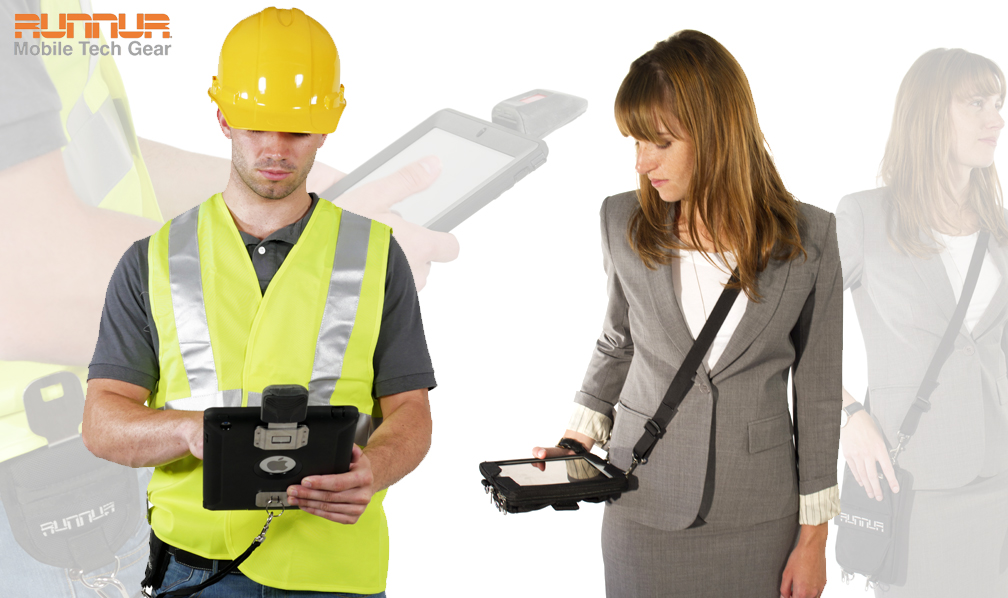 Watch Andrew, CEO and inventor of RUNNUR Mobile Tech Gear, demonstrate more of their valuable products and how they can save you time (and headaches due to lost or dropped gear) on the job.
Head over and check out RUNNUR's line of mobile device organizers and the iBand Pro Hands-Free Carry-All at ShopMTN.com. We're excited to offer these items along with the best gear available to make you your most efficient and effective both on the job and doing what you love.
---
As always, let us know what you think on any of our social channels and tell us what products you'd like to see next available at ShopMTN.com!