We are experts at production technology. You'd be hard pressed to find our crew with clean hands and we share a passion for making things work, no matter if it's on stage or in the shop.
Beyond the entertainment industry, Mountain Productions' Industrial department stays on the cutting edge of hoist and lifting equipment to bring the quality service that Mountain is known for. Our industrial team is proud to have completed a hoist system for one of trucking's biggest names in the game: Freightliner.
A hoisting system capable of handling Freightliner's heavy-duty needs
Freightliner is nationally known for their focus on innovation and industry-leading trucks. Since 1942, they have been a pioneer in the trucking industry and have grown into a cross-country network of dealers. It's hard to drive on the interstate without seeing at least one of Freightliner's trucks in motion.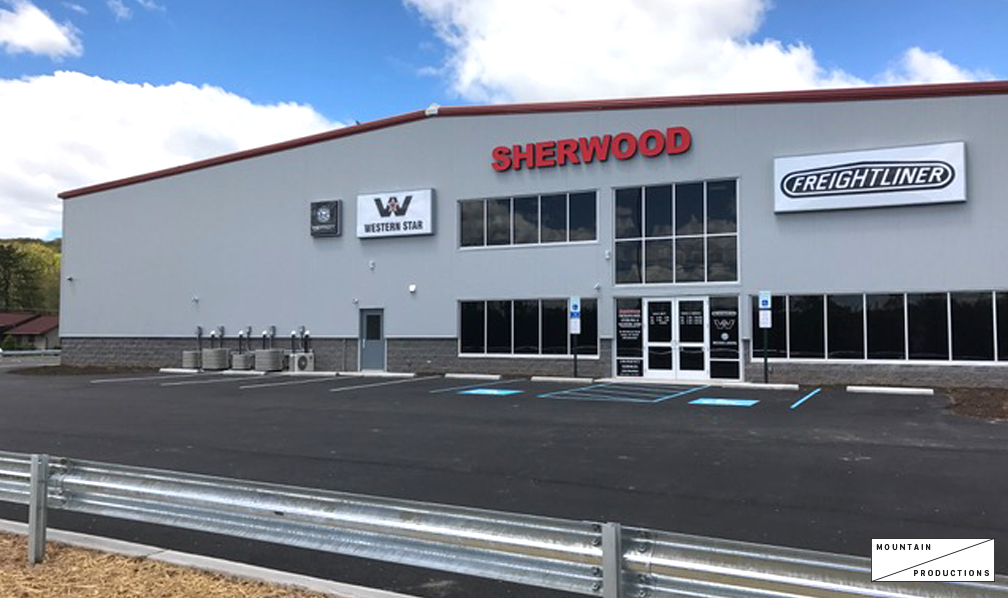 With a main branch in Dunmore, PA, Sherwood Freightliner recently opened a satellite location in Nescopeck, PA. The Mountain Industrial team was excited to work on a hoisting solution for the new maintenance bays at the Nescopeck shop. One of the main requirements was to provide safe and super-strong hoists that are capable of handling large engine and transmission work and repairs for the Freightliner trucks rolling into the shop. Industrial Product Specialist, Tony Carmichael, worked closely with Sherwood Freightliner to detail the exact specifications that would give the shop the best equipment for their investment.
For two of the maintenance bays in the new state-of-the-art facility in Nescopeck, Mountain installed two motorized trolley, 4-Ton CM Lodestar XL hoists with control stations. The iconic CM industrial orange color hangs up in the bays overlooking the shop and is ready for action. The Lodestar XL 4-ton capacity will deliver the strength needed for Sherwood Freightliner's heavy-duty maintenance work on the trucks that travel across the country.
---
If you're looking for assistance in your industrial application, call us today at 570 826 5566. We're ready to arm you with the most-trusted equipment on the market and have the access to the products that will renovate, rejuvenate, and revitalize your production environment.