The 2017 Prolight + Sound Conference has ended but the Mountain Productions team is confident that the success of the event will live on far beyond our four days in Germany. The annual conference was the place to be for the latest product launches, cutting-edge innovations and great opportunities to meet with people as passionate and dedicated to the event production industry as our own team.
With hundreds of companies represented by thousands of production leaders, our week in Frankfurt barely seemed like enough time. We're reflecting on the new friends we met throughout the Prolight + Sound show and are thankful to have spent time with our international colleagues that have helped to grow Mountain as an international leader.
This year's conference marked the launch of our ShopMTN European e-commerce site—an online shop that makes getting the industry's leading gear faster and more dependable than ever before. We continue to work with our top-notch European dealer base to build our network so we can provide all of Mountain's proprietary products like our chain bags, cabling, and the revolutionary MTN BOX® to the market.
A great addition to the Mountain crew for the week was Nick Linders from Algorithm, a partner company that distributes the MTN BOX® to the European market. Algorithm is a collective of fine artists, technicians, producers, and entrepreneurs who collaborate to experiment and innovate. The Irish creative production agency uses technology to explore new methods of expression and engagement in their work for stage entertainment, events, and media installations. They are a great complement to Mountain Productions' service base for creative.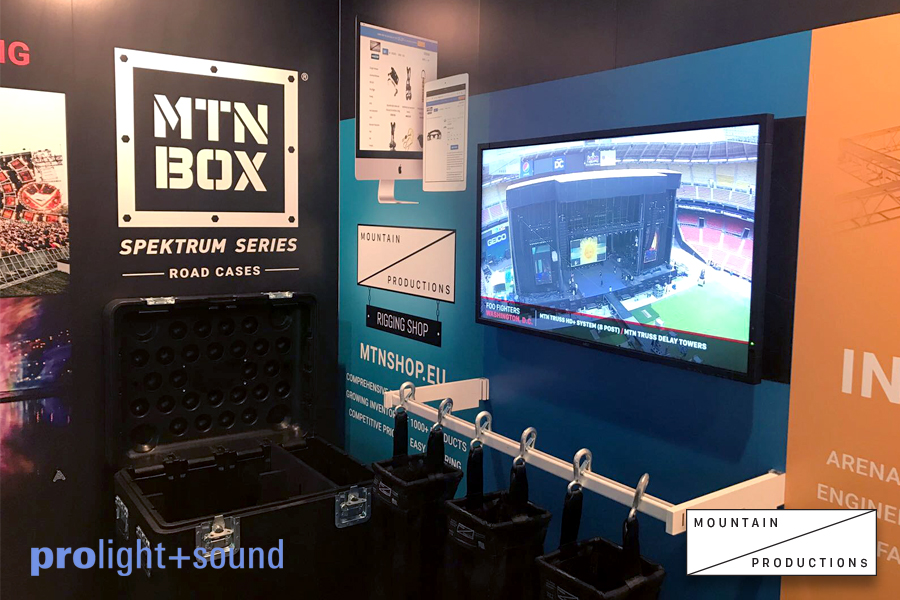 We hope to hear from everyone who took the time to stop by and learn more about what Mountain Productions can offer. It was truly an amazing experience to network and learn alongside the best in the business. We're already looking forward to next year's event.
Be sure to stay up-to-date with our work in the US, Europe and worldwide. All of our announcements and endeavors can be found here, on our blog, and on all major social media platforms.