Restock, replenish, and prepare for the busy season ahead!
Are you ready for the 2017 season? Now is the time to order all of the equipment you will need to kick-off the spring and summer event circuit. We have a great promotion in our rigging department that will help you save money and time as you prepare for your upcoming events.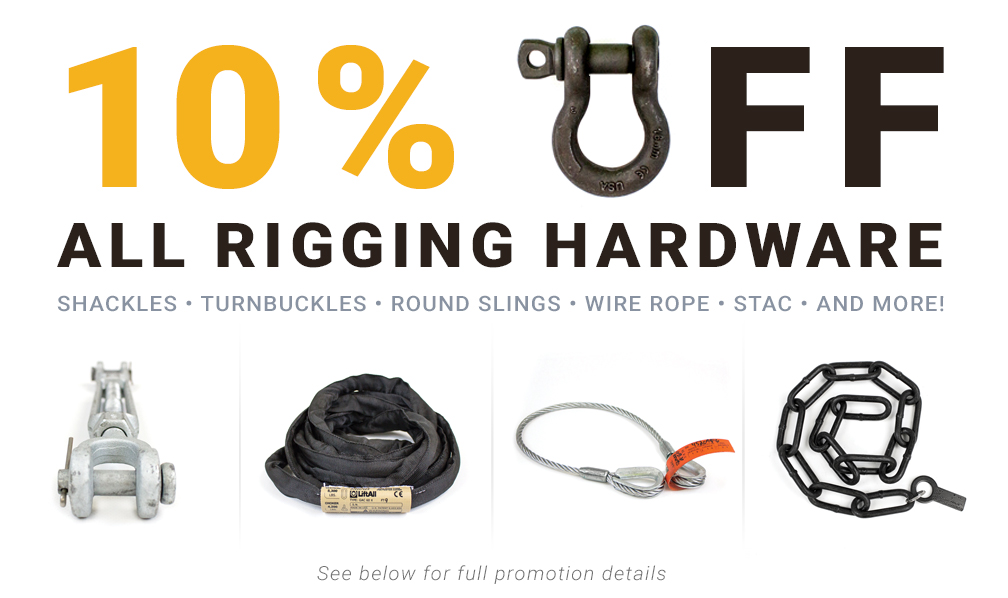 For a limited time, when you buy 5 electric chain hoists, we will knock 10% off of all rigging hardware, including shackles, wire rope, round slings, turnbuckles, STAC, and more! We are one of the largest distributors of CM chain hoists and rigging products, and can help you with all of your production requirements. With this promotion, simply make one phone call and get all of your gear you need at a price you just can't beat.
Our rigging experts are on call and ready to save you money today—but we're not here to just take your order. If you have any questions or need any assistance with your project, the Mountain team is at your service. With thousands of projects behind us, we can help you find exactly what you need for your specific application. Whether you need assistance with your hoist specifications or want to learn more about safe rigging practices for your event, we're here for you.
Take advantage of 10% off all rigging hardware with your chain hoist order today—all it takes is a phone call.
Contact us today at (570) 826-5566, mention this promotion, and get ready to save!
PROMOTION DETAILS: Purchase of (5) five electric chain hoists or more must be completed to receive 10% off additional rigging hardware. No quantity cap on rigging hardware once 10% discount requirement has been met. This is a limited time offer. Call in to place chain hoist order and claim discount.