Create a stunning visual presence and make a bold statement at your event with the MTN Flow Tension Fabric Structure. This unique 10,000 sq/ft high-end structure takes influence from futuristic architectural styling to create an event space that is light, airy, and far superior to competing tent structures. Beyond its visual aesthetics, the MTN Flow Structure is effective and practical with 40' of overall height and internal rigging points on 15' centers. This premium structure is ideal for a wide range of productions and events including specialized corporate and VIP experiences.

Like all of the systems in our inventory, the MTN Flow Structure is built with safety at the forefront. This tent system is fully engineered, ballasted, and designed to withstand worldwide seismic and wind load conditions. Its main skin is constructed of Ferrari PVC fabric with large, clear vinyl arch windows and end walls. The whole unit is supported and tensioned by a ballasted external truss structure—this creates a spacious, clear span interior with no internal supports.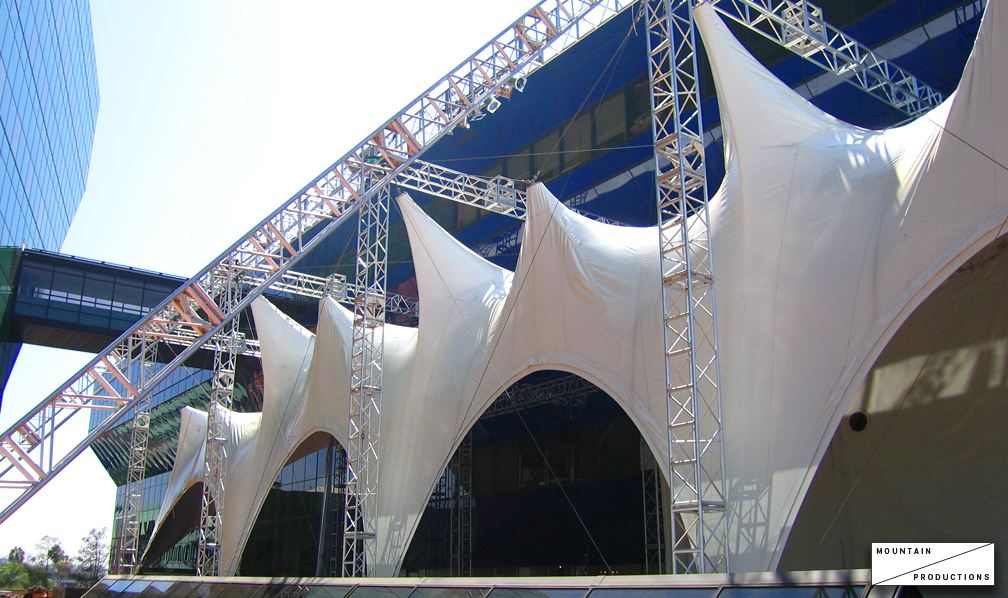 The MTN Flow Structure has provided the space needed to simultaneously house three floors of office space, a cinema, theater/live performance area, and an exhibit hall in the past. Its applications are endless and the tension fabric structure is extremely versatile. In certain applications, the MTN Flow Structure is adaptable enough to be flown independently with no need for additional trussing. Also, this system can either be sealed and air conditioned or opened up to provide the perfect indoor/outdoor environment. For installation, the MTN Flow Structure is designed to attach to an existing building or function as a freestanding venue. The standard version has dimensions of 250' x 40' x 40', but there are a variety of layout options also available.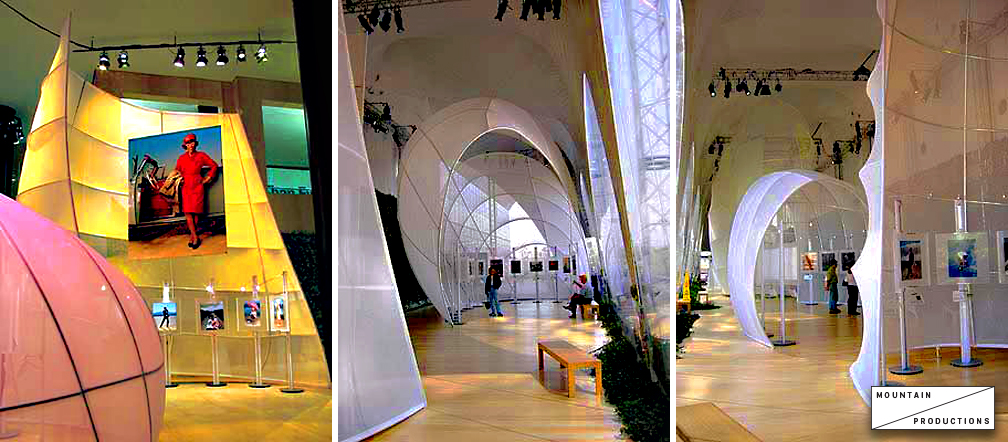 At the Pacific Design Center in Los Angeles, CA, the MTN Flow Structure was built to house the award-winning Annie Liebowitz Amex Rewarding Lives photography exhibit for a six-month installation. It was also built for the Cirque Du Soleil IRIS opening event on Hollywood Boulevard outside the Kodak Theatre.

To complete the production package, Mountain Productions is capable of providing turn-key solutions with the MTN Flow Structure, including staging, lighting, audio, video, ground cover flooring, seating, air conditioning, and event management. A successful event is the sum of all its parts, and our team can help assemble everything you need to accompany the MTN Flow Structure at your next event.
If you're interested in the ways the MTN Flow Structure can work for your next event, contact our Director of West Coast Operations, Simon Franklyn, at sfrankyln@mountainproductions.com. The MTN Flow Structure is not just available in the west coast and can be built for events all across the country. Contact us today and learn more about our innovative tensile fabric structure today!