Mountain Productions is set to stand out among the largest gathering of concert industry professionals in the world at the 2017 Pollstar Live! Conference in Los Angeles.
From January 31 until February 2, our team of dedicated experts will join hundreds of their friends and colleagues in Southern California for three days of catching up with the industry's veterans and getting to know future friends. The Mountain crew will be set up at Booth 108 and are eager to discuss your next project and the variety of expertise Mountain Productions is prepared to provide.

After highlighting the innovative designs and complex projects of the coming year, Pollstar Live! will conclude with the 28th Annual Pollstar Awards. The ceremony is designed to honor the behind-the-scenes professionals responsible for making the industry thrive. The voting block is made up of the international readership of Pollstar magazine. Mountain Productions is happy to have been nominated for Pollstar's Award for Staging and Equipment Company of the Year!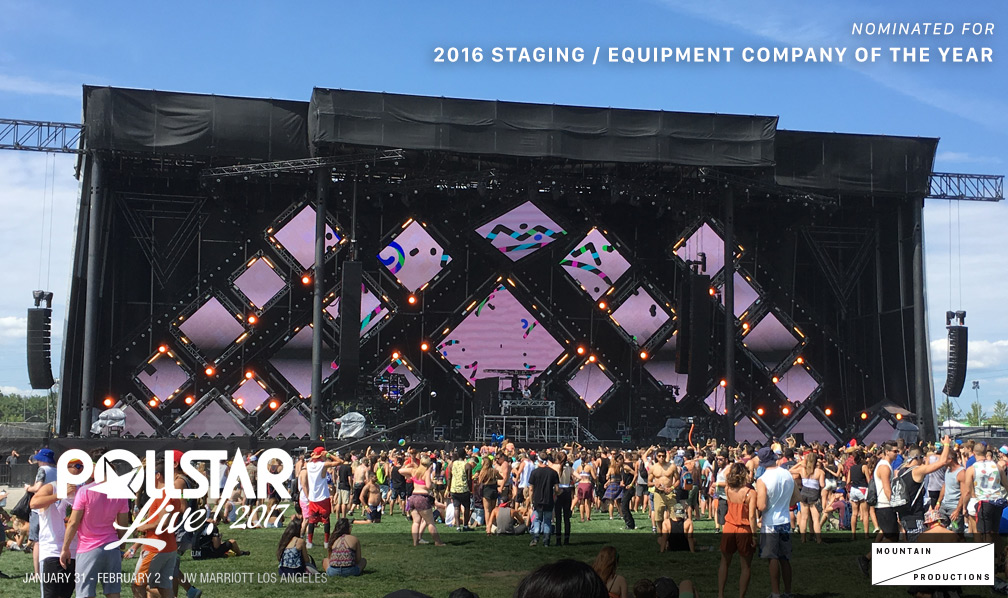 A nomination for this award is an affirmation that our hard work and continued efforts to provide world-class service have been recognized by our friends and peers across the industry. As we continue our mission, we would like to congratulate all of those who have been nominated and commend all in attendance on a year that has pushed the bar on event production.
We look forward to meeting with everyone next week. We hope that you'll stop by Booth 108 to say hello and hear about our expansion, both in the Western and Southern United States and internationally, and to discuss the future of your organization and the future of our industry. If you'd like to set aside some dedicated time to meet with our team, please visit the Mountain Productions Scheduler Page to schedule a one-on-one appointment.