We couldn't decide where to celebrate the beginning of the New Year, so we traveled all over the country! Mountain Productions provided staging and event production services to five major New Year's Eve shows, including Pitbull's New Year Revolution in Miami and the iconic Dick Clark's New Year's Rockin' Eve in Times Square. We are proud that our world-class systems were on display to millions of viewers on major networks across the world.
Read on to check out the projects we were busy with during the last few days of 2016.
Pitbull's New Year Revolution
Bayfront Park, FL
Down in Miami, Bayfront Park was preparing for the largest, free New Year's Eve party in South Florida, produced by Miami native, Pitbull. Mountain Productions provided our flagship MTN Truss HD+ System as the dramatic backdrop for Pitbull's New Year Revolution show and counted down to the new year with hundreds of thousands of onsite fans (and millions more worldwide via broadcast on Fox). The event featured appearances by Pitbull, Queen Latifah, Snoop Dogg, Austin Mahone, Biz Markie, Salt-N-Pepa, and many more entertainment legends and groundbreaking stars. Regardless of the massive party's success, Pibull's New Year Revolution wasn't our only stop on the eve of 2017.
Dick Clark's New Year's Rockin' Eve 2017
Times Square, NY
Mountain returned to New York City to build several staging platforms, risers, and event structures for the New Year's celebration in Times Square. Hosted by Ryan Seacrest, the Rockin' Eve event is broadcasted nationally and streamed online by millions of viewers and fills the streets of Times Square with fans anxiously awaiting the ball drop. Mountain Productions additionally provided custom-printed scrim for the branding and masking of various platforms and risers.
DJ Snake's Pardon My French Tour
New York, NY
The French-born, Miami-based DJ Snake's tour was at Pier 94 in New York during the last week of 2016 and Mountain Productions prepped the venue with a rolling stage, VIP risers, and a large chain hoist motor package. DJ Snake has performed on many Mountain stages including our work at Ultra Music Festival and Electric Daisy Carnival, alongside many of the world's largest EDM artists. His show right before the New Year's weekend, supported by Mountain Productions,  put NYC in the party mood just in time for the 2017 celebrations.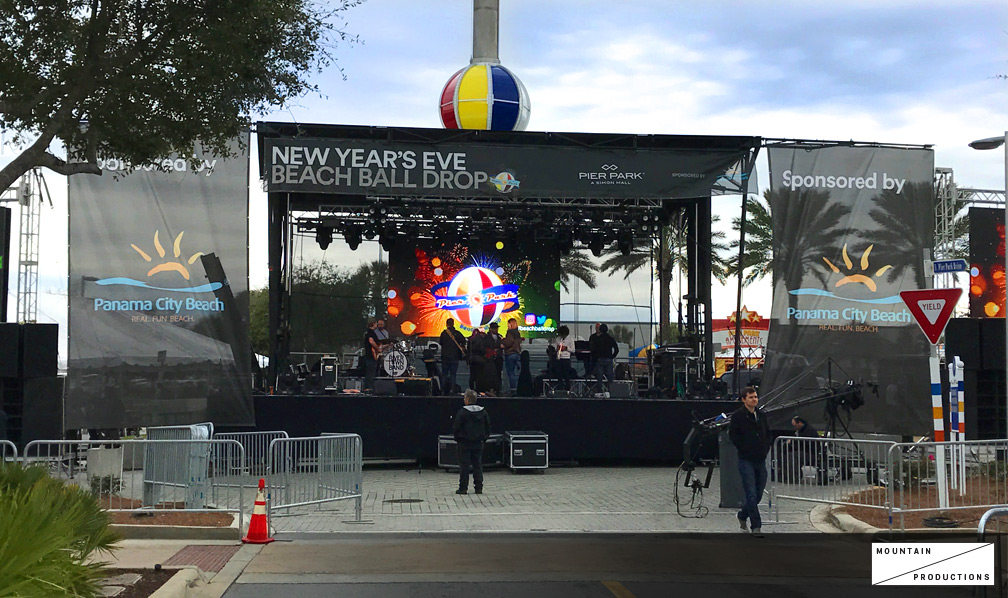 New Year's Eve Beach Ball Drop
Panama City Beach, FL
Down in Florida's Panhandle, Mountain crews were at Pier Park in Panama City building the SL-250 mobile stage for the New Year's Eve Beach Ball Drop. Live music, fireworks, entertainment, and family fun brought together Florida partiers and beach goers that wanted to dance their way into the new year. Mountain's mobile stage technicians and builders assembled the SL-250 for the Panama City New Year's celebration while other members of the Mountain team were busy up North in Pennsylvania preparing for the countdown in "The Sweetest Place on Earth"—Hershey, PA.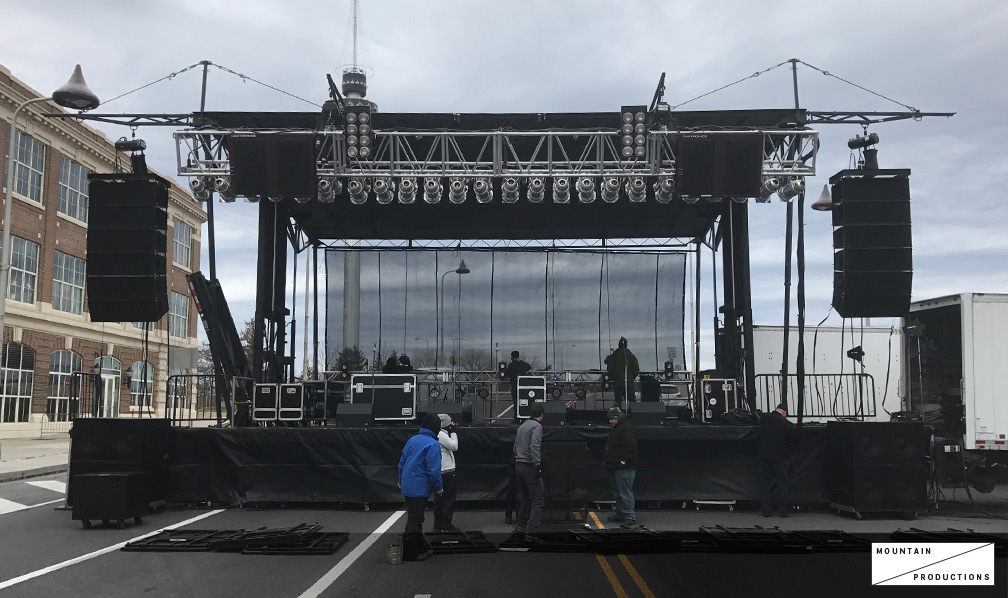 Hershey New Year's Eve
Hershey, PA
In addition to our staging in New York City and down south in Florida, Mountain Productions built an SL-250 mobile stage at ChocolateTown Square in Hershey, PA for their New Year's Eve celebrations. Hershey is more than just an iconic tourist stop—the area has a diverse event schedule and provides museums, tours, boutique restaurants, and more to keep the entertainment available for visitors and locals alike. For the start of 2017, Hershey hosted a free event with musical performers and 15 vendors offering great food and friendly service. Mountain's SL-250 stood as the main performing area for the night's entertainment.
---
No matter where you were, we hope that you had a memorable New Year! We're thankful to have had the opportunity to spend our countdown in a variety of venues and states. It's the first few days of a brand-new year, and we want everyone to make 2017 a time of progress, innovation, connection, and community, both in the entertainment industry and beyond.
Join us in our #MTNStrong lifestyle in 2017 and make the most out of your new year!