Forget buying another sweater—get the gifts that really matter! At Mountain Productions Rigging Shop, we're getting ready for our biggest sale yet on select items from DBI-SALA & Python Safety, Dirty Rigger, Estwing, Petzl, and KASK. These products are proven crowd pleasers and what's better than giving a gift that will continue giving all year?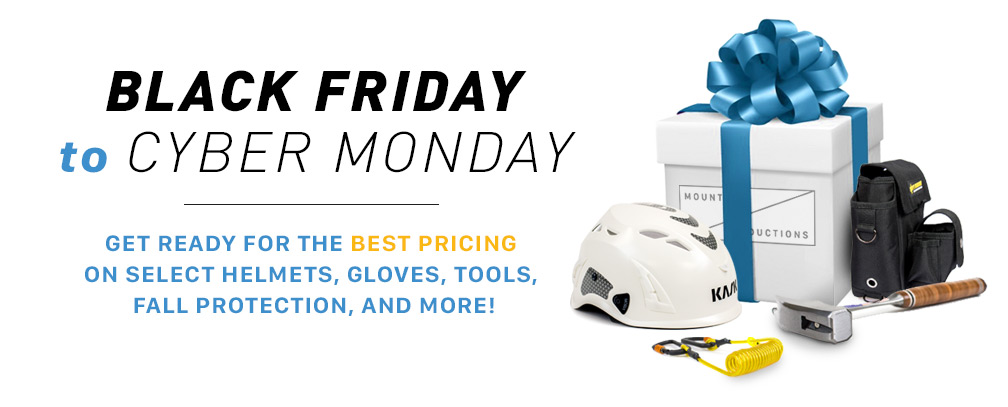 Our safety and fall protection offering is extensive and provides only the most reliable brands. These items will keep your loved one, friend, or colleague safe on the job all year and will actually improve efficiency and comfort.
Riggers and production professionals can be difficult to buy presents for, considering the unique line of work that they love and the niche products that accompany it. That's where Mountain Productions Rigging Shop comes in, to assist you with all of your holiday gift giving! Our online platform already offers competitive pricing on high-quality brands. This Black Friday weekend, we'll be dropping these prices even more for unmatched savings.
Full holiday promotional details coming soon!
In the upcoming days, we'll be announcing our full holiday blowout sale, taking place from Black Friday to Cyber Monday. Black Friday can be crazy, we know. That's why we're extending our holiday discounts all throughout the weekend to Cyber Monday. Shopping shouldn't be stressful—kick back during your holiday weekend, hop on your laptop, phone, or tablet, and visit shopmtn.com!
Follow us on social media for the latest updates on our holiday sale!