With great events comes great responsibility. The safety of your patrons and performers is the most critical aspect to any festival, concert or event. Sometimes the hype that your show generates becomes so intense that it turns a highly-anticipated performance into a dangerous situation. Fans can rush past security, break down shoddy barricade and endanger security crews, staff, and themselves in the process. Maintaining secure performance areas and safe borders for audiences is easily accomplished with MTN Steel Security Fencing.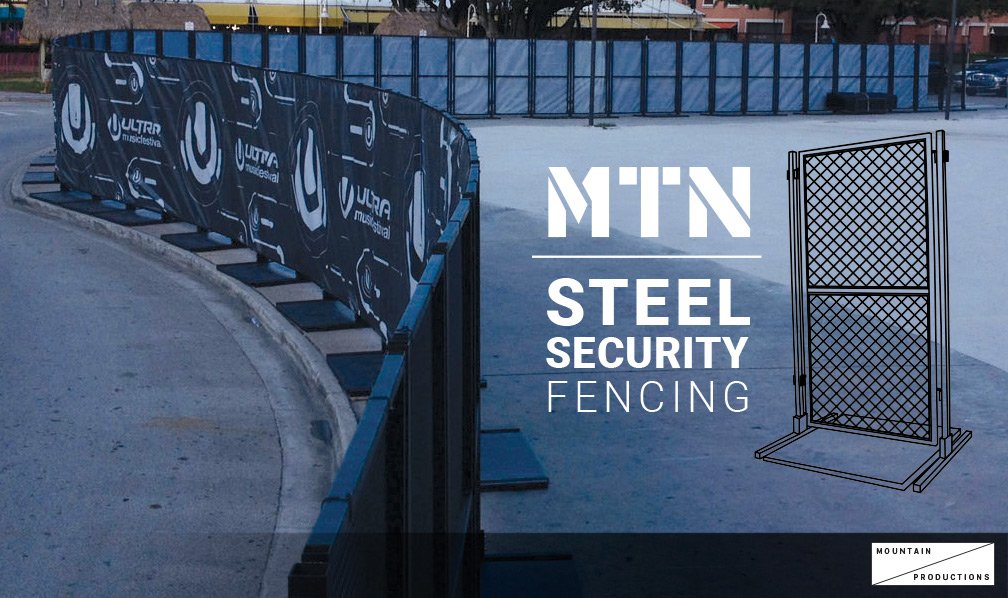 A safety barrier that won't fall short
Mountain Productions' 4,000' of MTN Steel Security Fencing is designed and fabricated to be stronger than similar products. Additionally, this barricade is portable and easily assembled, with its heaviest component only weighing as much as a typical 4' x 8' sheet of plywood. Mountain's welding team and engineers have worked diligently on the design of the MTN Steel Security Fencing to ensure a reliable result. We also provide entrance gates with the same strength to integrate into your safety plan for convenient and secure transportation access.
Each panel of Steel Security Fencing stands 8' 6" tall and 4' 8" wide. These panels interlock to form a strong system that can be assembled to any length needed, and at any angle. Its steel construction guarantees a strong and durable product that will keep your audience at bay. The fence panels are also see-through, with a heavy-duty crosshatch design to retain visibility beyond the barricade, but custom-branded vinyl banners are easily attached to the fencing for masking and branding opportunities if needed.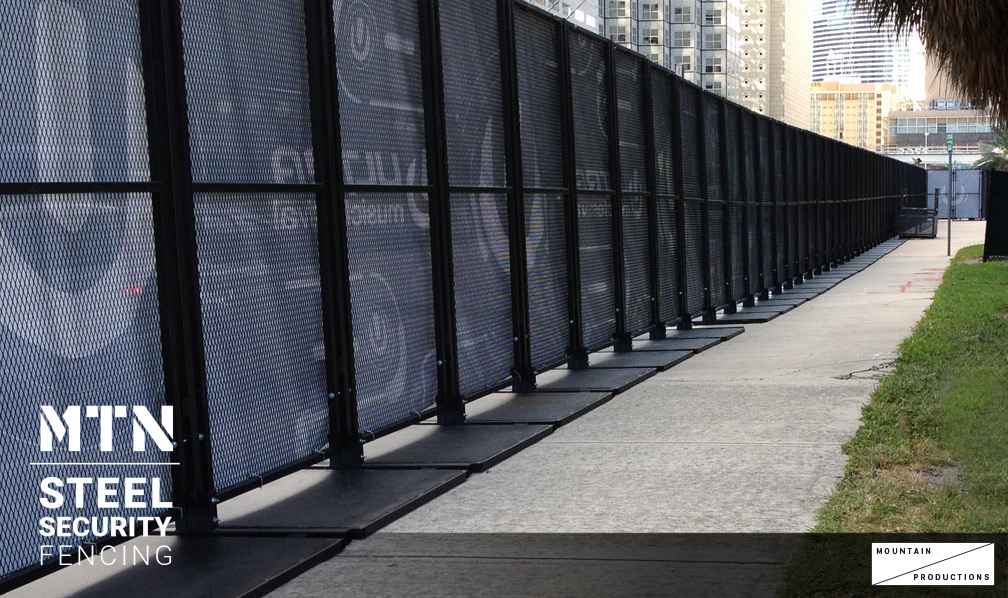 Secure a perimeter with reliable borders
Another great way to utilize our MTN Steel Security Fencing is for marking job site perimeters. Because the panels can be assembled at angles, a whole run of fencing can form to curves and corners, successfully outlining your job site no matter what its shape may be. Attach some vinyl mesh masking and you've easily secured your site from prying eyes until the exact moment you're ready to reveal your work.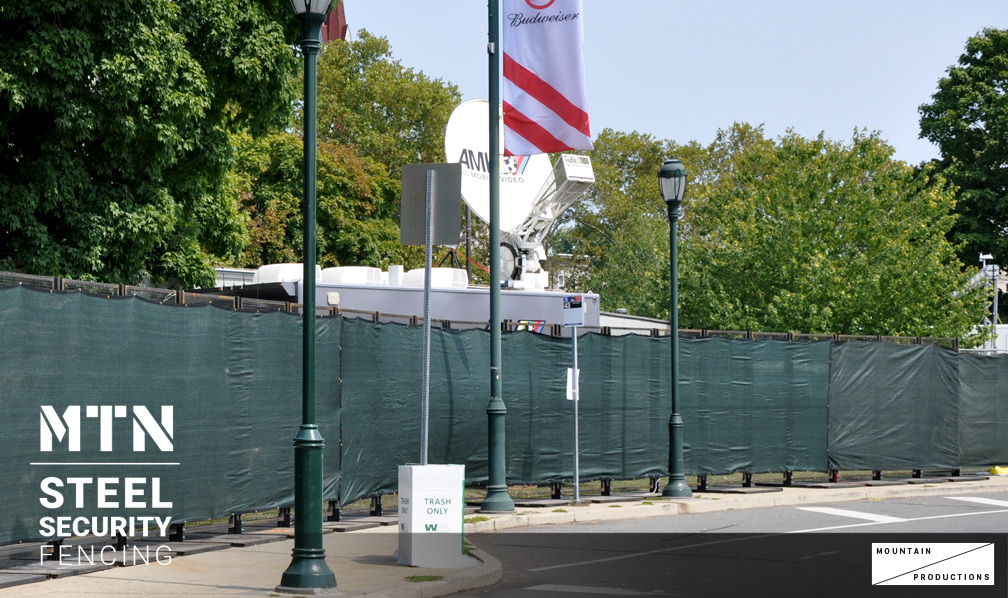 Avoid injury and danger with the strongest fencing available
Injuries caused by safety oversights shouldn't occur at any event. With the proper planning, guidelines, protocol, and equipment in place, you can create the optimal environment to keep your site safe. Incidents have occurred in the past that have led to injury due to insufficient safety fencing and barricade. It's your responsibility as event production experts to plan for the potential result of the hard work you put into our projects — overly eager crowds that become engrossed in the moment and disregard their own safety and the safety of others. Mountain Productions' MTN Steel Security Fence is built to stand strong.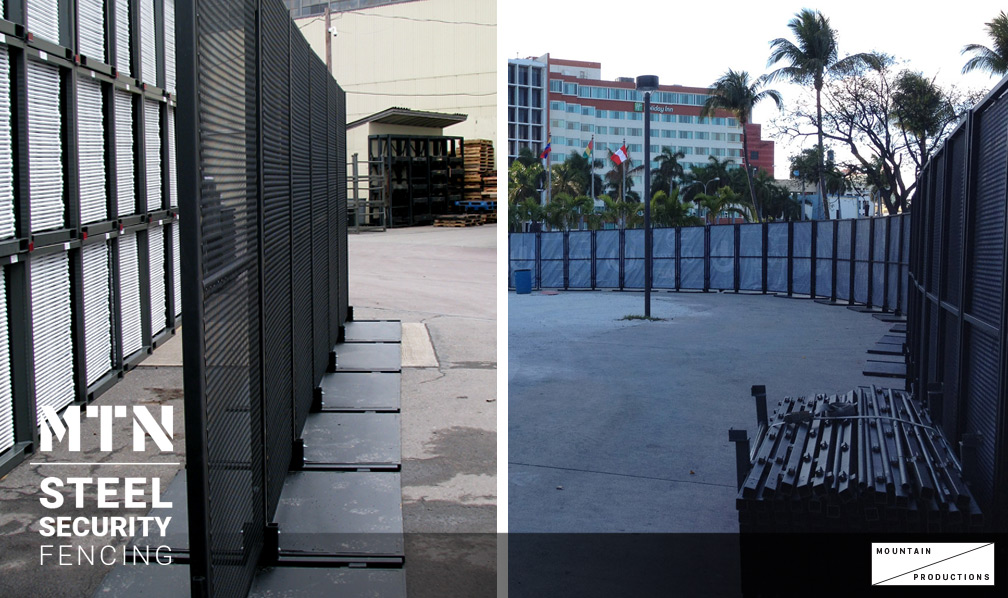 Suitable for Any Industry and Scenario
The MTN Steel Security Fencing is a safety product that also steps outside of the entertainment industry and is ideal for any heavy-duty, military, or construction setting, amongst countless other applications. We've designed our fencing with the strength needed for setting reliable perimeters anywhere. Its durable steel construction is built to endure rigorous use, making it the perfect safety fencing available.
---
Don't cut corners on safety—contact us today to learn more about our Steel Security Fencing and how you can benefit from its capabilities at your next event or job site.