October is almost here, which means LDI is right around the corner. As one of the largest industry conferences in the states, LDI is a great place to meet new friends, see the latest technology, and put your finger on the pulse of the future of entertainment production.
Mountain Productions will be at LDI exhibiting our Parnelli nominated MTN BOX® road cases and our MTN Chain Bags, along with the wide range of staging services and production capabilities we're proud to offer. We can't wait to head to Vegas for the 2016 LDI conference, but we're most excited to network with all of the attendees at the show.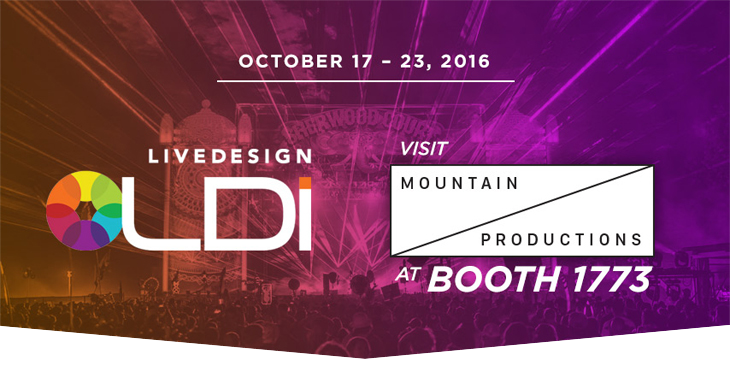 Schedule an appointment with us online!
This year, we've created a simple way for LDI attendees to schedule time to meet us during the three-day show. We know how busy your trade show itinerary will be—the best way to manage your day and ensure you're meeting as many of the companies on your "must-visit" list is to plan a visit ahead of time.

Mountain Productions' appointment scheduler is the answer. Visit our appointment scheduler by clicking here and follow the easy instructions to quickly setup a half hour visit with a Mountain team member. You'll be able to learn about our premier staging systems and capabilities from Bryan Ellis, Director of Staging Sales, the revolutionary MTN BOX® road case from Marty Wesstrom, Director of Rigging Sales, our comprehensive rigging inventory and services from Keith Ellis, Rigging Sales Consultant, and Mountain's turnkey venue installation services from Dave Piccola, Director of Venue Installations. We'll send you a friendly email reminder prior to your appointment as well.
Our CEO, Ricky Rose, will also be in attendance at LDI to talk about all things Mountain and our exciting growth into the west coast market, along with our new film and vibe offerings.
We're eager to meet you, and talk about everything from upcoming projects and ideas to industry news and everything in between. Most importantly, we want you to optimize your time at LDI and have a productive experience at one of the industry's best conferences.
If you're interested in booking dedicated time with a Mountain Productions' team member, click here to schedule an appointment and head over to Booth 1773 to say hello to your friends from Mountain.
---
Mountain Productions is hitting the road and embarking on a trade show tour! We hope we can see you at LDI at the Las Vegas Convention Center this October 21 – 23, but if you can't make it, don't worry—we'll be at a number of industry conferences throughout the remainder of 2016 and the upcoming year. Make sure to stop by and say hello—rumor has it we'll have some great giveaways and exclusive discounts to Mountain Productions Rigging Shop to hand out!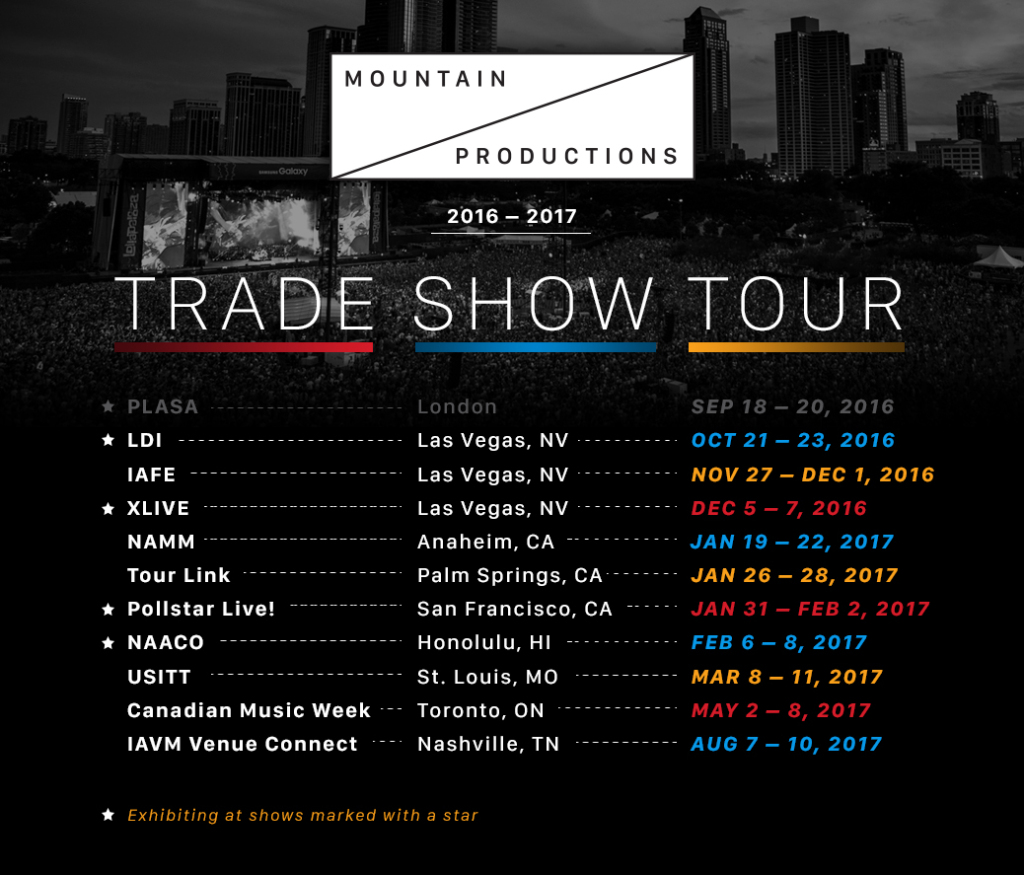 Mountain Productions' Trade Show Tour
PLASA London / Sept. 18 – 20
*LDI / Oct 21 – 23
IAFE Annual Convention / Nov 27 – Dec 1
*XLive / Dec 5 – 7
NAMM / Jan 19 – 22
Tour Link / Jan 25 – 28
*Pollstar Live! / Jan 31 – Feb 2
*NAACO / Feb 6 – 8
USITT / Mar 2 – 8
Canadian Music Week / May 2 – 8
IAVM Venue Connect / Aug 7 – 10
We will be exhibiting at shows marked with an *