We've just added two more product bundles to our Rigging Shop – the Down Rigger package and the Stagehand bundle. Take a look at what's inside: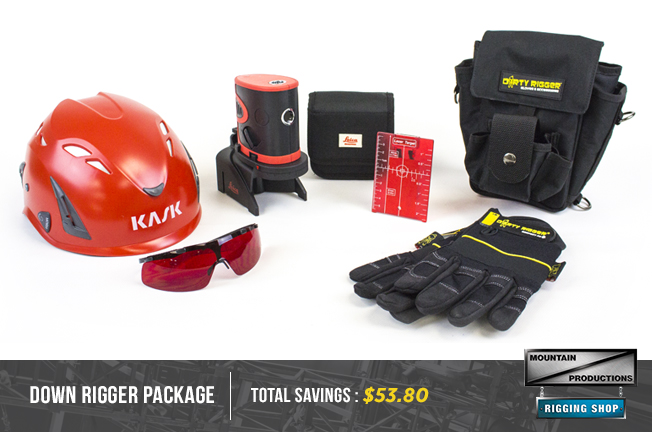 The essential items for professional down riggers
This product bundle caters directly to down riggers, and the specific equipment they need to get the job done and support their up riggers. Along with personal protective equipment, this package features the Leica LINO P3 three-point laser that is perfect for shooting accurate points up to the grid. (Leica's tools are accurate to within 1/16th of an inch!) We threw in the Leica GLB30 Red Laser Glasses to improve laser visibility when shooting your points.
To complete the package, this bundle offers the KASK Super Plasma helmet, Dirty Rigger Comfort Fit Full Finger rigging gloves, and Dirty Rigger Tech Pouch. Best yet, buying this bundle results in a total savings of $53.80!
---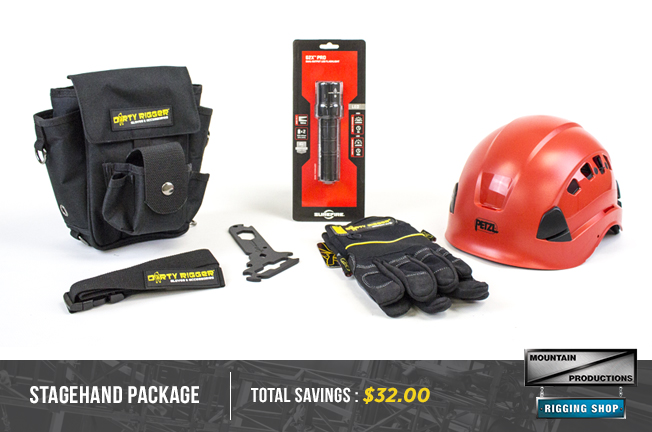 A collection of items every stagehand will love
Here's a product package for the hardworking stagehands that make events happen. This bundle boasts $32.00 worth of savings, and features 6 essential products that improves safety and efficiency. The Petzl VERTEX Vent and Dirty Rigger Comfort Fit Full Finger Gloves will keep you protected and comfortable, while the Gaffer Tape Holder keeps that frequently used roll of gaff tape close at hand. This package also equips you with the Dirty Rigger Multi-Tool, a versatile 14-in-1 tool and the SureFire G2X Pro flashlight. With up to 320 lumens of bright light, you'll never be in the dark again.
---
Visit Mountain Productions' Rigging Shop to take a look at these new product bundles, as well as our other packages. With only a few clicks, you can gear up with the best equipment available and most importantly, save money!