Servicing and maintaining chain hoists is critical—no questions asked. But how do you know that those who are working on your motors have the experience to diagnose and repair any issue successfully? Always research the company you are sending your motors to—after all, these are your valuable investments that must be operated safely (faulty operation or technical problems can and have caused serious accidents). One of the companies that excel in proper hoist maintenance and servicing is HARP (Hoist and Rigging Professionals) Rigging.

Based in Orlando, FL, HARP Rigging's service crew includes multiple technicians certified at the master level by the manufacturer who lead a team of certified servicing-level technicians. Each hoist that comes through HARP's doors are worked on by master certified technicians, which is an industry leading practice. They hold their standards high, requiring a minimum of 3,000 hours of hoist service experience before they are put in the field. Beyond the technical knowledge of chain hoists, HARP's technicians are skilled riggers and SPRAT-certified rope access specialists. This knowledge gives HARP a complete mastery over how chain hoists are used after they leave the shop, and the safe rigging principles that guide production work. The combination of highly skilled rope access experience with mastery over chain hoist maintenance is rare, which gives HARP an edge on the competition. These techs have done it all, from touring to projects in small venues.
We value those who dedicate themselves to their careers, as this isn't an easy industry to work in. A lot of blood, sweat, and tears goes into this level of experience. HARP Rigging's owner, Nick Fleming, is our first CM Technician of the Month, as he has proven himself, and his company, to be one of the leading servicing companies you can find. Mountain Productions' rigging department has worked closely with Nick on a variety of projects. We caught up with Nick to get a bit of insight on his journey in entertainment production, and to learn about what drives him to succeed. 

Q: How long have you been working with CM motors?
Nick: I have been servicing hoists for well over 10 years. Being very hands on and mechanical minded, it has always been easy for me to find joy in rolling up my sleeves and getting a little greasy working on hoists. There is always a sense of accomplishment in servicing a mountain of hoists or finding that hidden issue in that troublesome chain hoist. That feeling of satisfaction is what my company and I look forward to each and every day.
Q: Chain hoist servicing and production work require a lot of training. Any tips for those who are interested in pursuing a career in entertainment production?
Nick: With safety being top priority with everything we do, training is usually safety's shadow.  Without acceptable and progressive training, you not only start to lose the edge on maintaining a safe environment, but also fall behind with advancements in technology or just general efficiency efforts that could help in different areas.  A good technician should always strive to continue to develop and learn in his or her field as much as possible.
There are three paths of training we try to attack yearly in our company:
We try to see Dave Carmack of Columbus McKinnon once a year. He is one of the best in the business at not only teaching it by the book, but weaving real world scenarios into his learnings and always keeping it lively and interesting.
With most of the big players in the rigging production game offering week long courses, there is a bevy of info all in one place. We always base our decision on who the instructors are and try to attend as many different instructors as we can. We also don't just go for the instruction, sometimes the conversations around the lunch table with fellow attendees from the industry can outweigh anything we learn from the instructors, as you just never know who you're sitting next to until you ask.
When we are in the field we always try to get to know the riggers that have been around the game for a long time. Those guys have seen it all and done it all. They usually know how to get around the craziest issues we might be having, as they have seen the same issue many times in their career. Just talking with experienced guys can teach a newer technician quite a lot.

Q: What type of services does your company provide?
Nick: HARP is actually a division of a mother company called Rope Access Professionals. At HARP, our main objective is to provide superior service when it comes to servicing hoists, specifically in the entertainment field.  We are here to provide a service to our entertainment partners that have largely been ignored in some parts of the country, as they do not fit the "Crane Company" mold that other service providers cater to. We are also skilled riggers and provide rigging support when needed for inspections, installs, strikes, etc.
Our parent company, Rope Access Professionals, provides support to clients utilizing rope access techniques which covers a wide variety of industries and tasks.  Anything from changing out lights on high rises, inspecting temporary truss set-ups, to training and certifying new rope access technicians, we can do it all.

Q: Mountain Productions and HARP Rigging hold safety as the number one priority in every aspect of our jobs. What are some concerns you see in the industry, considering there are still accidents happening at events all over the world?
Nick: Overall, I think safety is greatly improving in the tools and equipment being used out in the field and in shops every day. We just returned from a convention on safety equipment and some of the things that are available to technicians to keep safety as the priority is really impressive. Training options to improve skill and knowledge in the trade are also greatly improving as we discussed earlier in this discussion.
Where we see a concern is that there is always a hard push to focus on the technicians, but really the people in charge of the technicians and hold the checkbooks to improve safety gear are often uneducated in safety.  We have an understanding at HARP that a technician is going to find a way to complete the job with the time and tools he or she has available to them. It is the management's job to ensure they are providing the right equipment, right plan, and right training, to do the job safely. Having management attend safety seminars, understand equipment and time lines, and listen to the field techs on ways to improve safety, will greatly help close that gap.  There are very few techs that will choose to do things the dangerous way over the safe way if given an option.  Accidents often occur because the safe option wasn't available, which is always unfortunate.
Q:  What are some of your favorite hobbies outside of your career?
Nick: In my off time, I love to hang out with my family. We are far from an "indoors" type of family, so most activities are outdoors in some fashion—at a baseball game, hanging out in the backyard, or swimming in the pool, it's always something outdoors. Being a former football player, I also enjoy teaching high school and collegiate level athletes to improve their skills at kicking, punting, or snapping a football. Overall, I think most would find it boring, but it is my version of playing golf. Just like golf, it looks ridiculously easy on TV, but when you try it, you find out it's very difficult and just as aggravating. Helping the younger guys learn that skill so they can contribute to a team is something I take pride in as well.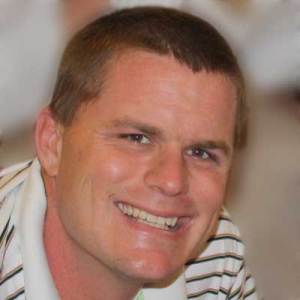 Nick's experience and passion is hard to match. We extend a huge thanks to Nick and the team at HARP Rigging, and congratulate him on being our CM Technician of the Month. HARP Rigging is a highly trained team that can tackle any of your hoist maintenance and rope access projects. Visit harprigging.com to learn more.
*All images courtesy of HARP Rigging