We've just made it even easier to instantly upgrade the essential safety items and tools every rigger, climber, and production worker should have on-site. We're excited to introduce the addition of product bundles on Mountain Productions Rigging Shop! These bundles have been specially assembled to include the most relevant and reliable gear that is accessible to anyone, regardless of budget. As a bonus value, each of our product bundles includes a FREE Mountain Productions t-shirt and duffel bag! Take a look at our 4 featured product bundles:

Mountain Steel Premium Package
Total savings of $124.60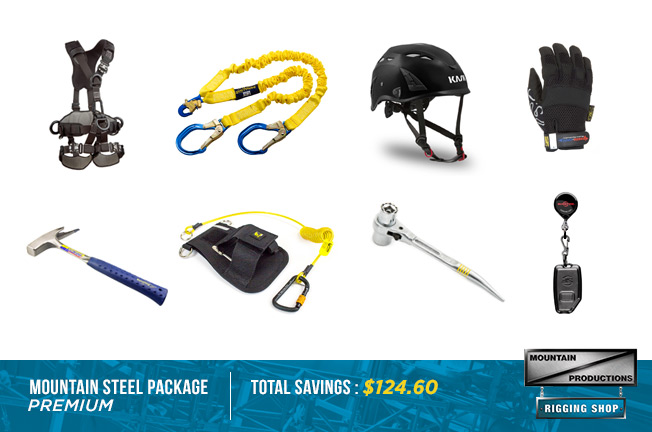 The Mountain Steel Premium Package is the ultimate product bundle for riggers looking for the highest quality gear. This bundle includes equipment from DBI-SALA, KASK, Dirty Rigger, Estwing, and SureFire—all leading brands in entertainment production safety gear and tools. Best yet, buying this bundle altogether will result in a total saving value of $124.60 compared to purchasing each item individually! Every product in this gear bundle caters to the specific needs of climbers, and provides the highest level of quality and safety you can find.
---
Mountain Steel Economy Package
Total savings of $60.70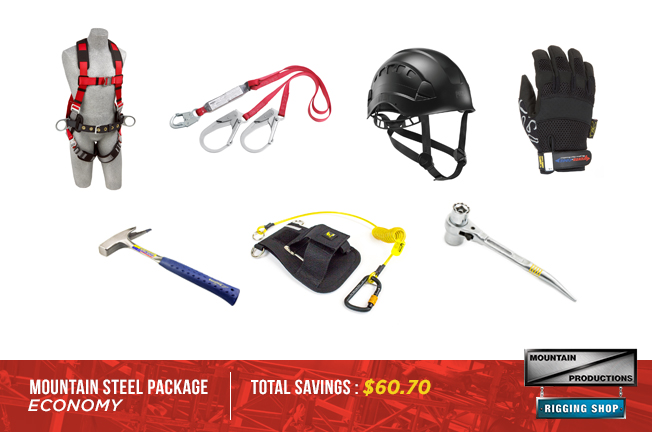 This is our economic version of the Mountain Steel Premium Package, designed for those who have a limited budget, yet still need an upgrade on their gear. Protecta is DBI-SALA's budget friendly line of fall protection and safety items. These products may not be as ergonomic or provide as many features as their higher-end counterparts, but they are guaranteed to safely protect you at height and on the job. All Protecta items are compliant with OSHA and ANSI requirements. This bundle altogether will save you $60.70 and the grief of ordering each item individually.
---
Arena Rigger Premium Package
Total savings of $108.70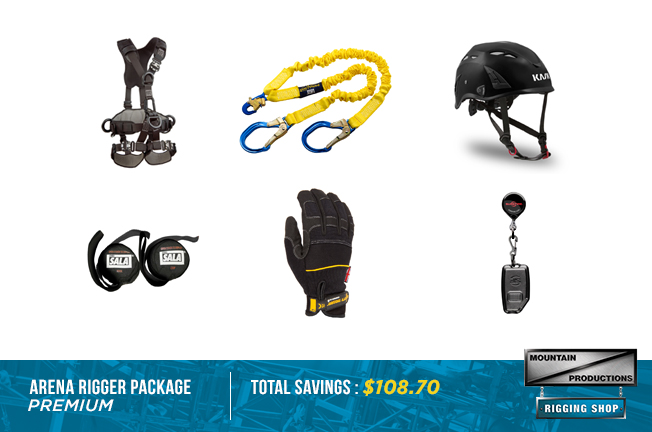 Our next featured product bundle is another high-quality assortment of safety items from DBI-SALA, KASK and Dirty Rigger with the 300-lumen max SureFire Sidekick and Lightkeeper tether. Rigging can take place in some of the darkest areas to work in. The SureFire Sidekick is quickly tethered and secured with the Lightkeeper, giving you instant access to a super bright, yet ultra-compact light source. Our DBI-SALA and Dirty Rigger items in this bundle are guaranteed to keep you protected and save your life in an emergency scenario. The addition of the Suspension Trauma Safety Straps provides another level of safety for workers awaiting rescue after a fall. (Read about suspension trauma and how quickly it sets in here) Although named the Arena Rigger Package, these items are applicable to outdoor scenarios and other types of production work as well. Buying this bundle will save you $108.70!
---
Arena Rigger Economy Package
Total savings of $49.80
Includes: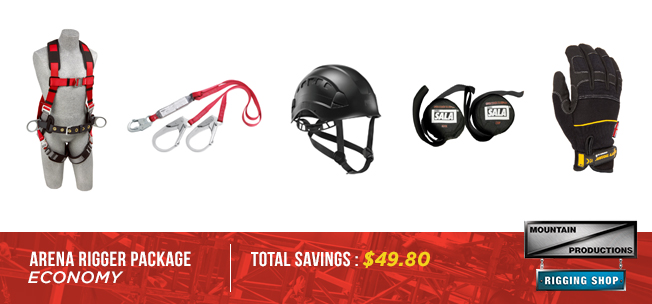 The Arena Rigger Economy Package provides budget sensitive buyers 5 quality safety products and a total savings of $49.80 (compared to buying individually). The Protecta harness and lanyard are OSHA and ANSI approved to keep you safe at height, and the Petzl VERTEX VENT Helmet protects your head whether you're in the air or on the ground below. This is a great beginner bundle for riggers looking for reliable gear that don't need the top-of-the-line equipment.
---
We'll be adding more product bundles in the days to come—make sure to check back at Mountain Productions Rigging Shop to see them all! Our product packages are designed to save you money, while still providing the safest gear from the most reputable brands.