Venue installation systems are designed to help optimize your venue and make the most out of your arena in terms of ticket sales, labor costs, tours, shows and more. One of the install services Mountain Productions can provide is arena reduction. Using a Mountain Productions' Arena Reduction System can greatly bring down maintenance and labor costs while increasing your ticket sales and variety of shows your venue can fill.
Arena reduction systems are modular solutions involving electric chain hoists, truss and curtains. A reduction system will reduce the size of your venue space, allowing you to bring in smaller scale shows that might skip over your large seating arena space.
The name of the game is ticket sales, and reduction systems will bring in the shows that are confident they can fill your reduced-sized venue. There are two main types of arena reduction systems: Upper Bowl and Half-House.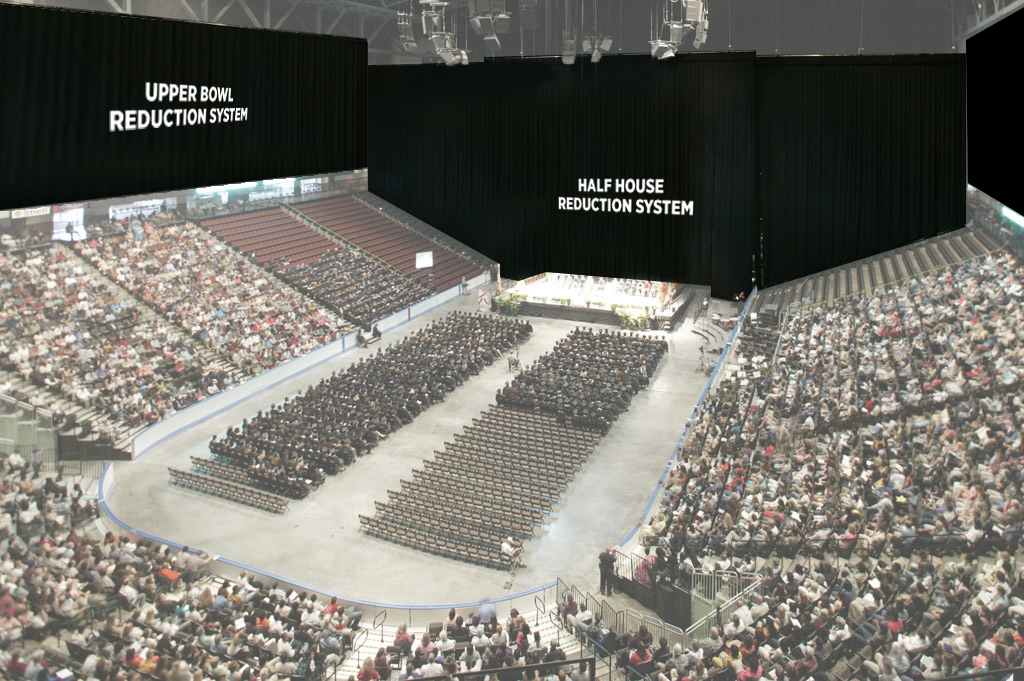 Upper Bowl reduction systems mask the upper levels of arena seating, and are ideal for sporting events. These systems are permanent, and require extremely little maintenance. Half-House systems work by dividing an arena floor, essentially utilizing a part of the venue while masking what is unused. Unlike Upper Bowl systems, half-house solutions are modular, and can be moved as well as taken down for storage when not in use. Entertainment tours and concerts typically use a combination of both Upper Bowl and Half-House reduction systems.
What does all of this mean for you? Mountain Productions excels at providing "plug-and-play" reduction systems requiring little on-going maintenance. These systems can, and will save you money on labor costs. With arena reduction, you can now market your venue to all sizes of shows, and introduce a brand new segment of events to your venue.  Not only will our arena reduction systems save you money, but they will bring in a whole new world of revenue generating possibilities. After all, what's better than that?
Interested in learning more? Contact our Venue Installation Manager, David Piccola, (570 826 5566 x207 / dpiccola@mountainproductions.com) to discuss how a Mountain Productions Arena Reduction System can transform your venue.