Some of the most popular products on Mountain Productions Rigging Shop are the variety of chain hoist bags we offer. Our in-house softgood shop has been manufacturing chain bags for decades with the support and design from our engineering team. Combined, we have perfected a line of chain bags that fit Lodestars, Prostars, and CM manual chain hoists, along with custom chain bag solutions for specific needs.
Our chain bags are available in a range of materials with different style installation bracket options. Here's a breakdown of our main chain bag styles:
Standard Sizes: 13", 16", 20", 25", 32", 36", 40"
Material: Vinyl Mesh or Cordura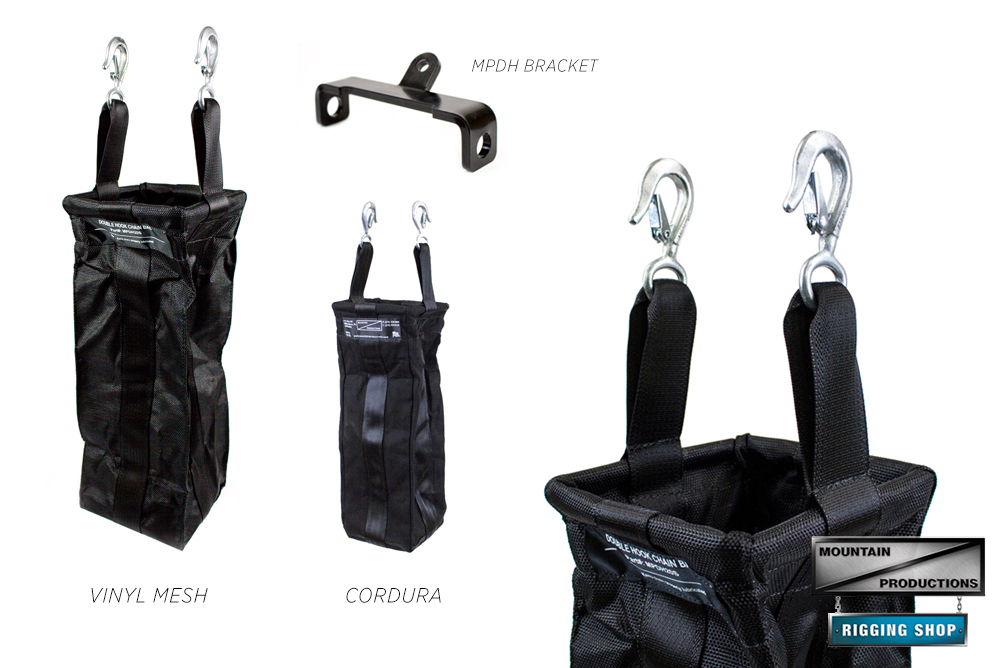 The Double Hook Chain Bag is made standard with a heavy vinyl mesh, nylon strapping and a reinforced steel frame opening. This results in a strong, safe bag that easily filters chain in and out. This chain bag is installed to the chain hoist via the MPDH (Mountain Productions' Double Hook) Bracket and two 7/16" genuine CM steel snap hooks. A great feature of the Double Hook Chain Bag is its ability to be used in both motor up and motor down positions.
Standard Sizes: 13", 16", 20"
Material: Vinyl Mesh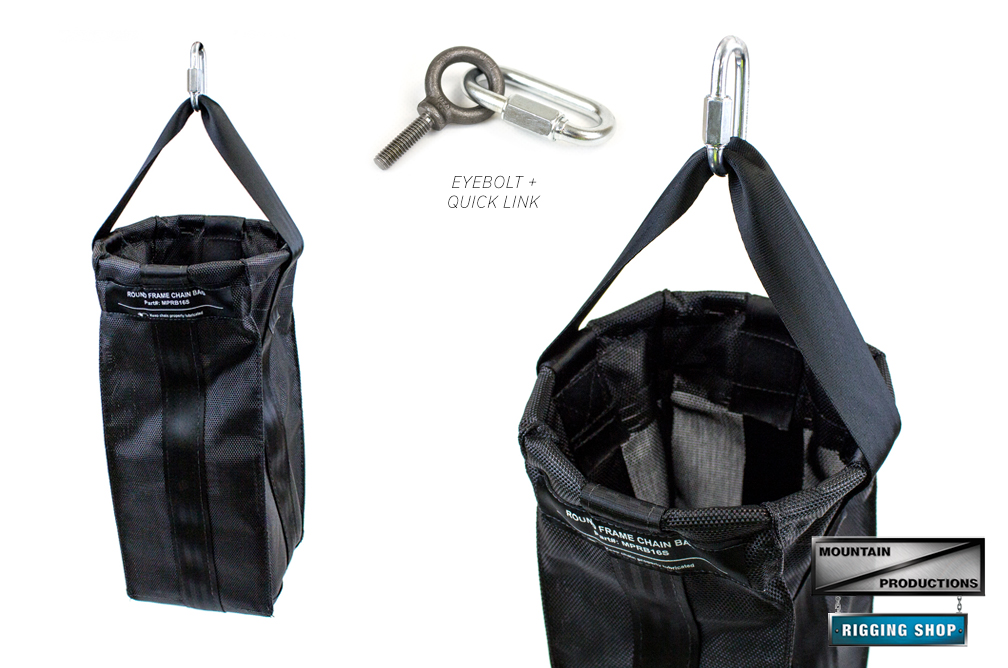 Our Round Chain Bag is true to its name, and has a circular opening allowing the chain to enter the bag successfully each time. The construction of the bag itself is similar to our Double Hook Chain Bag, using heavy duty vinyl mesh, nylon strapping and dual sewn edging. The Round Chain Bag is installed using a quick link and eye bolt that is fixed to the hoist body.
Standard Sizes: 13", 16", 20", 25"
Material: Vinyl Mesh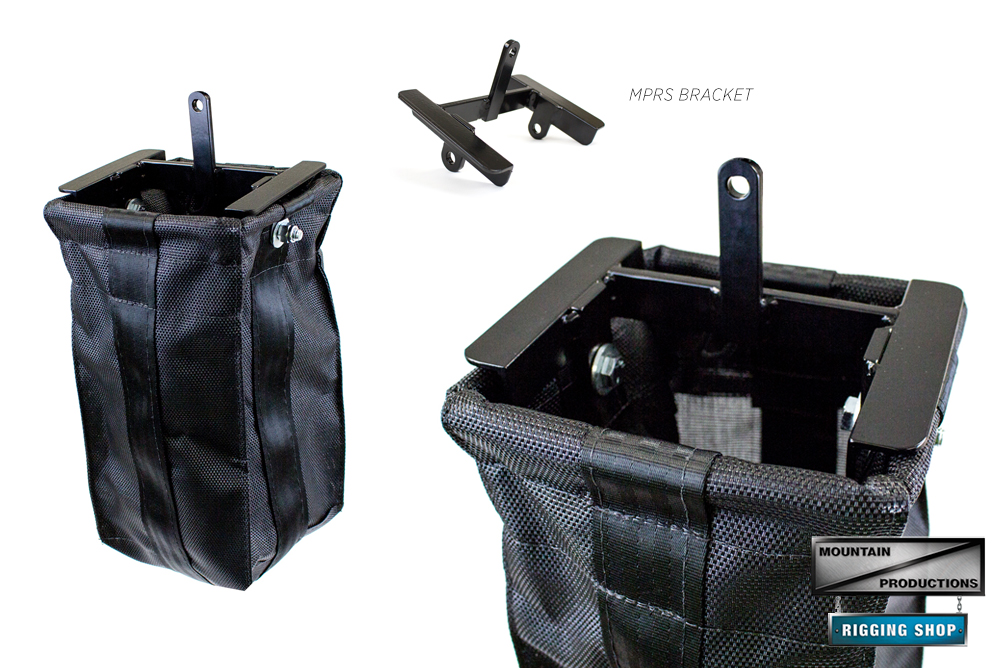 The Rigid Style Chain Bag is our solution for a permanent chain bag that is only usable in motor up position (common in trussing and roof grids). The manufacturing of the Rigid Style Chain Bag is the same as the Double Hook Chain Bag, but installs with a different type of bracket. The MPRS (Mountain Productions Rigid Style) Bracket is specific to the model Lodestar you are installing to (V1 or V2). Using only a few nuts, bolts, and washers, this chain bag installs quickly and safely.
Standard Sizes: 11", 13", 18", 22", 26"
Material: Vinyl Mesh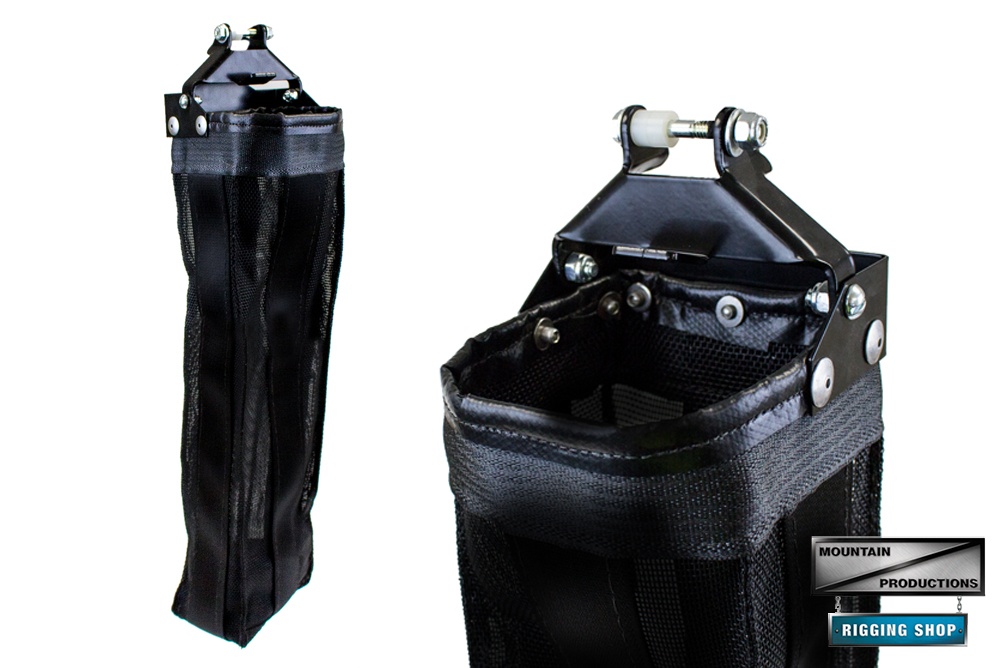 For the smaller sized Prostar chain hoist, a special bracket had to be manufactured for proper installation. Mountain's Prostar Chain Bag uses durable hardware for the connection bracket, and fits perfectly on the Prostar hoist body. Use it indoors, or use it outdoors—our chain bags can take the abuse of surprise elements.
Standard Sizes: 10", 13"
Material: Vinyl Mesh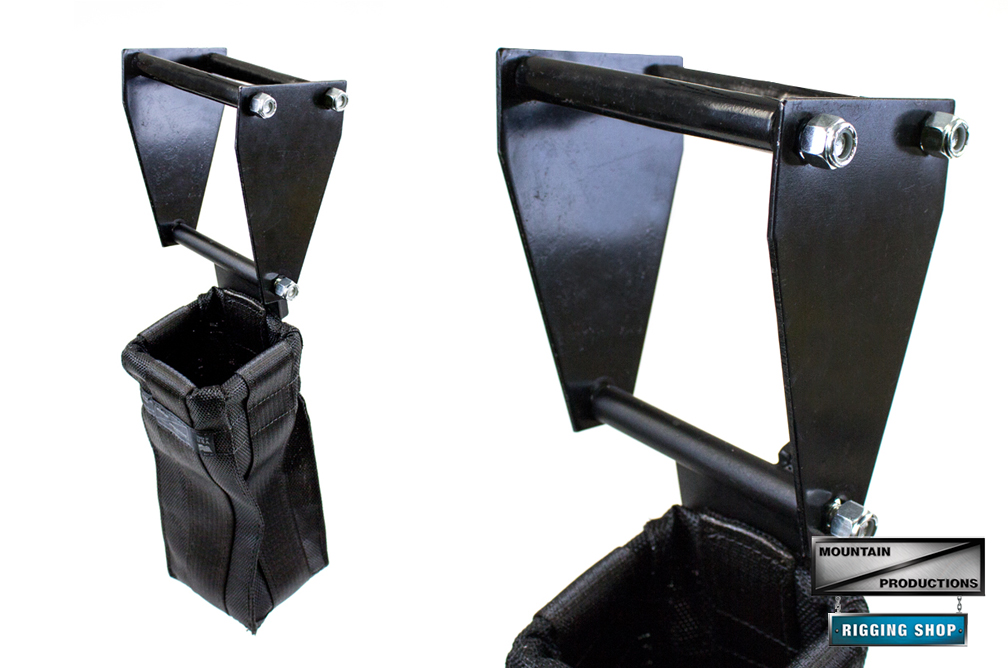 This chain bag features a custom bracket assembly that perfectly fits the shape of the CM Series 622 chain hoist. We mainly work on electric chain hoists, but also have the need for manual hoists and chain bags to fit. The 622 Chain Bag is built with the same safety and strength of our entire chain bag offering, and has a steel frame opening, heavy duty vinyl mesh and reinforced nylon strapping.
---
This overview shows our standard options for chain bags. We have created custom bags for different model hoists and special applications as well, so if you don't see what you need, give us a call. As always, proper installation is required to ensure safety, and we also manufacture motor up and down safety wires. These safeties are secured to both the hoist and chain bag and act as a backup safety measure. When it comes to entertainment rigging, you can never be too safe.