DBI-SALA® has perfected the design and construction of safety lanyards. Their offering includes shock absorbing lanyards, positioning lanyards, tie-back lanyards, arc flash lanyards and more in single and twin leg options and in an assortment of materials. No matter what scenario you find yourself in at height, DBI-SALA has you covered.
An important element of safety lanyards is the hook. DBI-SALA's patented snap hooks are ANSI Z359 compliant and are sought after for their one-handed easy operation. (No more pinched thumbs or fingers!) These hooks are tested and proven to provide superior strength and security—2 things you're going to want when working high up in the air.
Along with their standard snap hook, DBI offers a variety of larger hooks and carabiners for connections to larger anchor points. Take a look at 10 of DBI-SALA's lanyard hook options, along with their rated gate strength and opening size: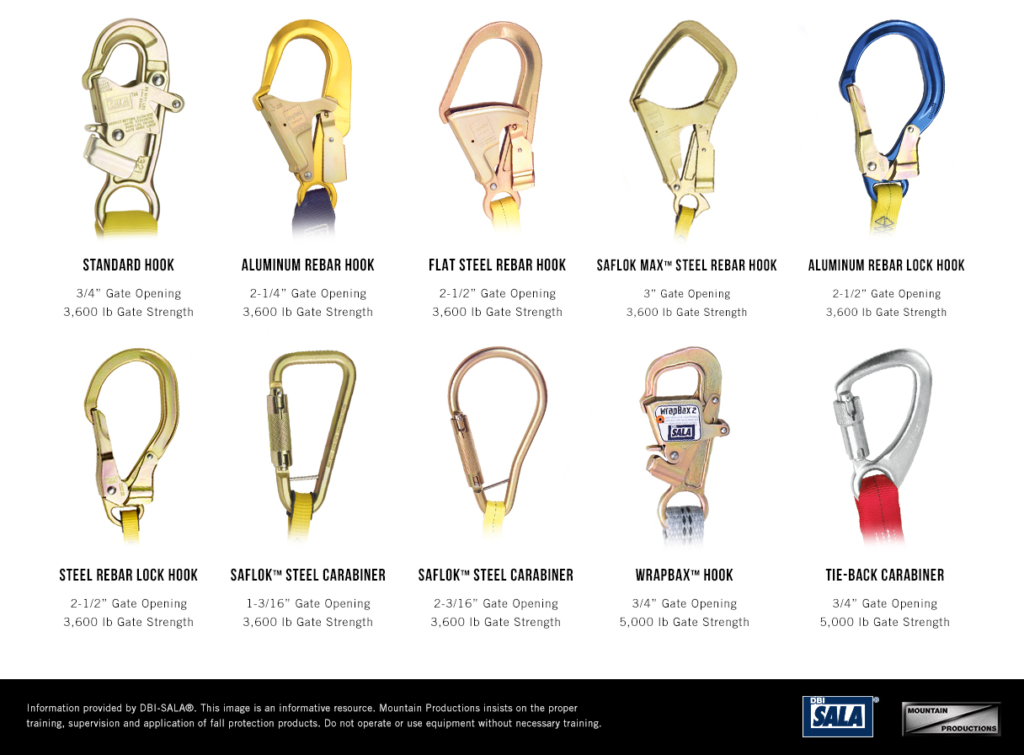 It's important to understand which type of hook you require. For instance, the Shockwave2 lanyards that we offer on our online Rigging Shop are fitted with Aluminum Rebar Hooks to accommodate tie-offs to truss while keeping the overall lanyard weight down. The larger gate opening is perfect for entertainment riggers. Knowing where your workers will be and what they will be tying off to are critical to ensure you're investing in the right equipment. If you have any question at all, or are unsure about which lanyard you require, contact a competent and trained professional before making any purchase.