DBI-SALA & Python Safety are leaders in fall protection and safety equipment. Python's drop prevention products help workers secure their tools and loose items at height. When using drop prevention tethers with tools, it's imperative that the proper methods, procedures, and inspections are followed during usage. Our featured products this week are Python Safety's Quick Wrap Tape and D-Ring attachments. Using these items, workers can install tether points on their commonly used tools that might not come with a pre-drilled hole for securing. Here are the proper steps when installing D-Ring attachments to tools: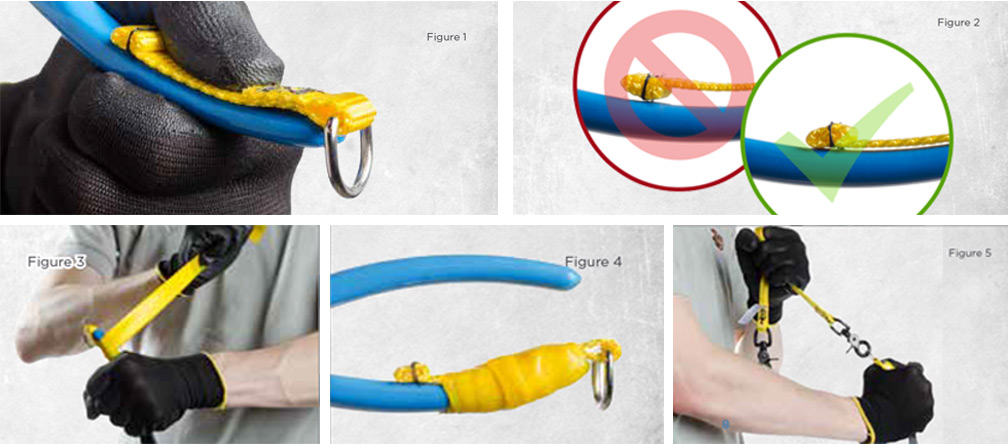 Cut a strip of Quick Wrap Tape approximately 12" to 24" long, depending on the size of the tool handle. Peel plastic coating away from wrap. The length of tape should wrap 10-12 times around the tool. NOTE: Never use the D-Ring and Quick Wrap Tape on the tapered portion of a tool.
Make sure the tool is cleaned and free of debris which would interfere with the bonding of the Quick Wrap Tape. Place a D-Ring attachment so that the ring of the D-Ring is facing away from the center of gravity of the tool. Ensure that when installed, the D-Ring will not interfere with the safe working condition of the tool. (Figure 1) When placing the D-Ring, ensure that the tab of the D-Ring is facing up. (Figure 2)
Wrap the tape around the tool while stretching the tape. It is critical to stretch the tape while wrapping, as this activates the tape and causes it to self-vulcanize, creating a secure connection. (Figure 3)
Once the connection is complete, test the connection to ensure proper installation has taken place. (Figure 5)

These 4 steps are crucial when installing to make sure that your tool is properly equipped. After all, what's the point in investing in drop prevention if it doesn't work?
A few more points to remember:
When to use D-Rings and Quick Wrap Tape
For tools weighing up to 5 lbs or 2 lbs (The D-Ring attachments we offer online are rated for tools up to 5 lbs. Part number 1500007)
When a non-conductive attachment point is needed for tools up to 2 lbs (Part number 1500005)
When tools lack pre-drilled holes for quick rings
When not to use D-Rings and Quick Wrap Tape
When a tool is over 5 lbs or 2 lbs (reliant on type of D-Ring)
When a D-Ring will interfere with the safe working condition of the tool
If you have any issue or question with installation, please call us at 570 826 5566. All information is found in the Fall Protection for Tools® Pocket Reference Guide by DBI-SALA/Python Safety.