Click here to view the full 2016 CM Hoist School Photo Album on Facebook
It's one of our favorite times of the year, and now that it's over, we're already brainstorming how to make next year even better. Our 2016 CM Hoist School welcomed attendees from all over the country, and representatives from 7 major industry brands who came together for 5 days of hands-on training, education and fun. (If you're like us, we love getting our hands dirty with some motor maintenance!)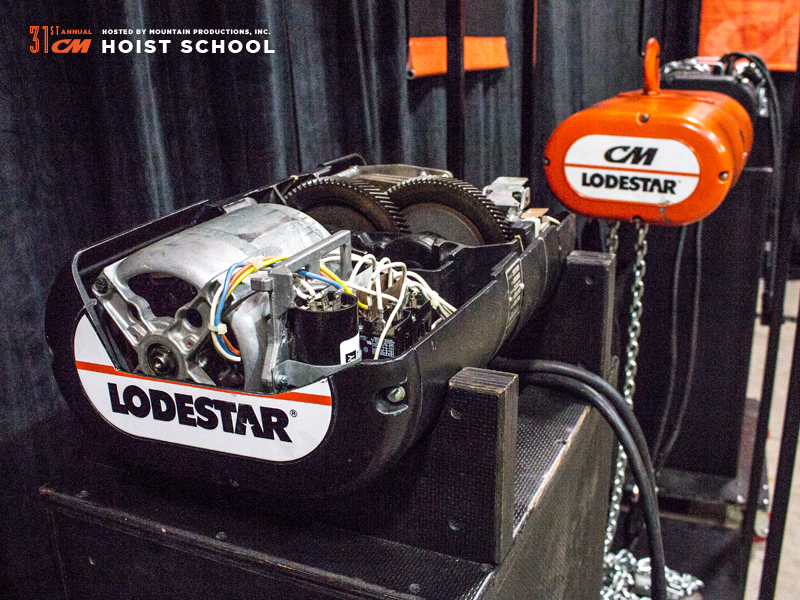 Attendees shuttled into Mountain Productions on Monday, ready to jump right in to class. Half of our students were introduced to Dave Carmack and began their training in Lodestar maintenance and repair, while the other students sat with Eric Rouse for the rigging seminar.
Between classes, Mountain Productions' Jeff Sivick, Jon Baker and the rigging sales department hosted a table showcasing our recently launched online Rigging Shop, and some of the personal fall protection items and tools we provide.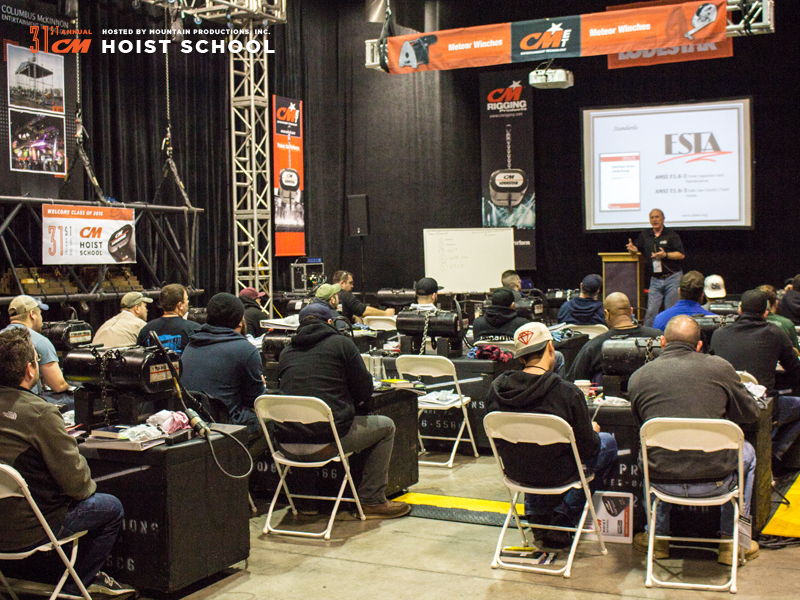 Tuesday continued the Lodestar and rigging training for each student group, and attendees were given a tour throughout Mountain Productions' warehouse, yard and multiple buildings. Working hands-on with Dave Carmack and Eric Rouse, both groups spent Monday through Thursday learning and preparing for the certification exam on Friday.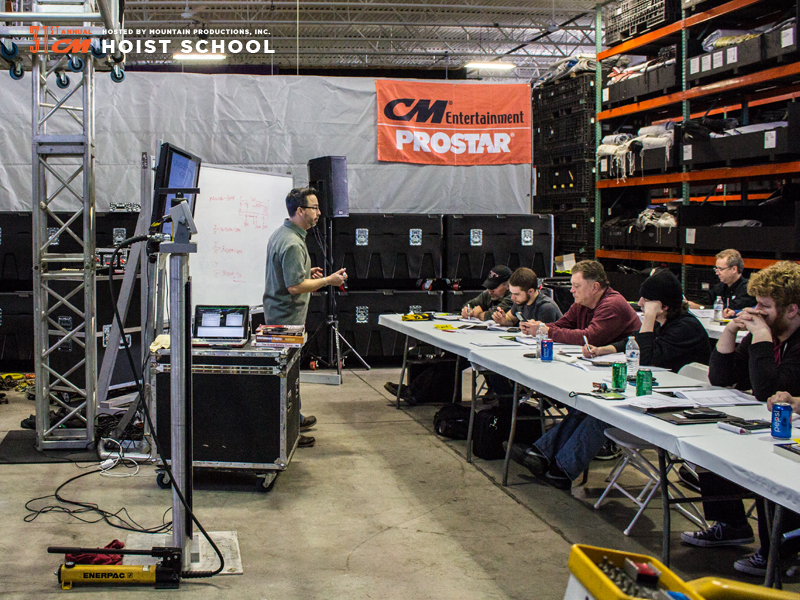 On the last day of CM Hoist School, attendees took their certification exam before a variety of industry vendors provided seminars and demos to the group. LiftAll's Chris Schaffer spoke to the school about LiftAll's sling inventory as well as proper rigging techniques. Following Chris, we welcomed Leica Geosystem's Steve Hobson, Kevin Rinaldi, and Greg Capitano to discuss their DISTO and LINO line of laser distance meters and levels, and how they could innovate and streamline workflow. Up next, Hoist School veteran Mike Webb from Motion Laboratories spoke to the group about power distribution and hoist control – Motion's bread and butter. Following Mike Webb, students were introduced to KASK's high quality line of professional helmets. KASK representative Fabio Cardarelli broke down and explained the features that separate KASK's helmets from the competition. Concluding our CM Hoist School, industry veteran Mike Garl presented a seminar on truss theory and application. This seminar is a great introduction to the complexities and technical aspects of truss loading, and how to work safely with truss.
We look forward to the week of our Annual CM Hoist School each year, and appreciate the opportunity to meet with our attendees and further educate those who are part of this industry. Showing up to any type of training event shows commitment and passion for one's career, and the pursuit of knowledge in their field.
Congratulations to all of the 2016 CM Hoist School attendees on another successful year—we wouldn't be able to host this training without you. We also extend a huge thanks to each of our trainers, vendors, and sponsors represented this year at CM Hoist School. Our vendors this year included LiftAll, Leica Geosystems, Motion Laboratories, KASK, and Mike Garl. Instructing the motor maintenance class was Dave Carmack of CM and Eric Rouse presented the entertainment rigging seminar. The 31st Annual CM Hoist School was sponsored for another year by Lighting and Sound America.
If you have any pictures of the 2016 CM Hoist School, we'd love to see them! Simply tag us in the picture and we will share it to our own pages.