Company wide safety school is a mandated annual training at Mountain Productions. It keeps our new employees educated on the best practices in workplace safety, as well as refreshes this knowledge for our longterm employees. Our Safety School took place on February 9th & 10th, led by our safety & logistics officer, Joseph Piskunowicz.

Day one of our 2016 training consisted of classes aimed at our road crew and supervisors. All of our employees who travel to jobs are trained in the Weather Ops platform and protocol. Weather Ops has provided our weather monitoring capabilities for our outdoor job sites for the past 3 years, and we continue to work with them on optimizing, updating, and modifying their platform for the unique needs of entertainment production.
Weather Ops' representative Caleb Midgley lead the class where our crew was introduced to the newest updates to the Weather Ops mobile app and radar, along with how to read and anticipate incoming weather.
Chris Schaffer from LiftAll presented a seminar covering rigging basics & safety and educated our workers on proper inspection of goods. Following LiftAll's seminar, Friedman Electric certified our employees in first aid, and Penske Truck Rental presented a driver safety and roadside inspection course. Matt Smith from Capital Safety presented the last seminar of the day and demoed a variety of fall protection equipment from DBI-SALA.

Day two of our safety training was hosted by Friedman Electric, and kicked off with Lock Out Tag Out certification by Ideal. Louisville Ladder trained our crew on ladder safety, and 3M presented a class on proper PPE and respirator usage, cleaning, and inspection. Employees learned about hand protection from Showa, who also brought samples of their extensive glove line to demo. Our employees certified to operate powered industrial vehicles reviewed forklift inspection, and Jack Dimmick of Friedman Electric closed out Day 2 with a class on electrical and arc flash safety.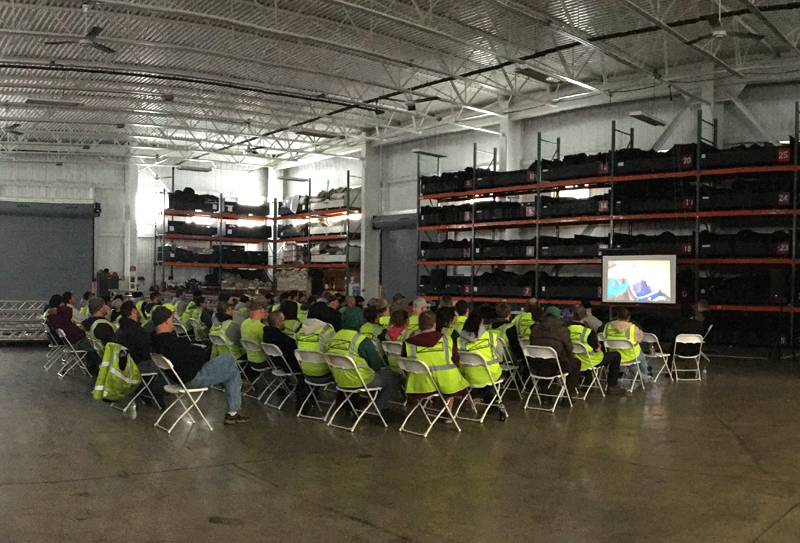 Practice makes perfect, and when it comes to workplace and job safety, there's no room for error. We'd like to thank all of the vendors involved, and the company representatives who lead each seminar for another productive safety school training.