In today's age of innovation and technology, it takes a truly unique product to really make an impact. TOMCAT Global, experts in truss manufacturing, have achieved this hype with their brand new product in development, the EVO Truss. Debuted at LDI 2015 in Las Vegas, the EVO Truss made an overwhelmingly good first impression on visitors to Tomcat's booth. We took some time to reach out to TOMCAT's Design Specialist, Dayne Cook, who worked closely on the EVO Truss in development, to dig a little deeper into the EVO Truss and what it's all about.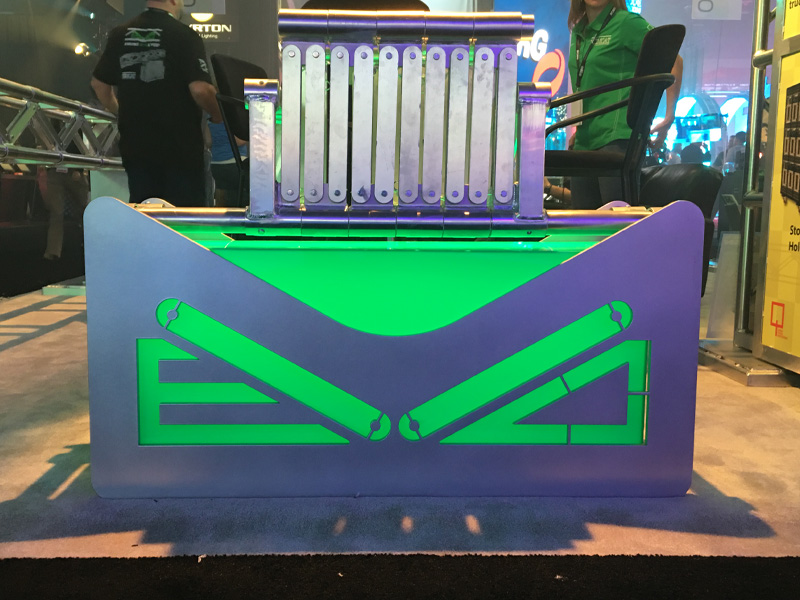 What are the key features of the EVO Truss?
Dayne: The key features of the EVO Truss are:
It is a collapsible, space saving design that is effective for storage/warehousing needs
Allows for more units per container when transporting in bulk
It's modular—removes a great deal of heat affected zones prevalent in traditional welded truss
The EVO Truss is repairable—our end users will not have to kill another entire stick of truss if they use this product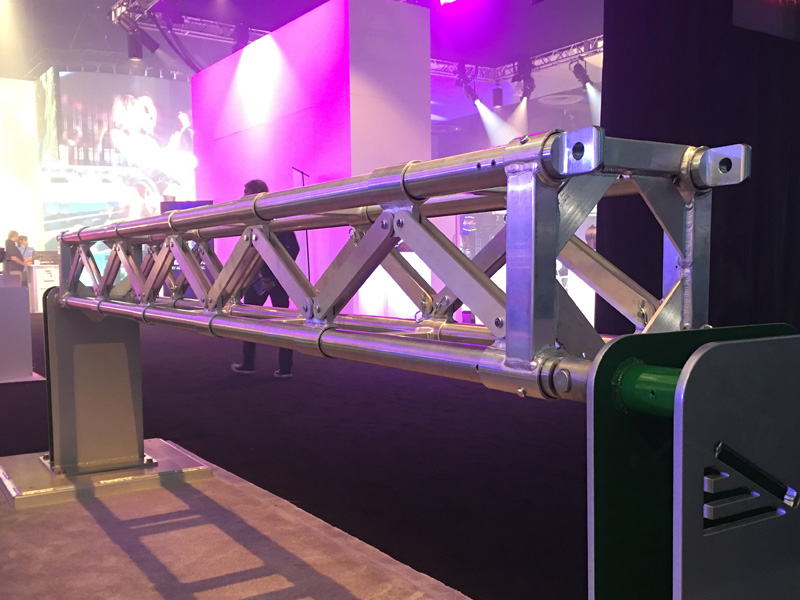 What prompted the development of this product?
Dayne: The primary reason that prompted the development of the EVO Truss is that by listening to our customers and end users, we ascertained that there were 3 main problems that were prevalent when discussing traditional, welded truss: 1) storage/warehousing space, and the lack thereof, 2) very low number of units per container in transportation, and 3) a frustration with having to decommission entire sticks of welded truss after yearly inspections. We began to ask ourselves if there was a way to address these issues, which eventually lead us to look at truss in a non-traditional manner.
What is the added value of the EVO Truss?
Dayne: The added value of the product is its ability to enable our end users to use their existing warehouse/storage areas more effectively. Traditionally, as a company grows and increases their inventory, their facility must expand to meet those needs by building or moving to a larger facility. These solutions, of course, come at no small cost. We aim to provide a product that can be stored in greater density per square foot. This reduces the overhead of our customers by using their existing facilities more effectively.
Of course this relates directly into the issue of units per transportation container. The main issue of shipping welded truss is low units per container. A favorite complaint being that when shipping truss you're shipping "mostly air". Of course, many try to alleviate this issue by stuffing the interiors of the truss with smaller goods to get "more bang for their buck". However, this isn't the most effective manner of solving this particular issue and shifting of these smaller units during transport could lead to damaged truss on arrival. The EVO truss can be transported on a dolly at a much higher unit count per container. So the added value here is fewer truck packs, fewer long distance containers, fuel savings, drayage savings, etc.
The final added value could also be argued as being the most innovative – a modular design that enables the repair of damaged truss and its return to service.  Now, entire sticks of truss do not have to be de-commissioned and replaced. Instead a "kit of parts" or "service pack" can be created to have on-site to replace damaged parts. As an added bonus – the modular design of the EVO truss has effectively removed a great deal of heat affected zones created during welding. The lack of these zones, especially in the chords, enables us to utilize a material's strength approaching 100%, where welding has been avoided.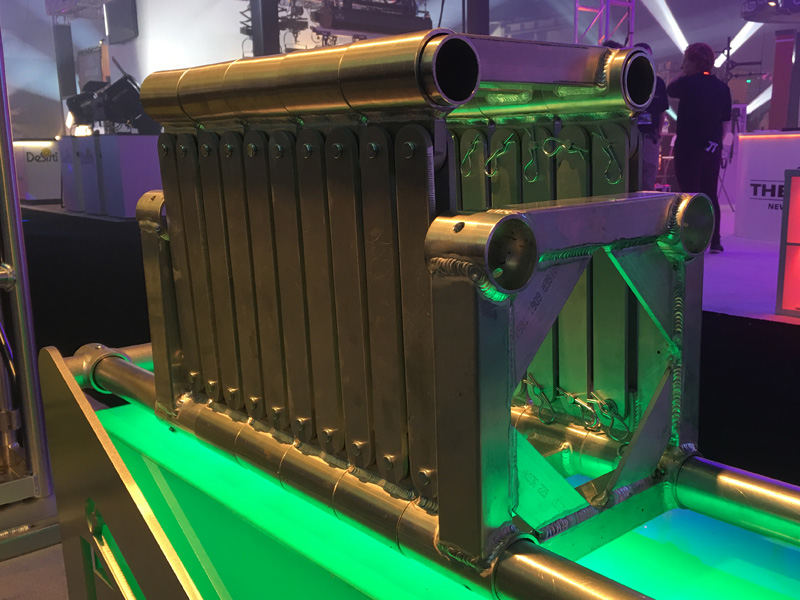 What type of feedback did you get at LDI?
Dayne: The feedback we received at LDI was overwhelmingly positive, and actually lead to the decision to proceed with EVO Truss as a product offered by Tomcat. What was most interested was that different market niches liked the product for different reasons. Larger companies who did not have an issue with warehousing space loved the fact that the truss was repairable. Markets where storage space was the dominant issue, such as cruise ships and resorts, loved the fact that the EVO Truss is collapsible. Foreign markets loved the fact that they could have a far greater unit-per-container number for overseas shipping. The EVO Truss offers something for everyone, and we are really excited to be able to offer it for their unique uses.
Is this product available on the market right now?
Dayne: No – presently, the EVO Truss will not be available until early 2016. We are currently revising our product design to address our end users' feedback that we gathered during LDI to better meet their needs.
---
A couple crucial improvements to common industry pains has made the EVO Truss a formidable piece of equipment that can truly change the way we work. Big thanks to Dayne & TOMCAT for taking the time to give us a deep dive into the EVO Truss. Stay tuned for updates on this product—you don't want to miss when the EVO Truss is available!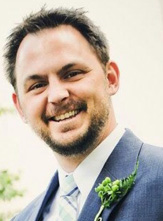 Dayne Cook is the Design Department Lead for TOMCAT, one of the largest aluminum truss and custom aluminum structure manufacturers in North America. Dayne is tasked with the responsibility of designing, troubleshooting, and installing custom aluminum structures for the entertainment, audio/visual & exhibition industries around the world.