What does it take to build the world's biggest selfie stick?
Mountain Productions collaborated with V7 Entertainment Group to figure it out. For the TCS New York City Marathon, V7 and ASICS wanted to build the selfie stick to capture this legendary event from a brand new perspective. It took many hours of careful planning, research & development and test builds, but the project was executed perfectly and created a memorable experience for the marathon's runners.
Research & Development
V7's Technical Producer, Victory Mirabel, worked with Mountain's Bryan Ellis to logistically plan for the event, as well as outline their vision for the selfie tower. Bringing the engineering department in, Mountain was able to put together a drawing for a test build. At our facility, Mountain built the goalpost tower with the engineering team closely inspecting and verifying each component. Check out some cool birds-eye shots of the test build below.
The Big Picture
After completing the test build and finalizing the prints, the selfie tower was ready to travel to NYC for the marathon. The final goalpost tower stood 94' tall and was assembled with 40' Mountain Truss columns. This project is a milestone for us, as this is the tallest structure that we have engineered and built with our Mountain Truss columns. A 23' wide area between each tower was spanned by a stick of 24" truss that would act as a lifting point for the selfie camera. With everything built and secured, the selfie tower was ready for action.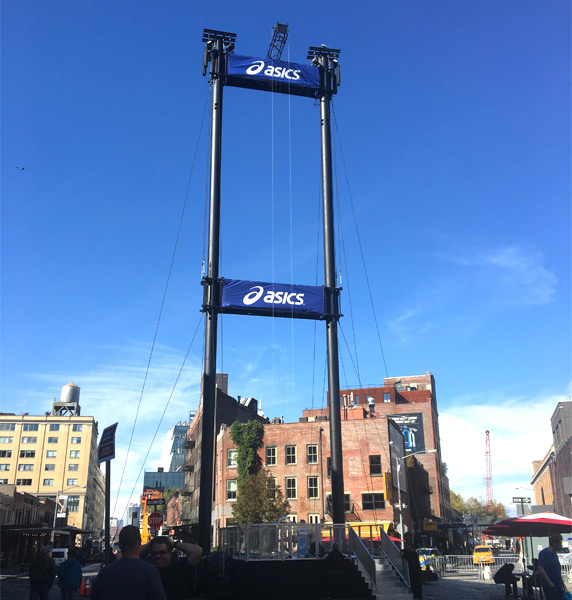 "Congrats to all of you for making this happen, we could not have done it without any of you."
Victory's kind words sum up this project very well. The level of teamwork that was required to pull of the world's biggest selfie tower is often hard to find. The project was a complete joint effort, and the hard work of everyone involved took this project on paper and turned it into a 90' functional selfie tower—the world's biggest one.
Check out this great video from ASICS that perfectly captures the world's biggest selfie stick.