Exclusive offering on all DBI-SALA, Python Safety, & KASK products! Arm your crew with the most reliable safety equipment in the market.
In celebration of our growing fall protection and safety inventory, we are excited to announce this limited offer to 15% off our entire line of fall protection products! For the entire month of July, all DBI-SALA, Python Safety, & KASK products will feature a 15% discount, per item. (Full promotion details below)
We've recently added the Python Safety and KASK brands to our safety arsenal in our aim to provide comprehensive safety solutions for any application.
Our inventory includes some of the most important PPE, including the Exofit NEX Blackout Harness, KASK Super Plasma helmet and fall arrest lanyards. Extending beyond personal equipment, we carry full safety systems such as the EZ-Line horizontal lifeline, Rollgliss rescue & descent unit, Protecta Rebel SRL and much more. Here's a quick graphic on some of the savings you'll have access to for the entire month of July: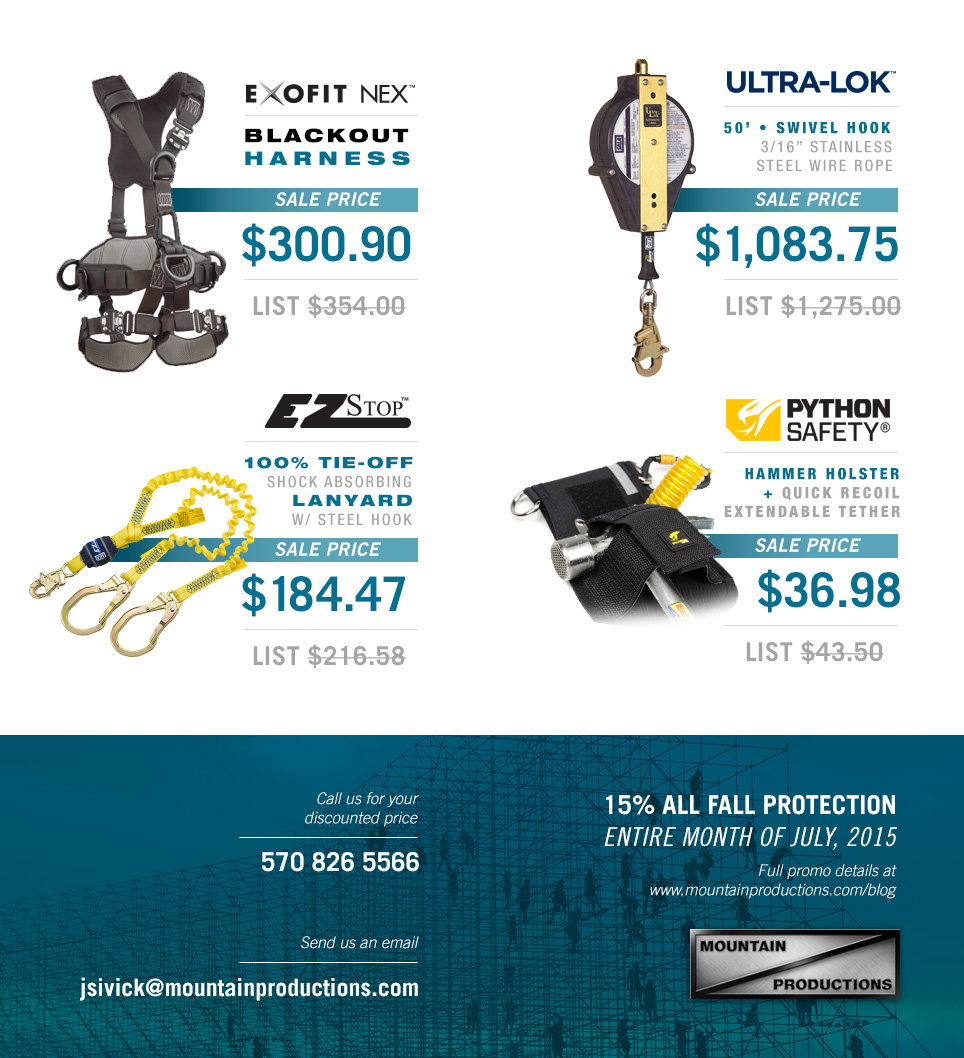 Don't wait any longer to arm yourself with reliable fall protection and safety equipment—it will save you and your worker's lives. We hope you share this offer with your colleagues; the importance of proper safety equipment is more apparent than ever, and we want you to take advantage of these exclusive prices.
Visit our website to see our fall protection inventory, and call in today to hear how much you will save! Our rigging experts can also help you put together a complete safety package that contains the highest quality products in the industry.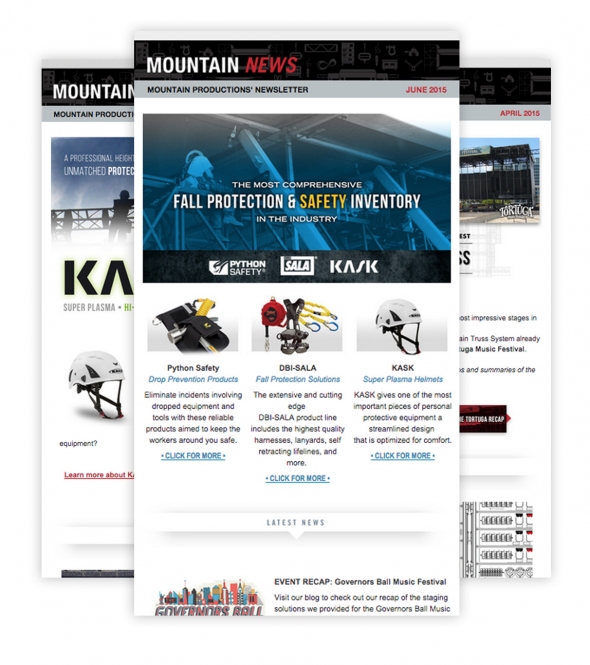 Want to receive instant updates on upcoming promotions? Subscribe to our e-newsletter today and get the latest news from Mountain Productions, directly to your inbox. Simply enter your email address and gain access to helpful industry articles and future discounted items, days before they are announced.
Sign up for the Mountain NEWs e-newsletter here!
---
PROMO DETAILS: 15% off all fall protection/safety products includes the following brands: DBI-SALA, Python Safety & KASK. This is a limited offer starting on July 1, 2015 and ending on July 31, 2015. Orders must be placed between July 1 and July 31 to qualify for promotional discount. 15% off is applicable per item, and discounts are based off of MSRP List Pricing. Discounts may not be combined with any other offers. This offer is not redeemable for cash. Promotion may be discontinued without prior notice.