Each year, Mountain Productions' road personnel attend a 3-day company training to plan and prepare for the season. It's a great kickoff to another busy year and helps our crew refresh and stay up to date with safe work practices. As our company continues to grow, we make sure that all of our crew is on the same page and engage in training to maintain our high quality standards.
The first 2 days of this year's training included topics such as on-site safety protocol, weather planning, and scaffold building. Safety starts the minute you clock in, and on-site safety practices are the foundation of a dedicated mentality that is carried to each of your events.
We all know by now that anticipating, monitoring and proactively responding to inclement weather is paramount to event safety. Mountain Productions' weather technology lies in WDT's WeatherOps and works hand in hand with our high wind action plans, created specifically for each stage and location that we build.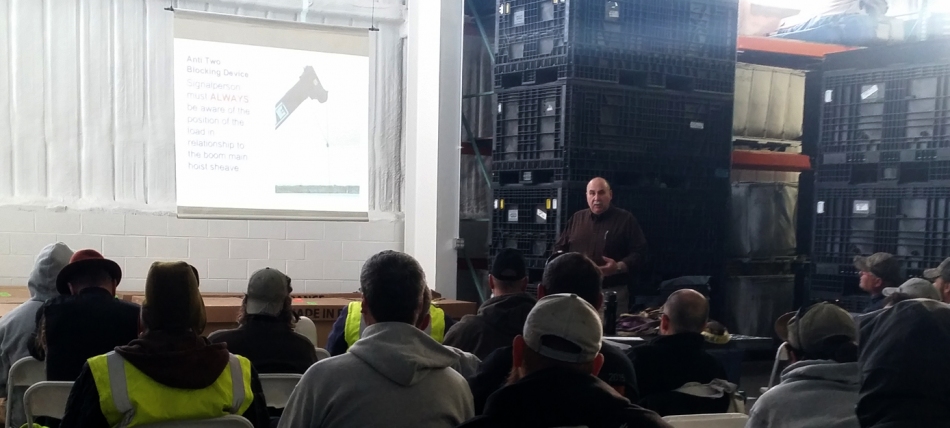 Along with the in-house training, Mountain Productions sent 4 representatives to the Event Safety Alliance's Severe Weather Summit in Oklahoma earlier in March. This 2-day event covered common severe weather threats, weather forecasting resources, crowd dynamics, legal considerations and more, lead by experts from the NOAA and National Weather Service. The summit was invaluable, and was delivered from the perspective of event and venue professionals.
Finishing up the first 2 days of training was a refresher on the fundamentals of building scaffold. Most of our structures have at least some component of scaffolding, and our crew practiced proper build techniques, such as leveling out on a grade. Our new employees were also brought up to speed on accurately reading blueprints and proper conduct and responsibilities as site supervisors.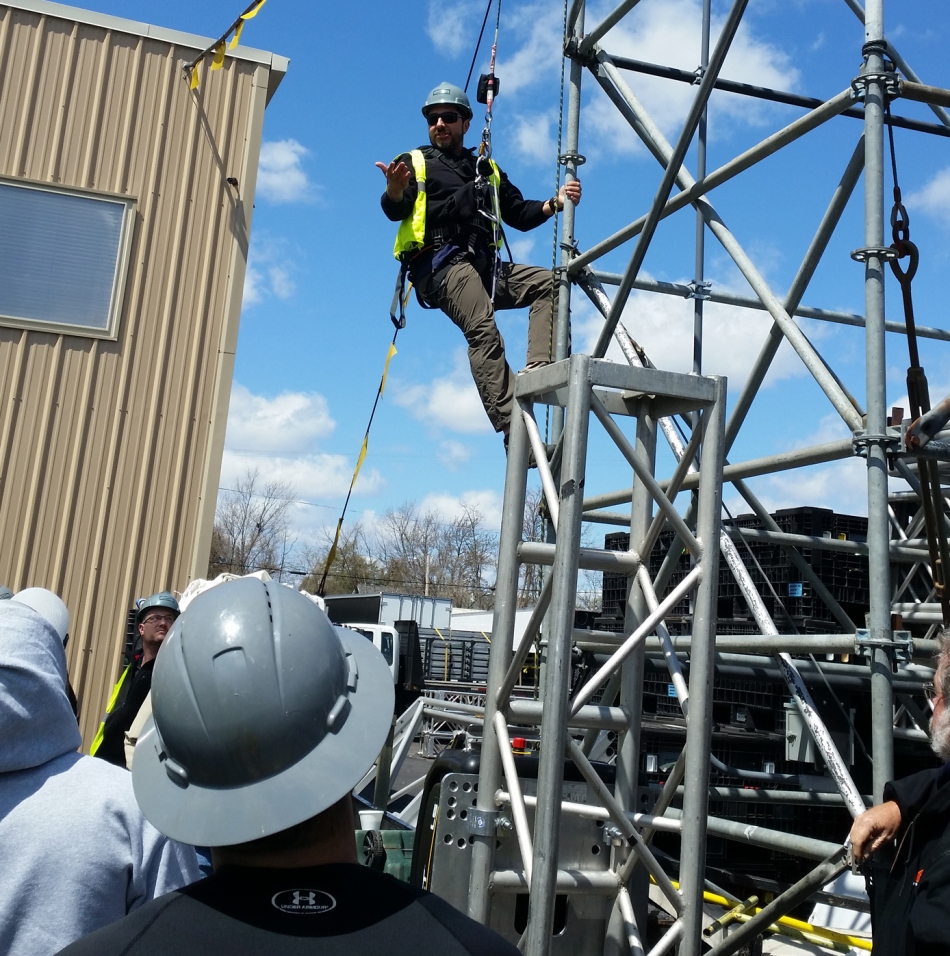 On the final day of training, Mountain supervisors attended classes held by CTS LLC for competent crane signaling and rigging, as well as working with and inspecting fall protection equipment. CTS LLC is an authorized safety trainer with 15 years of experience meeting OSHA requirements. These classes covered a variety of information, including how to inspect rigging equipment, such as wire rope and mesh straps, for wear/damage, as well as confirming fall protection is in correct working use. We concluded the session with a live demonstration of our newest fall protection product, the Limpet® Height Safety System. Demoed by Limpet® expert, Frank Aguirre Jr., the system showed off its numerous award winning safety features, including climb assist and instant fall prevention. (Learn more about the Limpet® system here.)
We hope that this recap of our annual training inspires other companies who may not be engaging their employees in regular training programs into focusing on this important aspect of our work. No matter how busy our schedules may get, we make sure to find time to properly educate and train our employees. Trust us—the return on this initial investment is worth all of the planning and time spent organizing training sessions, if not two-fold.