"…We weren't interested in building a motor that merely performed, we wanted to create something extraordinary." –Gary Krypel, CM
Anticipating and acting on customer demands separates a good company from an exceptional one. Columbus McKinnon has been a leader in entertainment technologies, and we have been a proud CM Master Distributor for years. CM's chain hoists are second to none, and the Lodestar brand is one of the most trusted hoists in the industry.
In order to get an inside scoop on the development and creation of CM's newest hoist, the 2-Ton, Single-Reeved Lodestar, I reached out to Ken Tilson, Vertical Market Specialist of CM's Entertainment division, and Gary Krypel, CM's Marketing Communications Manager for some insight.
What is the added value of the new 2-Ton, Single-Reeved Lodestar?
KEN: The 2-ton design provides a single-fall solution to the 2-ton capacity model that addresses and eliminates the possibility of chain twist with capsized hook blocks on traditional double-fall versions. It provides a 2-ton capacity hoist that is dimensionally the same length as the 1-ton New Lodestar models. This allows it to fit into existing road cases and also provides improved headroom over the 2-ton double-fall model. Starting at the 60' lift range, the overall weight of chain combined with the hoist is less than the traditional 2-ton, double fall version.
Also, the 2-Ton, Single-Reeved Lodestar is more economical (less chain to purchase and service) and lighter than standard double-reeved units, making it easier to transport and rig.
Why did CM develop the 2-ton, Single-Reeved Lodestar?
GARY: We designed the 2-ton, Single-Reeved Lodestar because we understand the unique needs of the entertainment industry. We know our motors are transported, handled and rigged everyday, so lightweight, larger capacity units are in demand. We know high quality chain is important to riggers; so this unit features our own American-made 10mm, zinc plated Star Grade load chain. And, with its 5-pocket lift wheel, operators can expect better chain and lift wheel engagement for smoother lifting and reduced vibration, equating to less wear and a longer chain life.
Discuss some of the new features of the 2-Ton, Single-Reeved unit that have been added/improved.
KEN: This hoist has some unique features, as well as similar features as compared to the New Lodestar. The suspension features a slide-in hook design, similar to the CM Prostar electric chain hoist. This allows for quick attachment and easy disassembly for annual or periodical inspections. CM developed a 10mm load chain that is zinc plated for corrosion resistance and meets European standards for international use (this chain is manufactured in our Lexington, TN facility). This hoist is versatile and meets CE and CSA standards. Designed to work anywhere in the world, whether you are 230-3-60 power supply in the states, or 415-3-50 power overseas, the new Lodestar unit will work with no component change out.
Many of the electrical components and the configuration itself are common with the New Lodestar and Classic models. The clutch is outside the load path and the unit is equipped with a DC electric brake that is convertible to a double brake in the field or available from the factory as a standard option on new units. The hoist is available in direct control, D8+ and C1 models. It is also easily adapted for encoders and load cells when used with automated control systems.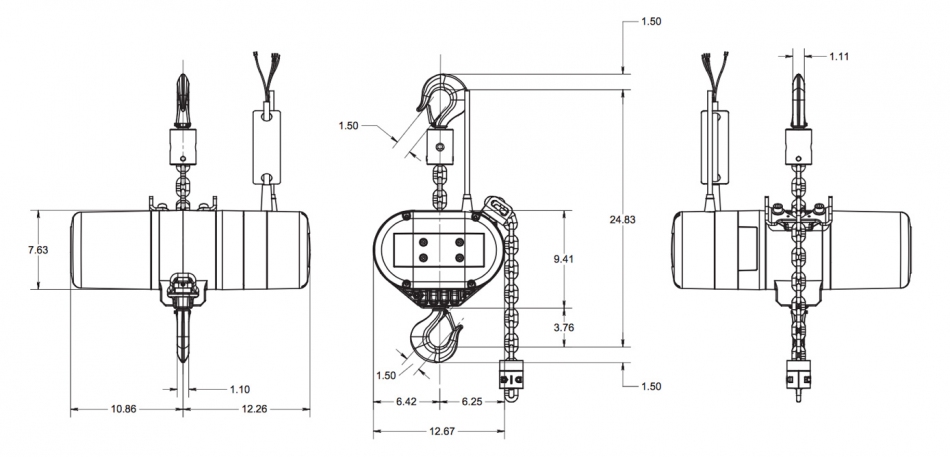 Chain management is much more practical with this hoist. How?
KEN: Chain management with a single fall unit is much more efficient, as there is less chain to deal with on many levels:
Less chain to handle and reduces time during load in/out
Eliminates the possibility of chain twist due to a capsized load block
Less chain to inspect during inspections
The chain guide is a one-piece design that provides smooth chain transition in and out of the hoist over a 5-pocket lift wheel. The design takes into consideration the chain twist and piling of chain the hoist experiences during load in & out. While not foolproof to a complete cross-link occurrence, it is designed to handle moderate twist and chain pile up typically seen in most applications.
The Lodestar is one of the most trusted electric chain hoist brands on the market. How did CM bring the Lodestar into the forefront of the entertainment industry?
GARY: First introduced in 1955, the CM Lodestar was engineered to be the best chain motor in the world. Developed through meticulous engineering and American manufacturing know-how, we weren't interested in building a motor that merely performed, we wanted to create something extraordinary.
What began as a breakthrough in the material handling industry has become an entertainment industry standard. Generations of professional riggers have come to rely on the CM Lodestar for the most demanding and challenging applications. For this reason, we've never stopped reinventing and improving it to satisfy the needs of every customer—that's the cornerstone of how we do business and part of our commitment to the entertainment industry.
Over the years, as more and more motor companies have entered the entertainment market, we've stayed focused on developing products that we truly believe are the best. Every Lodestar is designed, built and tested to our exacting standards that not only meet, but also surpass industry requirements. Our newest 2-ton, single-reeved model is no exception to this.