When the lights go down and the show starts, we all count on our power distribution systems to work flawlessly—after all, your show depends on it. Motion Labs is an innovator and leader in high quality motor control and power distribution units. They develop the products that make your event possible. I recently reached out to Motion Labs' Greg Quinkart for any exciting, new products they had launched. Greg had some great info on their Dual Voltage Power Distribution units—designed for convenience and dependability.
Crew supervisors love Motion Lab's Dual Voltage units, due to their flexibility and dependability of the brand. Greg describes the Dual Voltage Power Distro configuration shown below:
"Each unit is ETL Listed and comes standard with our digital volt/amperage meter. This unit features 200 Amp 3 Phase 120/208Y, Camlock In/Thru RGN (Bussed for 400A), (24) Channels of both 120VAC and 208VAC 19 Pin, (6) Channels of Duplex, and (3) L2130 Twist-Locks. The Dual Voltage PD can be configured as needed."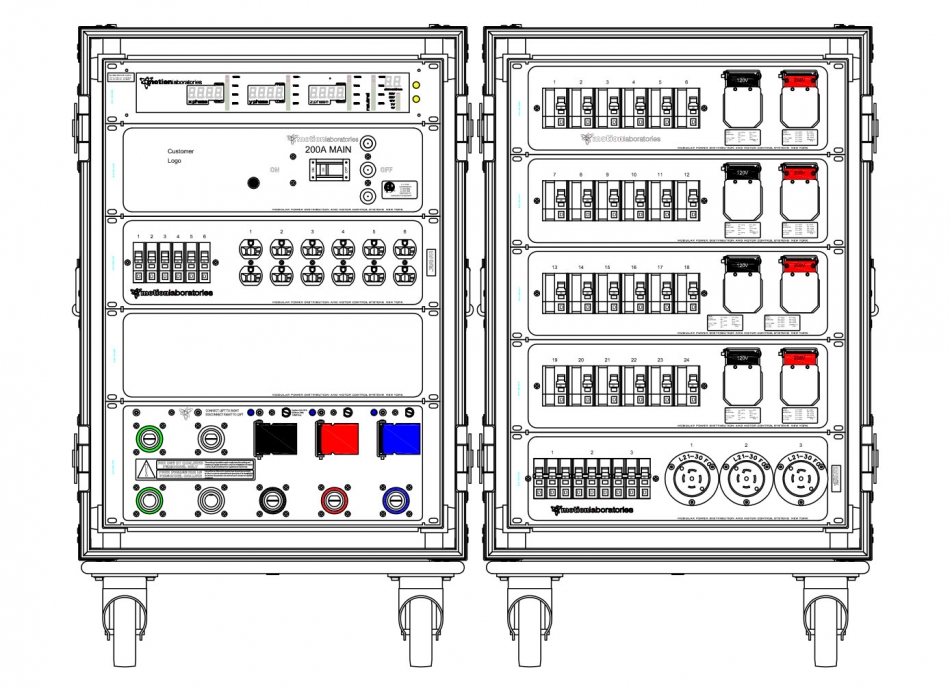 Motion Labs makes sure to protect its products, and the Dual Voltage PD is "installed in a 15RU-2 Sided NEMA 1 Steel Liner. It comes in a Shock Mounted road case with rail assembly to accommodate the steel liner. Each Motion Labs road case has Liner Clips and Door Stops installed to help prevent damage when transporting."
Top quality and an impressive amount of configurations available are what make Motion Laboratories' products highly sought after. Let us help you with your motor control and power distribution needs—we can simplify the process and deliver a custom product designed exactly for your needs!