Along with being extremely durable and protective, the MTN BOX excels at adapting to our users' needs. With hundreds of different combinations of inserts, you can find a configuration that is exactly what you need, for each one of your cases. We've put together a few helpful packs that hold common equipment that is prevalent at most jobs in our industry. Take a look…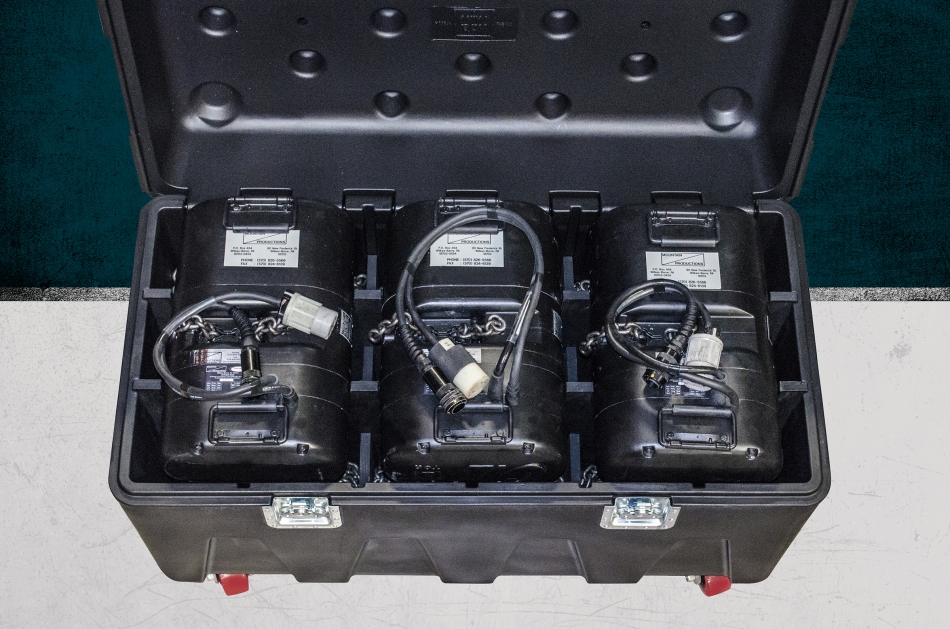 3 Large Frame Classic Lodestars
This pack features (2) 3 Large Frame Classic Lodestar cradles (LD16-V2) with additional small dividers (SD1H and SD2H). Each Lodestar fits comfortably in precise water-jet cut cradles with chain lying below each hoist. Each hoist "compartment" can hold up to 180′ of chain per hoist.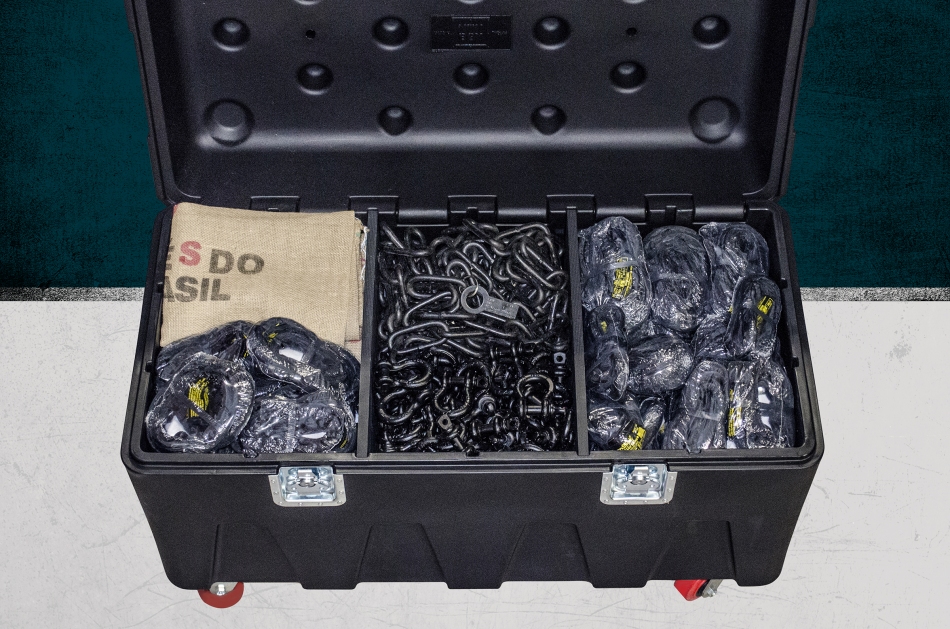 Rigging Pack 1
Using 2 small dividers (SD13) spanning from the front to back wall of the case, 3 equal sections are created for equipment storage. In this scenario, burlap and Spanset slings are contained in the left and right areas, while STAC chain and shackles are found in the center. This is a valuable, and practical rigging pack for any company.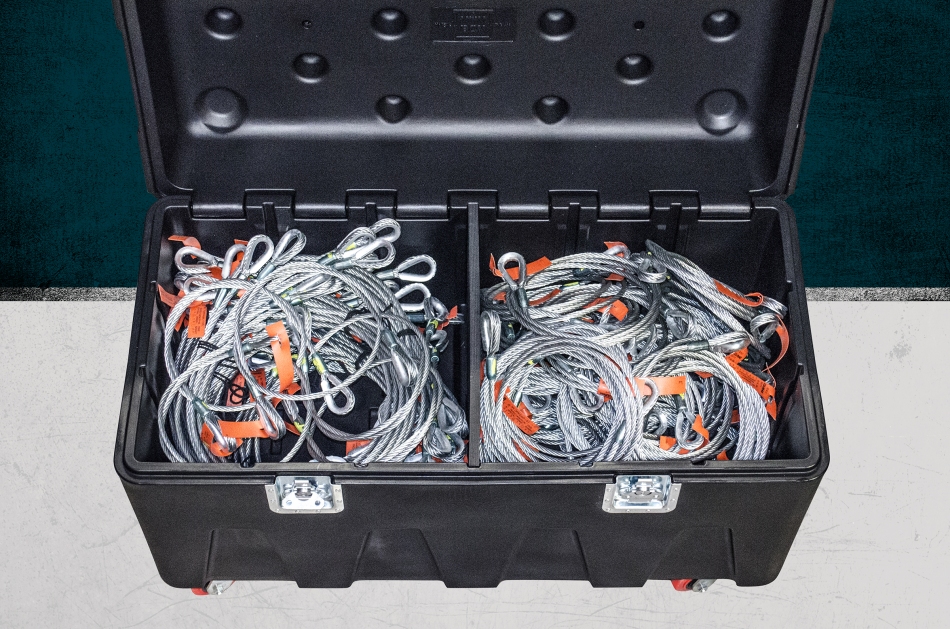 Wire Rope Pack
Simply using 1 small middle divider (SDM13), 2 large areas are created for 5′ and 10′ wire rope – an essential product at any event.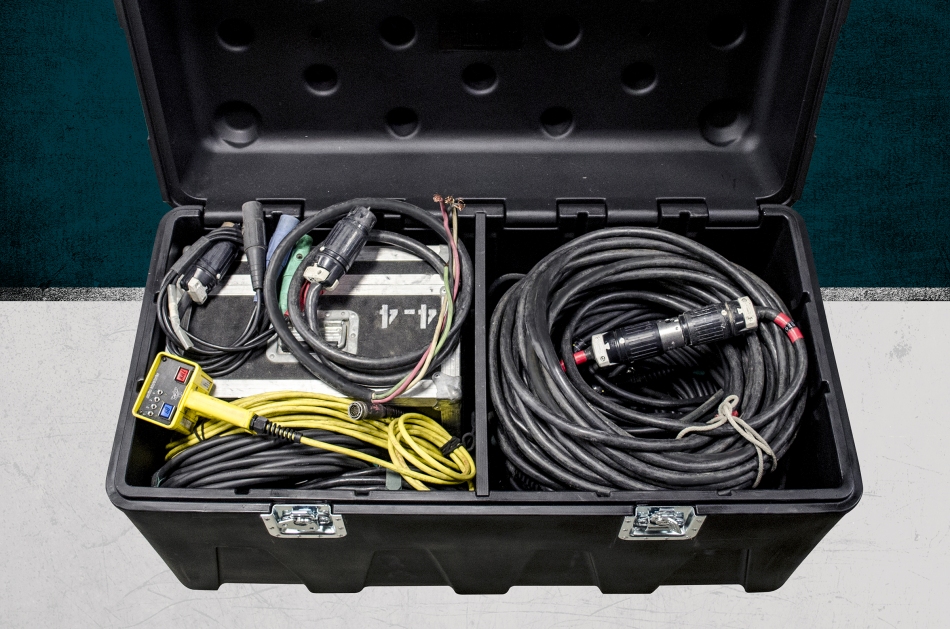 Electrics Pack
Again, utilizing 1 center small insert (SDM13), the MTN BOX becomes a perfect storage area for your electrics. In this case, the MTN BOX can hold a 4 channel power distro, controller and cabling for your electric needs.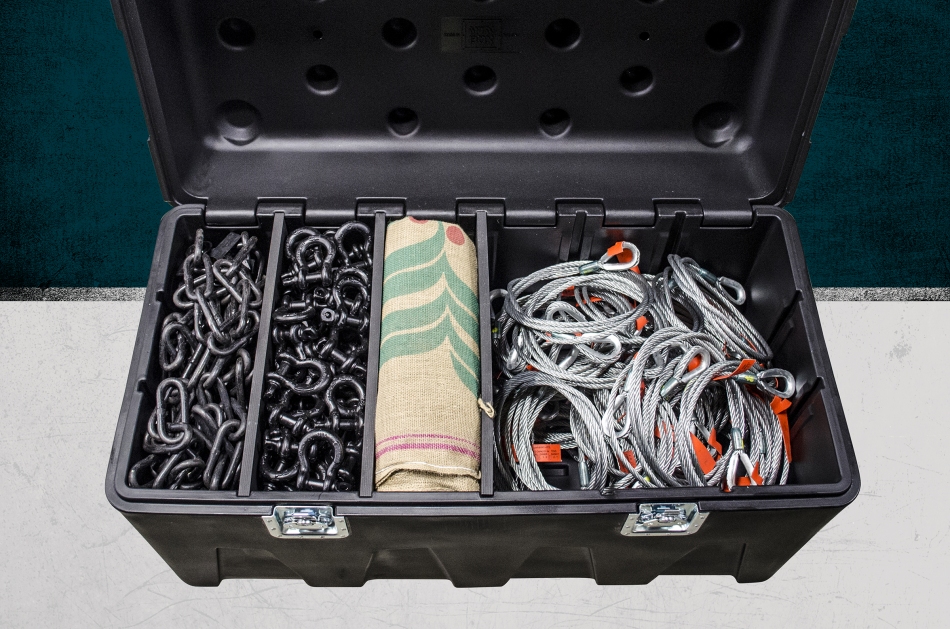 Rigging Pack 2
Here's an alternative pack for the rigging equipment required to rig multiple points on a grid. This pack features 3 small divider inserts (SD13 and SDM13) that partition the case into 4 sections. 3 equal sized compartments hold STAC chain, shackles and burlap while a larger area accommodates 5′ wire rope.
---
These packs represent only a handful of the hundreds of insert combinations you can modify your case to. Our rigging experts can help you organize and setup a perfect pack for your needs. Our crew is constantly thinking of different ways to assemble inserts into practical equipment packs. Additional pre-determined layouts are already in the works and are being created for your convenience.
Confident you've created the best way to organize and transport your gear? Send us a picture of your MTN BOX layout; we'd love to share the ingenuity of our colleagues and customers!
Keep your eyes peeled for a brand new website dedicated to our MTN BOX! Coming soon…