This past weekend, Metallica performed at Yankee Stadium to honor retiring pitcher Mariano Rivera. Rivera has been closing games for years to the famous Metallica hit, "Enter Sandman". The band in turn dedicated the song to the Yankees pitcher as well as feature his jersey number on their team-inspired pinstriped amplifiers.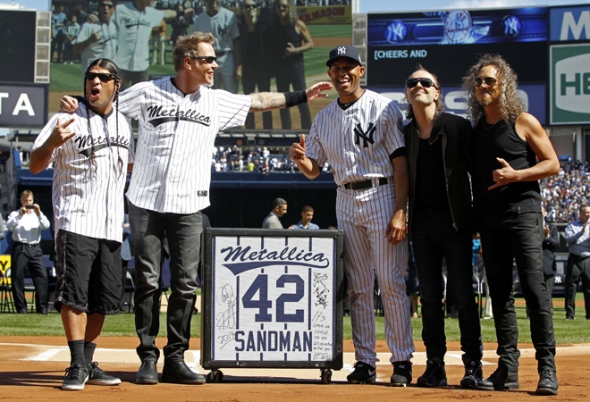 We were extremely proud to be a part of this event, supplying the staging and sound carts for Metallica's performance. Mountain's crew built our rolling stage for the event, as the stage needed to be moved on and off of the field quickly. The rolling stage added mobility and a quick exit to tear down without delaying the rest of the game.
The rolling stage was a 13′ x 28′ scaffold structure with decking and drape. Large casters are fixed to the stage to allow crew to roll the stage quickly to another location. At Yankee Stadium, the crew conveniently moved the stage off of the field to the loading dock for an uninterrupted tear down.  Along with the stage, Mountain supplied 10 rolling sound carts with drape for the audio support and speakers.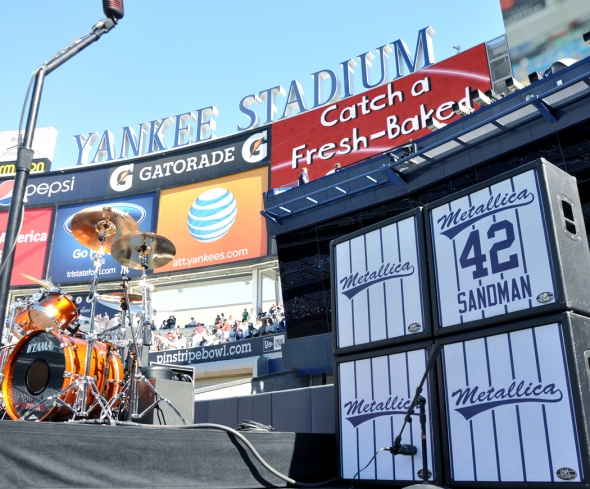 If you're interested in reading more about Metallica's performance at Yankee Stadium, check out this article from Blabbermouth.net. Videos of the performance included!