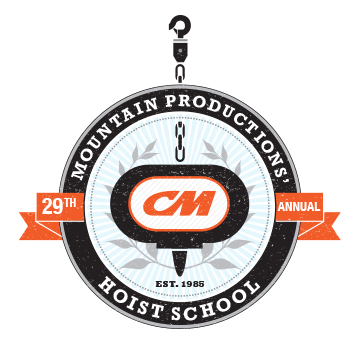 Mountain Productions is excited to announce that we will be celebrating our 29th year of CM Hoist School by extending the training to a full 5 days!
March 10th – March 14th of 2014
We've listened to your feedback, and have added another day to our Hoist School, allowing for more time in rigging seminars and hands-on training. It's the same quality education at a more comfortable pace. This is the first year in the Hoist School's history that will host a 5 day session.
Attendees from previous years can attest to the value and benefits from our Hoist School. Perfect for beginners who are trying to break into the industry or for veteran riggers who would like to refresh their rigging principles and techniques, Mountain Productions CM Hoist School is an amazing training opportunity.
A seminar breakdown has not been finalized yet. In the past, Mountain has welcomed various industry professionals from renowned companies such as Sapsis, Rosebrand, DBI-SALA, Motion Laboratories and more. These instructors offer a great insight into their  products and proper use of equipment. The final seminar breakdown will be posted to the Hoist School website in the upcoming months.
Call us for more information at 570 826 5566, or email Mikey Richards at mrichards@mountainproductions.com