Whether you're rooting for your favorite team or just tuning in for the commercials, chances are you were watching one of our nation's biggest sporting events of the year: the Superbowl. This past Sunday, television viewers and dedicated fans at the Mercedes-Benz Superdome saw the Baltimore Ravens win football's prestigious Lombardi Trophy. After a year of hard work leading up to the championship title, the Ravens had one more thing to do: celebrate!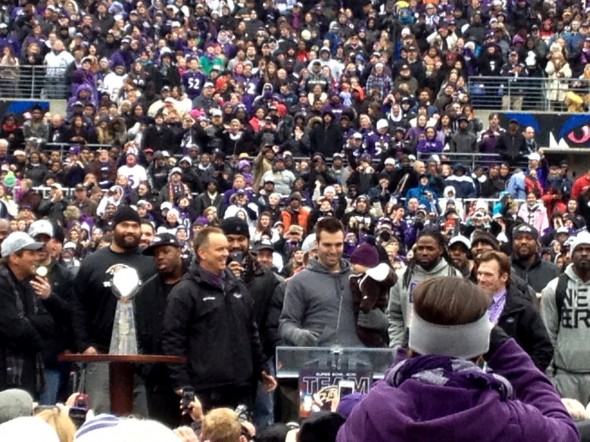 Mountain Productions traveled quickly to Baltimore to setup the staging inside of the M&T Bank Stadium for the Championship Parade. The equipment provided for the event included the following:
The stage setup allowed for optimal viewing from all seats. The high energy celebration needed a way to control the diehard fans, and Mountain's aluminum crowd control barricade was a perfect solution, providing durability and acoustic transparency. To protect the turf from damage, Terratrak was laid down on top of the field. Terratrak is a great groundcover product that can withstand extremely heavy vehicle traffic. The interlocking panels create a continuous surface free from gaps. Below are some pictures from inside of M&T Bank Stadium. Congratulations to the Ravens, and a big thanks for letting us play a part in this celebratory event.