We hope that you all had a fantastic, relaxing, fun and safe New Years holiday! (emphasis on "safe"!) 2012 was packed with exciting events for Mountain Productions, from another successful summer concert series to our recent involvement in holiday festivities including the National Christmas Tree Lighting and the New Year's celebration at Times Square. Now that 2013 is here, we are setting the bar even higher for ourselves, making sure to offer the best service and assistance for all of our clients, customers and colleagues.
With this mindset, Mountain Productions is excited to announce a new avenue for riggers to gain invaluable training in the convenience of their own home. Coming soon, Mountain will offer CM's Lodestar Maintenance Training in an online course! This training has been offered by CM for over 30 years, and the online course will contain all of the information you would receive from attending the traditional class. This education is perfect for beginners, and is an excellent way to prepare for our CM Hoist School.
We are extremely excited to be able to offer this course, as it is a great starting point to learn fundamental rigging knowledge to prepare for Hoist School. Our CM Hoist School is a 3 day event full of rigging seminars on hoist use and management, truss management, motor control and more. Riggers who complete the online Lodestar Maintenance Training will have a head-start when attending Hoist School, which will in turn maximize the benefits of these education programs.
As always, the most valuable lesson taught here is the importance of safety. Learning how to maintain a chain hoist properly is just one major step towards a safe work site. Riggers must always consider the worst case scenario, and take the necessary steps to prevent any type of dangerous situation, big or small.
The online CM Lodestar Maintenance Training will be coming soon to Mountain Productions' website. A link will be provided where users can log in and access the course. We will surely keep you updated and informed when the training will be offered, so make sure to check back often so you don't miss this amazing opportunity. Also, a big thanks to our friends at CM who make this training possible. We are all excited to start hoisting 2013 to great heights!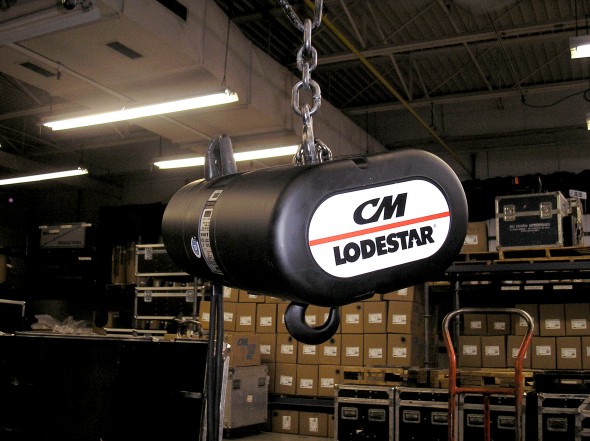 For more information on the online CM Lodestar Maintenance Training, Mountain's CM Hoist School or any other area of interest, please contact us at 570 826 5566. Hoist School inquiries may be directed to Mikey Richards, extension 275 or mrichards@mountainproductions.com.