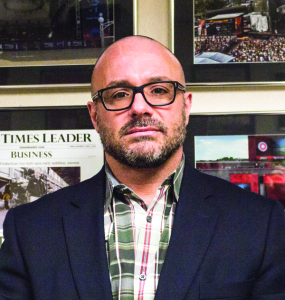 Venue installations borrow elements from both staging and rigging, but come with their own unique set of challenges and solutions. We sat down with David Piccola, Mountain's Venue Installation Manager to shed light on his experience working in this market, and how he has been able to create practical, reliable install systems that most importantly, save money.
Q: How long have you been working in entertainment production?
David:  When I was in high school, I worked production for a friend's band and spent all my free time in shop and art classes. When I graduated, it only made sense that I follow a career in entertainment, as that my love of all things mechanical and music related were a part of the daily lives of the guys in my IATSE local.
Q: How did you start in the venue installation market?
David: I was lucky enough to install the rigging for a large production for Cirque Du Soleil after many years of touring and taking calls through my IATSE local. The install was so different from the rigging that I had done in the past— it was more rewarding than anything I had ever done. When the time came for me to move on from Cirque, I made the choice to focus my energies on the permanent installation market.
Q: What are some unique challenges to venue installations?
David: The challenges vary from install to install. But the one thing that remains constant is that permanent rigging installations are far more involved and have an elevated level of safety that isn't as apparent in live show rigging installs. Permanent rigging installations usually require that we engineer the attachments to the structure, and that we approach the install with the mindset that the rig will be in place for years to come. The basic principles are the same, but the components are designed for the specifically intended application and there is much more time to focus on the safety aspects of the install.
Q: Venue installations are often complicated and involve many moving parts. How do you simplify this process for your clients?
David: We offer a turnkey solution for our customers. We handle the design, engineering and submittals, fabrication, and installation of the rigging. Our customers turn to us to provide every aspect of the rigging installations because of our experience and reputation in entertainment production. In return, we provide them with the safest and most cost effective solution in the industry. Also, because we have an in-house engineering team that's trained to identify safety concerns way before the potential problem becomes reality, we're able to give our customers real piece of mind.
Q: What is your favorite project you have worked on in the past? What solution were you able to provide?
David: I'm passionate about the work that I do, so there really isn't a single project that I can point to and say it was my favorite. All projects that I work on are treated with the same intensity, focus on safety, and attention to detail. When I was a kid, my grandfather told me that "if you have a job you love, you'll never work a day in your life". I can honestly say that my career is always interesting and never feels like real work to me. In this field, solutions are specific to the needs of the customer, so each and every time we offer solutions that our clients are excited about. That in itself is the reward for the work we do.
---
David is a great asset with a long list of projects and experience under his belt. If you're interested in learning more about venue installations, and how David can help you and your venue, send him a note at dpiccola@mountainproductions.com or call at 570 826 5566 x207.